When India's largest IT services company, Tata Consultancy Services (TCS), announced its third quarterly results in mid-January, a couple of things stuck out like the nudist on the late night shift. For one, even though North America still accounts for the bulk of TCS's revenues at 49.5 per cent, growth from the region was just 2.2 per cent. In sharp contrast, Europe, which accounted for 29.2 per cent of the IT major's topline, grew a whopping 24.2 per cent. In fact, Europe's contribution to the company's revenues has jumped to 28.5 per cent for 2007-08 from 23.1 per cent in 2004-05.
Take a look at the company's deal pipeline and the trend strengthens. "I would say that of the top 25 deals we are pursuing maybe one-third is in the US, one-third in the UK and Europe and one-third in the rest of the world," says N. Chandrasekaran, Chief Operating Officer, TCS. Overall for TCS, North America grew at 2.2 per cent, UK at 4.9 per cent and Europe at 24.2 per cent. And the company's growth in emerging markets like Latin America, APAC and India were above the company average.
That seems to be the scenario with most other Tier-I IT companies— robust growth coming from geographies beyond their terra firma—North America. Europe, for example, accounted for 28.6 per cent of Infosys's revenues during the last quarter compared to 22.1 per cent for the same period three years ago. Be it Infosys, Wipro, Satyam, HCL Technologies, the push for growth in geographies other than the US is gathering steam. This is not to say that the US is a dead horse as far as the industry is concerned. In fact, the US will continue to remain 'the engine of growth for the IT services industry.' However, the fact remains that the Indian IT industry has been reducing its dependence on the US and is likely to continue doing so.
The opportunity within
India is no longer just the provider of high-quality, low-cost talent to the world's outsourcers. If a recent report by TPI is to be believed, India is the market that is driving outsourcing growth in the Asia-Pacific region. According to TPI, the APAC outsourcing market grew considerably in 2007, powered by increased demand from Indian companies. In APAC, even though the number of contracts signed in 2007 grew by a mere 4 per cent, their total contract value grew 30 per cent year-on-year to $12.8 billion from $9.9 billion, even as annualised revenues registered a 13 per cent upswing, nearly double the global average. APAC was the only geography to show an increase across every one of these parameters.
Traditionally, Australia, Japan and India have topped the list of outsourcing markets in the region. But a booming economy and a drive to maintain profitability levels have seen Indian companies almost double the value of outsourcing work during 2007. According to TPI, the total value of contracts signed by Indian buyers has grown to \ e3.9 billion in 2007, up from e2.2 billion in 2006. According to TPI, Accenture, HP, IBM, and Wipro are winning much of the Asia-Pacific deals. "Traditionally, Indian companies with the exception of a few like TCS and Wipro have been shy of tapping the Indian market citing lower margins. Some of them are paying the price of that. But now, almost everybody wants a piece of the action locally. 2008 is likely to see a lot of that," says an industry watcher.
Like Satyam Computer Services' Chief Strategy Officer Shailesh Shah says: "Over the last three years, we have significantly enhanced presence in Europe and Asia-Pacific, Africa. In the last one year, we have worked hard to increase presence in Latin America. In particular, Scandinavia, Germanic Europe and Romanic Europe are critical to our future… In the case of Asia-Pacific, we clearly have presence leadership." Satyam is also eyeing growth in markets like Japan, South Africa, India and China.
Wipro, too, is eyeing other pastures. "The US market remains a huge opportunity. At the same time, there is so much more opportunity to grow in Canada, the European markets, Asia-Pac, West Asian and Indian markets that a lot of investments are going in there," says Wipro's Chief Financial Officer, Suresh Senapathy.
So, what's driving these companies to explore new hunting grounds? The answers are simple. Like Europe-based analyst for Ovum Research, Samad Masood, says: "One, the appreciating rupee against the dollar has made selling in the US less attractive. Two, as a derisking strategy it works better to invest in several geographies. Finally, the bulk of the contracts in the US market are second or third generation outsourcing contracts. Europe, on the other hand, is still relatively new to outsourcing." That means more first generation outsourcing contracts, which translate into more profits for Indian IT companies.
For now, every major Tier-I and even most Tier-II players are looking at expanding in Europe, especially continental Europe. The reasons are obvious. According to TPI, a global sourcing advisory firm, Europe leads in both the number and total value of contracts signed globally. TPI data reveals that in 2007 Europe exceeded the Americas in both the number of outsourcing contracts awarded in the region and in total value. The year saw 220 contracts signed in Europe, yielding a total value of e32.7 billion (about Rs 1,91,260 crore). In comparison, 194 contracts were signed worth a total value of e21.3 billion (about Rs 1,25,582 crore) in the Americas. "Western Europe has been the fastest growing market for offshore for the last two years and is likely to continue to remain so for the next two years. So, this is a market that the Indian providers will have to invest in— they cannot afford to ignore it, regardless of what happens in the US," says Partha Iyengar, Gartner's Head of Research for India.
He adds that the fact that Europe provides a bit of risk mitigation from the US for both revenue as well as currency only makes the reasons more compelling.
In the past, the UK has been synonymous with Europe for Tier-I Indian players. But that's changing as they are pushing into continental Europe, which has been relatively more conservative to outsource. "Today a bulk of our European revenues is coming from the UK," says Suresh Sundaram, Vice President (Corporate Marketing), HCL Technologies. "However, we are starting to see traction and success in Continental Europe too in verticals like financial services, retail, and high-tech services. We have presence in Germany, Nordic and Benelux regions," adds Sundaram, who admits that despite having European operations since 1999, it was only in 2005 that HCL began to see serious traction in Europe.
That's something that almost anybody who has done business in Europe will vouch for—the long gestation period for doing business, thanks to Europe's unique culture of doing business. Like Iyengar says: "There are bigger language and cultural challenges to address in Europe than they had to face in the US or the UK. The largest markets are Germany and France, which are both quite challenging markets for Indians to crack. Even issues like visas, immigration etc., are a challenge in these markets."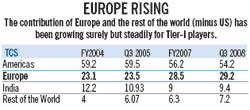 However, these have not deterred Indian companies, even the relatively smaller ones like Patni, from having a go at the lucrative market. "We have been a bit behind compared to our peers in the European market but we hope to grow rapidly from now on," says Surjeet Singh, CFO, Patni Computer Systems. "Overall, in three years, we expect our non-US revenues to account for 35 per cent of our total revenues, from about 22 per cent at present." Satyam, too, expects its dependence on the US to come down considerably—from 57 per cent of its revenues in Q3 in 2007-08 to less than 50 per cent.
At the earnings call of its recently announced quarterly results, Infosys CEO S. Gopalakrishnan announced that ideally he would like to see the US contributing half of the company's revenues, Europe at 30 per cent and Asia-Pac (including Japan) at 20 per cent. He did not, however, set a timeframe for achieving that.
To strengthen their thrust into Europe, Indian companies are hiring senior talent, ramping up sales and marketing staff and even looking at acquisitions. In mid-2007, Patni poached Brian Stones, a consulting industry veteran from ACS and who has worked for more than 28 years in Europe, to head operations in that continent. Satyam appointed Peter Heij, the former Managing Director of Logica CMG's Managed Services Business, to head its continental European operations nearly two years ago.
Even though Europe might be the main area of thrust for most Indian IT companies looking for geographical spread, the Asia-Pacific region and West Asia too are areas of focus. Like Iyengar says: "Japan and Australia in the APAC region, and South Korea and Taiwan are also emerging (as markets) slowly." Then, there's China. Iyengar says Indian companies will have to make plans for most of these markets for the longer term. While TCS already has a JV in China, Wipro has a significant presence in Japan. Satyam is ramping up in Japan, which it considers a "very critical market."
But it's not like Asian markets are without their challenges. "In China, one has to be choosy about the work one takes on," says the marketing head of a leading IT services company. "There is a lot of ambiguity and a lack of clarity when it comes to the contracts in that region," he adds. Indian firms will also have to tailor their solutions for each market. Like Iyengar says: "The providers' tendency is to first apply the 'US model' and if that fails then look for tweaks. This will not work. They need to look at each market as a fresh market and create a customised model for that market. This has proved to be a challenge so far for the Indians—look at their lack of success so far in Japan." Now, of course, Indian IT companies are under greater pressure to make alternative markets work.
— Additional reporting by E. Kumar Sharma in Hyderabad, Rahul Sachitanand in Bangalore