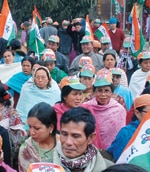 Two hundred and seventy-nine candidates contested the elections to the 60 seats in Manipur's assembly. Their fate was sealed into ballot boxes on January 28 at 2,357 polling booths. The security arrangements involved 350 companies of paramilitary forces: seven booths for each company. Compare this to the
Uttar Pradesh elections
, spread over four weeks, where each paramilitary company has had to guard well over a hundred polling stations.
Before you begin to roll your eyes, look at another number: 36 militant groups are active in Manipur, perhaps the most on the planet for a geography of this size. It is no surprise then that the state has become hostage to bandhs, blockades and blackmail.
Every government servant in Manipur pays a portion of her salary to one of the militant groups every month. In many cases, it is deducted by their department's cashier. The consent of the militant groups is necessary for award of every government contract, so much so that these groups have designated Project Officers to deal with contracts. They collect 35 to 40 per cent of the estimated cost of projects. This throws the contractor's finances out of gear. Naturally, grass begins to grow on the roads within months of their construction.
The traders, for their part, are trying to recoup their capital and flee with it to neighbouring Guwahati, in Assam, or Siliguri, in West Bengal. Some Marwari traders are even returning to the land of their forefathers in Rajasthan.
Blockades and Bullets
Mahendra Patni is a descendant of the first Marwari trader family to come to Manipur 120 years ago. He is a former president of the Manipur Chamber of Commerce, a traders' body which has shut shop. He says the chamber had no option but to wind up after the militants asked it to collect 'taxes' on their behalf from its members.
Labour is in short supply. The non-native workers, from Bihar and Odisha, have fled. Their options, too, were limited, since the militants were gunning for them in retaliation for the killing of their cadres by the army. So if you have a plumbing problem, you need to find a do-it-yourself (DIY) guide.
But no DIY book will help you escape the highway blockades. There have been three major ones in the last five years, the last of which lasted a crippling 150 days. Changanbam Boy, 38, runs a shop in suburban Imphal, selling cement and iron rods. He is losing customers because his cement costs Rs 550 a bag, against Rs 300 in Silchar or Bokajan in Assam. But Boy cannot reduce the price because his overheads pile up by the time the bags reach his shop: Rs 10,000 for every truck carrying iron rods and Rs 8,000 for a truck of cement to the National Socialist Council of Nagalim (Swu-Muivah). This group controls National Highway No. 39, which connects the state with the rest of India. Boy also pays Rs 1 lakh to valley-based militant groups as an annual 'tax'.
Samarwal Agarwal, 60, came from Rajasthan 30 years ago and set up Manipur Steel Tubes, an iron and steel fabrication unit. He is not able to pay his workers' salaries on time because there is not enough money coming in. He does not get iron rods for days. When the trucks do come, he has to shell out a higher price. To make matters worse, there is no power and he has to buy diesel in the black market at Rs 100 a litre, against the official price of Rs 42, to run generators.
It is the same tale of woes that one hears from P.K. Jain, who manages Mangalam Pharmacy in Imphal's Paona Bazar (not enough supply) and Laishram Rajive Singh, who has a cycle shop (no cycles to sell). However, some Marwari traders make good in border trade what they lose in the state. Thiyam Suresh, alias Robert, is what is called a Moreh trader. His Sunrise Enterprises deals in Chinese goods - electronics to generators - coming from Moreh on the Indo-Myanmar border. According to him, the Marwari merchants, who control the border trade, have doubled their prices.
If the traders are bleeding, the
farmers are not exactly in the pink of health
. Thiyam Munindro Singh, 55, was forced to sell his tomatoes for Rs 2 a kg in Manipur. He wanted to take his harvest to Nagaland, where he would have got Rs 20 a kg, but the highway was blocked.
The
last economic blockade
, along National Highways 39 and 53, which lasted 150 days, was called by both the Kukis and the Nagas. The Kukis were demanding a district and the Nagas were opposing it. The Centre did not do much to end to blockade, although the Congress, which leads the United Progressive Alliance government at the Centre, is in power in the state. As for the state government, Chief Minister Okram Ibobi told reporters he did not believe in using force. Eventually, the blockade had to be ended by a Supreme Court directive to the Centre.
Priced at Rs 22 a litre officially and at Rs 70 a litre in the black market, it may be yielding more profits for some by being used to adulterate petrol or diesel.
According to a top official of the state's Planning Department, Manipur's economy is one of "transferred gross domestic product" because it is dependent on central grants and aids. According to him, the blockades and bandhs have pushed construction costs up by 75 per cent. Plan funds leakage exceeds 40 per cent. The state received Rs 13,000 crore from the 13th Finance Commission for the next five years and a plan allocation of Rs 3,216 crore for 2011/12.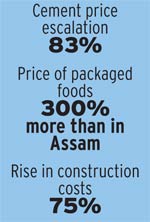 Bombs and Bluster
During the election campaign, the usual suspects made their presence felt. A conglomeration of seven major militant groups, called the Coordination Committee - Cor Com for short - decided to oppose the Congress and rained grenades on its candidates' and workers' houses.
The Armed Forces Special Powers Act continues to figure in the manifestoes of the parties. The BJP has promised to abolish it and improve law and order. The Congress says it has already done away with it in seven constituencies in the Imphal area and says it will abolish it elsewhere if law and order improves.
The Election Commission removed the Director General of Police, Y. Joykumar Singh, handpicked for the job by the chief minister, from his post. Complaints had been lodged by political parties that Singh was misusing his position. Activist organisations like the People's Campaign for Assembly elections organised rallies urging people to vote. There have been Facebook campaigns to prod voters to choose candidates who have raised issues of public, rather than private, interest.
Ibobi has been accused of trying to import dynastic politics from the rest of India; his wife is an MLA. Some observers say the Congress may still reap the benefits of a sympathy wave triggered by the militant attacks. In that case, Ibobi will do a Tarun Gogoi and, like the Assam Chief Minister, become CM for a third time. But among businessmen there is little optimism. "I expect no change, except for an individual or two. The rest of those standing for elections belong to the moneyed class and are in the fray for profit only," says Thangjam Joykumar, 53, the owner of Thangjam Agro Industries.

The story is from the Business Today's latest print edition of Feb 19, 2012. To get more in depth and insightful stories on the business and economy click here for subscription of the latest edition.