On September 15, Marico did something it had never done before. The Rs 3,130-crore consumer products company told the Bombay Stock Exchange, where its stock is traded, that its earnings could fall short of expectations in the coming quarters.

Rising input prices, primarily of copra, were to blame. Political instability in some of Marico's key overseas markets in West Asia and North Africa, and an economic slowdown at home would also take their toll. Naturally, the revelation saw Marico's stock dropping more than 10 per cent the next day, marking its sharpest intra-day fall in three years.

In the same month, in spite of margin pressures, the company also announced an entry into the skincare market, riding on the back of its successful Rs 200-crore Parachute Advansed brand, which has been its flagship for years. "Parachute is an extremely successful brand and making an entry into skincare through it is the only way to do it," says Naveen Trivedi, Assistant Vice President at investment advisory firm, Pinc Research. "Launching another brand can take a significant amount of money and time, and people might not recognise it as a Marico brand."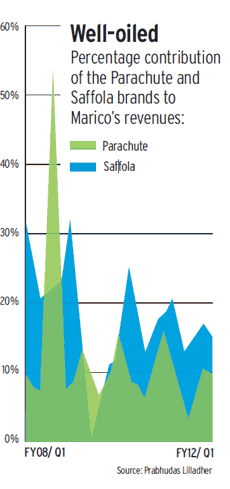 One product has so far been launched: the Parachute Advansed body lotion, which hit the stores in September in two variants, 'dry skin' and 'all season'. Parachute coconut oil and Parachute Advansed hair oil together contribute about 45 per cent to the company's overall revenues.
Once before, seven years ago, Marico had sought to push Parachute Advansed beyond hair oil. The foray was not a success. Parachute Shampoo was test launched in one market, but it fared so badly that it was withdrawn. A similar effort with Saffola - Marico's popular edible oil brand, with a 56.7 per cent share in the super premium category - also bombed. The company introduced baked salted snacks under the brand Saffola Zest, but it failed to impress.
Marico's urge to diversify is understandable. With its chain of Kaya Skin Clinics making losses, it depends almost entirely on Parachute and Saffola to bring in the profits. The company has been consistently working to increase the share of food products to overall revenues.
"Currently, the oils category contributes about 90 per cent to Saffola franchise revenues, and the food category contributes about 10 per cent. We want to change that to 75 per cent and 25 per cent, respectively, in three to four years," says Saugata Gupta, CEO, Consumer Products Business, Marico.
One recent diversification effort has been successful: taking the Saffola brand into breakfast cereals and packaged rice. Within a year of its launch, Saffola Oats has achieved a market share of 16 per cent. The rice, Saffola Arise, is doing well, too. Both are expected to garner around Rs 40 crore in annualised sales.
Will Parachute skincare products repeat the feat? Making a dent in the Rs 5,000-crore skincare market may not be as easy. It is currently dominated by the world's largest consumer products company, Unilever, with brands like Lakme, Fair and Lovely, Vaseline and Pond's. Vaseline and Pond's together occupy more than 50 per cent of the market.
Branching out
Marico's first skincare product is 'Parachute Advansed Body Lotion', in two variants: 'dry skin' and 'all season'
The current penetration of the body lotion segment of the skincare market is only about 16 per cent. Marico hopes to expand this untapped market
The skincare market is pegged at Rs 5,000 crore and is growing at 15 to 20 per cent annually
HUL's Lakme, Vaseline and Pond's are the leading brands in the category
But the market is growing, which gives new entrants a chance. "The skincare market has witnessed seamless expansion with sub-categories like facial complexion lightening and antiageing creams reporting growth in excess of 20 per cent," says Gautam Duggad, Consumer Analyst at investment firm Prabhudas Lilladher.
Gupta outlines Marico's reasoning behind the foray. "The body lotion segment of the skincare market is currently 'underpenetrated'. The penetration is about 16 per cent and it is growing at a fast clip. This provides headroom for growth, with a differentiated proposition."
Yet challenges certainly remain, as Vismay Sharma, Director, Consumer Products Division at personal care products giant L'Oreal India, points out."Retail is a highly dispersed category with 1.8 million stores in urban India," he says. "Product display and adequate stocking are also challenges due to clutter and space issues."
In response, skincare brands are constantly innovating to stay ahead. If L'Oreal is introducing cheaper variants in smaller quantities in a bid to widen the distribution reach of products like Garnier Light, Emami is planning at least three to four variants of Boroplus and Fair and Handsome this year. Dabur, too, entered the facial care products category in January this year. "Constant innovation, in terms of products, ingredients, marketing, packaging and delivery systems, are critical for success in this market," says Harsh V. Agarwal, Director of Emami. Marico is doing the same. "Unlike other products which use petroleum jelly, Parachute Advansed Body Lotion uses 100 per cent natural moisturisers," says Gupta. "It will be the first skincare product in the market to have coconut milk as its primary ingredient."
If the skincare venture fails, Marico will certainly suffer a knock, but the financial risks are negligible. "Most companies invest very little," says Duggad of Prabhudas Lilladher. "They start with a test launch. More investments come in only when the initial launch succeeds. The failure of one product category will have little or no impact on Marico's financial performance, as it has a solid portfolio of other established products."