These aren't the best of times for Citigroup Inc. It may be the world's largest bank with a market capitalisation of $252 billion, but the stock price has been stagnating in the $45-50 per share region for close to two years now on the New York Stock Exchange. Recent reported cuts of over 15,000 jobs to bolster profitability at the 399 Park Avenue-headquartered bank hardly came as a surprise to analysts tracking the global giant. And when Charles O. "Chuck" Prince, Chairman & Chief Executive, took home an annual compensation of almost $26 million in 2006-a year in which Citigroup's net income fell by 12 per cent-shareholders weren't exactly nodding in approval.
Cut to Asia, where Citi it would seem is an altogether different entity, both in performance and action. Take China, for instance, where Citi has over the years acquired strategic stakes in two Chinese banks. In late 2003, it picked up 4.62 per cent in Shanghai Pudong Development Bank, and plans are to take it up to 20 per cent. Last July, Citi also bought 20 per cent in Guangdong Development Bank, which was considered a coup of sorts in the mainland's restricted banking environment. Then there's South Korea, where Citibank took over one of the largest local banks, KorAm Bank, in January 2004. Such progress in non-traditional markets would be good enough to make Chuck (as he is known within the bank) smile.
The progress in India should make him beam. Chuck, CEO since 2003 and Chairman since 2006, was in India in March this year, a day after news of massive job cuts at Citi seared news wires globally. But Chuck was in high spirits, and not just because he was thousands of miles away from the heat. "The bank will focus on two or three countries outside North America, including India, for growth," revealed Chuck to Citi staffers in New Delhi.
Clearly, at a time when Citi is struggling to grow in single digits in the developed world, Asian economies like Japan, China, South Korea and India are the bank's best bet to return to the glory days. Chuck, who began his career in 1975 as an attorney in us Steel Corporation, is now driving a business strategy to make international operations a big contributor both to the group's global topline as well as bottom line. He wants the international portfolio to account for 60 per cent of revenues in the next 3-5 years, up from the current 45 per cent.
The Journey so Far

How Citi has evolved as a group.

Brought in $2.6 billion in capital, the largest FDI in financial services

A balance sheet size of Rs 84,469 crore

Group revenues of Rs 7,315 crore

Net profit of Rs 1,566 crore

India employee strength of 22,000

His India A team is in sync with that strategy. "We have a strong, broad-based franchise in India led by innovation in products and distribution. We are committed to being a dominant player in each segment we are present in to further grow our balance sheet," says Sanjay Nayar, CEO India & Area Head (Bangladesh, Sri Lanka and Nepal). Beyond banking, Citi has aggressive plans to grow in emerging businesses like commodities, structured products, microfinance, retail broking, and asset reconstruction. The group's already going full steam ahead in areas like non-banking finance, investment banking and private equity.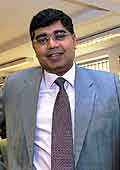 "If you are a customer of Citi, it doesn't matter which product you choose, it's a passport to every other product of Citigroup. That's really the enabling approach for us," says S. Jayakumar, Country Business Manager (Global Finance Group) Citi India.
As a standalone banking operation, Citi is indeed the most dominant player amongst foreign banks in India, having recently displaced arch-rival Standard Chartered in terms of balance sheet size as well as revenues. In 2006-07, Citi amassed a balance sheet as large as Rs 66,358 crore in India, pushing StanChart, which enjoyed the largest foreign bank status for six years before that, to the second position with Rs 58,853 crore. "Lending to SMEs (small & medium enterprises), retail loans and mortgages contributed the most to the balance sheet growth (in 2006-07)," explains Nayar.
In 2006-07, the group's loan & advances grew by 34 per cent to Rs 32,860 crore, while deposits grew much faster by a whopping 36 per cent. The biggest contributor to growth was mortgage finance, up by 50 per cent; the unsecured loan portfolio followed with a 48 per cent growth. "Wealth management is another area that is growing rapidly," says Rahul Soota, Head (Retail Banking), Citibank.
Banking analysts, however, say Citibank has still a long way to go before it can truly crown itself king of the hill in the foreign banking space. After all, StanChart is still the most profitable bank in India with a huge bottom line of Rs 1,364 crore as against Citi's Rs 900 crore; it also leads in terms of deposits as well as advances.
Nayar, for his part, knows that celebrations today would be premature. And he's got a game plan for fast-track growth in the years ahead. "We serve a range of clients from the largest corporations to the retail customer with business models specifically tailored to their needs," he says. Consider, for instance, the $2-billion SME portfolio that's growing at 50-60 per cent annually. "SME is an engine of growth as it continuously acquires clients, many of whom become future champions," says Sandeep Ghosh, Head (SME), Citibank.
The SME business is strategic to the bank as it also drives investment banking (equity & debt raising as well as mergers & acquisitions) and private equity. Take for instance, SME client Himadari Chemicals, which has also provided an opportunity for group company Citi Venture Capital International (CVCI) to pick up a stake in that company. Indeed, the private equity arm is readying to invest $1.5-2 billion in the next three years out of its global $ 4.5-billion fund. "We are in the business of identifying great entrepreneurs. This has been the key driver for our success," says Ajay Relan, MD, CVCI. "With our unique, customer centric business model, we have the capability to comprehensively address all banking, capital markets and advisory needs," adds Nayar.
Citibank India

Operates as a branch of Citibank NA.

39 branches, 443 ATMs and present in 27 cities

Over 5 million retail customers

Growing SME client base of over 5,000 with up to Rs 800 crore turnover

SME coverage includes textile industry, pharma & IT/ITES

Citifinancial Consumer Finance

Registered as an NBFC.

475 branches, of which 150 came up last year

Present in 160 cities

2.2 million customers

Average ticket size of a loan from Rs 20,000 to Rs 3 lakh

Citigroup Globak Markets India

A separate capital market entity registered with Sebi.

15 M&A deals worth $22 billion from June 2006-May 2007

Raised $2 billion across 120 equity and equity-linked transactions

Arranged largest ever $2-billion bond offering for ICICI Bank

Loan syndication for Reliance Petroleum amounting to $2 billion

Citi Venture Capital International

A global private equity arm that also invests in India.
Recently took a controlling stake in equity broking firm Sharekhan

Has invested $600 million in 2007-08 so far

Investment portfolio includes 25-30 companies

$1.5-2 billion to be invested in India through a new $4.5- billion global fund

Betting Big and Long Term

Citi has a game plan, which may include a big-bang acquisition.

Has 12.3 per cent stake in housing major HDFC which controls HDFC Bank, HDFC Standard Life Insurance and HDFC General Insurance Company

Has 5 per cent stake in newly-formed SMERA, a rating agency for emerging small and medium enterprises

Has 5 per cent stake in CIBIL or Credit Information Bureau India Limited, which houses credit information (both good and bad borrowers) of retail and corporate clients

Has 4.4 per cent in a first of its kind bad assets recovery company, ARCIL

Has 3.75 per cent in NSDL or National Securities Depository Ltd
That model clearly extends beyond traditional banking-after all, banking accounts for 57 per cent of the group's profits. Unlike the others in the foreign banking pack, Citigroup already has a non-banking finance company (NBFC) in the shape of Citifinancial Consumer Finance (India), which boasts a $2.5-billion balance sheet. It is also the third-largest contributor to group profits (see A Bottom Line Break Up). The Indian arm of Citifinancial Global, with a network of 450 branches, is the single largest consumer finance company in terms of balance sheet size and the largest Citifinancial operation outside the US. "We opened 150 branches last year and our distribution strategy is flanked by store alliances (with hypermarkets, for example) and the internet," says Sandeep Soni, MD, Citifinancial.
Yet another booming business for Citigroup is global M&A. In the just concluded fiscal, Citigroup Global Markets (India) has emerged as the second largest contributor to the group's India profits by playing advisor-and financier-to some of the biggest global acquisitions made by Indian corporations. These include Tata Steel's buyout of Corus (where Citigroup global represented the Tatas), UB's takeover of the UK-based Whyte & Mackay (where Citi provided acquisition financing of $619 million). What's more, Citi financed M&A worth $15 billion in 2006-07. The investment bank also helped arrange convertible bonds worth $480 million for JSW Steel, Era Constructions and Core Projects & Technologies. It also handled $2 billion foreign currency bond offering-India's largest- for ICICI Bank. "We do not compromise on credit standard. We have prudent lending norms and are not doing zero-fee deals just to garner business. We have financed some of the largest global acquisitions by Indian companies," says Nayar.
In the medium to long term, the billon dollar question is whether Citi goes on to increase its 12 per cent stake in housing finance major HDFC, which, in turn, controls HDFC Bank, whenever regulations permit foreign banks to acquire domestic banks. After all, Citi has been following a similar game plan in other growth markets like China and Korea, and the India road map may not be too different.