A 45-minute drive from Ludhiana, Punjab, is the village of Majara. As its undulating fields of golden grain attest, most of its 4,000 residents are farmers. But they are the minority - the other denizens of Majara are 7,000 pampered Holstein-Friesian cows, who live in high-tech sheds with fans to keep them cool and computers to monitor their diet. Visitors cannot touch the cows without washing their hands and disinfecting the soles of their shoes first. This 60-acre bovine heaven is one of the 13 farms of Macro Dairy Ventures. The company produces up to 60,000 litres of milk daily. "Every drop is milked in computerised parlours, and not by hand," says Jasbir Singh Khangura, Managing Director, Macro Dairy Ventures. An Oxford University graduate, he has experience as a hotelier and is a legislator.

Indians are consuming more milk than ever. Prices are up more than 10 per cent since March, according to some estimates. R. G. Chandramogan, founder and Managing Director of Chennai-based dairy company Hatsun Agro Product, dismisses as a "white lie" the government estimate of six per cent growth in demand and a shortage of some three million tonnes a year. He says it is the unchecked export of oil cake, the main ingredient of cattle feed, that is responsible for rising prices.

SPECIAL:India's yogurt mkt set for more action

However, demand is increasing, not just for milk but also for branded dairy products. And consumers are willing to pay. Macro Dairy recovers some of the cost of mollycoddling its cows from retail buyers who willingly pay six or seven rupees over the average price per litre of milk in Ludhiana - and even more in Delhi - for its products sold under its TruMilk brand.


No wonder the dairy industry, which has been growing at four to five per cent a year, is attracting investors. In 2008, Motilal Oswal Venture Capital Advisors invested Rs 60 crore in Parag Milk Foods, a company based in Manchar, near Pune. In July 2010, the US-based Carlyle Group paid Rs 110 crore for a 25 per cent stake in Thirumala Milk Products, a Rs 750-crore company based in Guntur district, Andhra Pradesh. In February 2011, Milk Mantra, a fledgling company in Bhubaneshwar, Orissa, raised $5 million (Rs 24.46 crore) from Aavishkaar Venture Management Services and other investors.
Where it comes from
Percentage of total milk production by source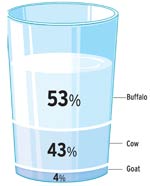 Unlike Macro Dairy Ventures, which owns farms, Milk Mantra buys milk from others. Srikumar Misra, Milk Mantra's founder and Managing Director, recalls that two years ago, when he approached investors in London, they said sourcing from scattered farmers would be impossible.
"When we started in April 2011, we had only 40 farmers," says Misra. "But now we have more than 1,000." Milk Mantra plans to launch its own brand in a year and a half. Multinational companies such as Nestlé, Danone and GlaxoSmithKline are scaling up, too. New Zealandbased Fonterra is drawing up plans for a big dairy in Andhra Pradesh in collaboration with the Indian Farmers Fertiliser Co-operative, or IFFCO, and Global Dairy Health, a company of the Delhi-based Apeejay Group. Girish Aivalli, Group Executive Vice President and country head for agribusiness at Yes Bank, says that in the past year, his division has done studies for not just Fonterra but also four Indian companies keen to set up dairy operations. But more herds and dairies are not enough to increase production.
Although India is the world's largest milk producer, its cattle are not very productive. Herd management and nutrition are crucial to the development of India's dairy sector, says Tony Evangelo, Area Director of Marketing at World Wide Sires, which markets embryos and semen.
Consultant Michele Janezic, who advises French companies on investing in India as Chairman and Managing Director of the Michèle Janezic Agency, is trying to fill precisely this gap through her Jeev Mantra charitable trust. With the support of Danone Ecosysteme Fund, an endowment set up by French food giant Danone, the trust plans to set up a dairy farm in Haryana, to supply milk to the French company. Haryana has a high density of cattle, and many small part-time farmers - with five animals or less - at the mercy of middlemen.
"We have started milk procurement now, and the farm will be set up by 2012," says Janezic. Government policy is also crucial to dairy development. Populist moves such as banning the export of milk powder, for example, hurt marginal producers and do nothing to check rising prices, because less than one per cent of milk production is exported, says R.S. Khanna, a Director of Kwality Dairy (India), "The number of corporate farms with more than 1,000 animals is probably less than 10," says Macro Dairy's Khangura. "I think within five years we will get to 100. So in terms of producing more and better milk, there is great opportunity."