Photo: Shekhar Ghosh
India's new tryst in cultivation is with a plant that was first grown in the Mediterranean 8,000 years ago. Its branches were discovered on the tomb of Egyptian Pharaoh King Tut. The Old Testament narrates the story of Noah, who after the flood, sent out a dove that returned with its branch. Victors in the ancient Greek Olympics were crowned with a wreath made of its leaves; the Olympic torch was fuelled by the oil from its fruit.
Until recently, India had little to do with olive cultivation. All the olive oil India needed to use on salads, or to fry, bake and grill, was imported. In 2007, however, the Mediterranean plant finally travelled to Rajasthan. The desert state now has seven large farms with 74,064 plants. And this year, the first made-in-India olive oil could hit the retail shop floor.
The story is intriguing, not the least because olives are mostly associated with Italy and Spain. How can you grow them in a state with a tropical dessert climate? It turns out you can, and the lessons came from Israel.
In 2006, Chief Minister of Rajasthan Vasundhara Raje visited Israel and found olives being grown commercially in its desert. She came back and consulted scientists before deciding on a pilot plantation. The next year, the state government promoted a company in the public-private partnership mode. Rajasthan Olive Cultivation Ltd (ROCL) had the Pune-based horticulture company Finolex Plasson Industries and Indolive Ltd of Israel as partners. About 112,000 plants were imported from Israel and the plantation completed in 2008. Flowering was observed in 2011 - the first indication that olives could be grown in India. By 2012, many of the plants had started bearing fruit as well.
"We sent some samples to Israel and labs elsewhere to find out the oil content in the fruit. It ranges from nine to 14 per cent," says Yogesh Kumar Verma, Manager at ROCL. A state government representative, he has been involved with the cultivation from its first year. The oil content of the olive in other countries varies between 12 and 16 per cent.
"We knew we could make it commercially viable. The government then imported an oil extraction unit from Italy," he adds.
This year, ROCL is expecting about 100 to 150 tonne of fruit - enough to begin commercialisation on a small scale. "The oil is likely to be packaged as 'Raj Olive'. We will do extra virgin and virgin oils only," Verma says. Both extra virgin and virgin oils are made by mechanical processes and are not chemically treated. The permissible level of free fatty acids is higher in a virgin olive oil compared to the extra virgin variety.
Cultivating the Mediterranean plant in India was, of course, not easy. About four hours drive from Jaipur is Bakalia in Nagaur district of northern Rajasthan. ROCL's farm here has about 13,000 trees, neatly planted in rows on near rocky soil. The trees are pruned to a cup shape - all the branches of the plant need to capitalise on the sunlight. In the middle of the farm is a tiny house from where both irrigation and fertilisation can be automatically controlled. The olive tree does not require much water but when irrigated, the water does need a specified salt content. The plants also require different nutrients at different stages. At one end of the farm is an autometrological station that gives out climatic data to be analysed. "Olive plants require chilling to flower and fruit - the temperature should be close to zero, or less than five degrees at night and the next day, the temperature should be less than 16 to 20 degrees," says Verma. If any of these variables go missing, the trees may not flower. In Bakalia, about 1,500 trees disappointed with the plants shedding their leaves.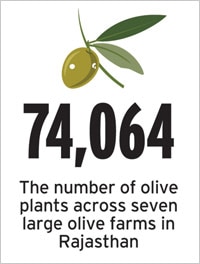 What does domestic production of olive oil mean for India? The country's olive oil imports are growing at a fast clip - from about 14,000 MT in 2013, imports are projected to shoot up to 42,000 MT by 2025 as more and more Indians choose olive oil for its health benefits. Olives are rich in oleic acid, which can help prevent heart diseases. A deterrent to greater consumption has been its price - an imported one litre bottle of extra virgin can cost between Rs 800 and Rs 1,000. A domestically produced one can be cheaper.
"The difference in my estimation would be 20 to 25 per cent - not as large as some people expect because we do not have the economies of scale that Spain and Italy do," says V.N. Dalmia, Chairman of Dalmia Continental, which recently sold its olive oil brand 'Leonardo' to US food major Cargill.
But others are more hopeful. Borges Group of Spain is one of them. Rajneesh Bhasin, Managing Director of Borges India, says he is observing the development in Rajasthan closely. "It is too early to say. But if there is an opportunity, we can launch a locally-produced olive oil. The land used by ROCL is subsidised. So the produce should be cheaper," he says. Besides launching its own brand, ROCL may allow private companies to bottle and market its produce.
Rajasthan's tryst with olives and its success can now inspire more states to adopt cultivation of this tree, especially on barren terrain. That could have huge implications on the livelihood of people in the region.