Many office employees work and shop simultaneously
That technology is redefining not just what we do but also how we do it has become a worn-out cliche and an everyday refrain. Nevertheless, it is a fact of modern life that these changes are far-reaching so much that words such as 'office' and 'work' are getting redefined in context and meaning.
Thanks to the seamless access to online information, the corporate workplace is no longer just a social space or a location where people work for a stipulated time. The surge in online sales shows that people are shopping even from their offices. This change in work culture may have eased the daily lives of employees but the human resources departments of most corporate offices are still pondering if this trend is a drain on productivity and if so how to contain it.
At the office of a Delhi-based social media agency, Ayesha Mahanti, 26, browses on her smartphone amidst her work as the lead of content and innovation. She shops only when she is free and her employer does not have any policy against online shopping.
Mahanti says she does not buy online frequently but visits e-commerce sites regularly. "Unless I find something that I need, I only browse. I take about 10 to 20 minutes to complete an online transaction. At times, discount coupons are a bonus. But in my experience the kind of stuff I buy online, I do manage to get good deals," she says. Mahanti even takes delivery of goods she buys at office. "I prefer cash on delivery model of shopping and use debit/credit card option when gifting someone," she says.
With people using quick breaks at the workplace to shop online, e-commerce sites such as Amazon, Myntra, eBay, Lenskart, Mydala, Yepme and Flipkart witness the most online traffic between noon and 4 pm on working days.
Some companies like Infosys have already monetised this trend and started a multi-partner employee discount programme called InfyGold+. Registered Infy employees can avail discounts on retail buys, hotels, travels and electronics items to name a few. An exclusive page for Infy employees is hosted on the vendor site and can be accessed through the company's intranet. From the page, employees can download coupons and use them to shop online.
According to Richard Lobo, Head of Employee Relations, Infosys, InfyGold+ has been well-received by employees. "They can avail these unique offers by downloading coupons online using their smartphones, tablets or laptops. We don't see any impact on work productivity as a result of this programme," he says.
According to a financial services team member of Infosys, Nikhil Jose K., the InfyGold+ has a wide range of offers in different categories across various cities. "The intuitive layout of the site helps in selecting the relevant offers. The offers are competitively priced," he says. A 26-year-old member of the manufacturing team, Anushree Yadav says shopping was never so much fun. "With InfyGold+, we now have access to many coupons, discounts and offers."
But not all IT firms have given the thumbs up to online shopping at the workplace. French IT firm Capgemini is a case in point. Like many other corporate houses, it has blocked access to all e-commerce websites. "We provide internet access to all employees to assist them in performing their job and it is governed by the Acceptable IT Usage Policy," says Rajesh Padmanabhan, Corporate Vice-President and Chief HR Officer, Capgemini India.
However, employees are free to use their personal devices for online shopping. "However, they are advised not to spend too much time on online shopping during office hours," says Padmanabhan.
HR experts aver that this trend is set to reshape the workplace and therefore a policy is a must. Ronesh Puri, Managing Director of Executive Access, a leading Asian executive search firm, says this employee behaviour is infectious and can take the focus away from work. "Initially organisations allowed it. Now for the last six to 12 months, some services and FMCG firms have blocked it. The best performers were not performing well. The reason was that they were spending too much time on e-commerce sites. The number of organisations blocking such sites will only increase in future," he says.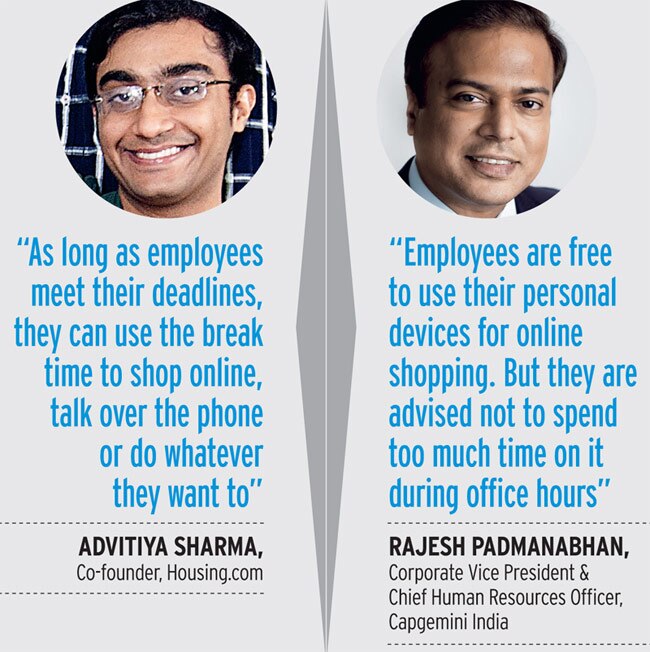 Unlike large corporate houses, start-ups offer more personal freedom, as many of them don't have a stated policy on e-shopping. Apparently different employees have different ways of meeting deadlines, and shopping online during work hours does not seem to impact productivity. "We believe in an open work culture. As long as employees meet their deadlines, they can use the break time to shop online, talk over the phone or do whatever they want to," says Advitiya Sharma, Co-founder of Housing.com.
Avinash Sethi, Chief Marketing Officer at Sapience Analytics, a software start-up that develops workforce management software agrees. "Different companies have different policies. Large ones focus on discipline, increased work hours and ban social media sites. But it doesn't work that way in today's world," he says.
At many workplaces, e-commerce sites are blocked due to client servicing but employees are free to use their personal devices to shop.
According to Anisha Singh, Founder and CEO of Mydala.com, a best deals site, her team observes a spike in site visits during office hours. "Because mobile is where we get the majority of our traffic from, we find that there are a large number of visitors from 11 am to 5 pm and then from 8 pm to 9 pm," she says.
And so the challenge for HR lies in how to deal with employees at work using their smartphones to shop. "There is no real policy and companies cannot control the transactions carried out from an employee's smartphone. The only exceptions are the back offices of some credit card companies which don't allow smartphones on work premises," says Vidur Gupta, Director of Spectrum Talent Management, an executive search firm. He says some companies have also installed firewalls to block access to shopping sites while some others allow employees to browse only in the cafeteria.
Mydala.com itself does not stop its employees from online shopping. "While there are no set guidelines, we do encourage our employees to balance their work hours. Our employee code of conduct has defined the company's expectations from its employees. As long as these are met, we let them work hard and play hard," says Nidhija Jain, Senior Vice-President, HR and Alliances, Mydala.com.
He says that in large companies employee engagement is low. "It is futile to ban certain websites. Of the mandatory nine hours a day, an employee on an average puts in 5.5 hours a day. In smaller firms, it is 6.5 hours a day. Performers perform in any case," says Sethi.
Organisational behaviour experts say this trend among employees shopping online while at work is their way of adjusting to fast-paced urban life. Some maintain the opportunity to shop online compensates for late working hours and brings better work-life balance. According to Ajay Kumar Jain, Associate Professor of Organisational Behaviour at the Management Development Institute, Gurgaon, online shopping cannot be avoided as most families have working couples. "It is easy to manage the household which in turn makes an employee productive," says Jain.
However, Leena Chatterjee, Professor of Behaviourial Science at IIM Calcutta, says anything that distracts people from work would affect the workplace ecosystem. "Employees should be allowed to shop online during their personal time, but there has to be a clear distinction of time management required for a job," says Chatterjee.
While opinions differ on what needs to be taken so that employee productivity remains unaffected, there is no denying the fact this trend of e-shopping is here to stay.