Kolkata-based UCO Bank is resting at the bottom of the pit in terms of capital levels among public sector banks (PSBs). Its capital adequacy ratio, a ratio of a bank's capital to its lending risk, was flirting with danger at around 9 per cent, the minimum requirement in the banking industry, at the end of September. Higher the capital adequacy ratio , the better the bank in terms of absorbing risks from defaults. The best in class, private sector HDFC Bank, has a capital adequacy of 15.40 per cent, while the largest bank in the country , the State Bank of India (SBI), is sitting comfortably at 13.94 per cent despite its asset quality deterioration. The reasons for UCO Bank's plunging capital levels include lower credit growth, falling income, deteriorating asset quality, higher provisioning for bad assets and consequently lower profitability. The government, a 76 per cent owner, had injected `775 crore as capital last year, which along with LIC contribution of Rs 270 crore, saved the day for the bank. But UCO Bank urgently needs more doses of capital this year.
The state of affairs of other PSBs, which control two-third of banking in terms of deposits and advances , mirrors a similar trend with the exception of a few like SBI. In fact, in a challenging time, SBI has recently managed to raise $500 million through a bond issue in the international market. But the credit growth of most PSBs have crashed to single digits. Their deposit growth too has taken a hit but, with the surprise demonetisation exercise, there has been a temporary trend reversal (they have been flooded with deposits). There is also no let up in stressed assets which have gone through the roof with over 10 per cent of advances. There are also no signs of improvement in their financials to absorb high loan losses. "We continue to see PSBs making losses this year given the challenging operating environment. In fact, we are seeing erosion of capital despite the infusion by government," says Saswata Guha, Director ( Financial Institutions) at Fitch Ratings. The Reserve Bank of India's (RBI) financial stability report , too, paints a grim picture of gross NPA in the future. "The gross NPAs may increase from 11.8 in September last year to 12.9 per cent in March 2018, which could increase further under a severe stress scenario, " warns the RBI. Bankers knew that the current capital levels won't be sufficient to cover growth requirements. In a recent pre-budget meeting with Finance Minister Arun Jaitley, the bankers have made a case for higher capital infusion through the Union Budget 2017/18.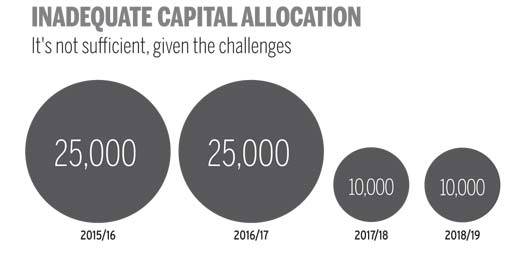 So what's the capital requirement of PSBs? The government had earlier estimated Rs 1,80,000 crore under Basel-III norms. The BJP- led NDA government aggressively allocated Rs 70,000 crore capital over four years till 2018/19. The government also directed banks to mobilize Rs 1,10,000 crore from the market by selling shares. The banks also had the option of bringing down the government stake to 52 per cent. In the last two years , the government had delivered on its promise. Out of the promised Rs 70,000 crore it had given Rs 50,000 crore in the last two budgets. But banks have been finding it difficult to raise capital from other sources. In the last two years, the stock market has been stagnant in terms of index returns. As a result, most of the PSBs are trading below their book value. Imagine UCO Bank selling its equity to LIC at Rs 37.74 per share against the book value of over Rs 60 per share. "It's like selling dirt cheap," says an analyst with a private bank. In contrast, stocks of private banks like HDFC, Axis and Kotak, are trading at multiple times of their book value.
Experts believe that the government has to step in with higher allocation. The capital allocated for next two years is Rs 10,000 crore each, which is too low given the challenges of NPAs and lower profitability. In fact, there was some hopes post demonetisation as many argued that the black money extinguished by the RBI will provide a window for the government to recapitalise PSBs in a big way. But that was not to be as a large part of the demonetised currency is back in the banking system as deposits. In Union Budget 2016/17 , Arun Jaitley - while providing Rs 25,000 crore - said, "if additional capital is required by PSBs, we will find the resources."
But, clearly, the message from the owner, the government, is that banks have to be financially strong and competitive in the fast changing banking landscape.
The roadmap for consolidation of PSBs to create three-four large banks like SBI is already under discussion. In fact, the government has made the first move to merge five associate banks with SBI including Bhartiya Mahila Bank. There are also some steps taken to privatise banks. For example, reducing the stake in IDBI Bank to below 52 per cent. Talks are still on to find a suitable partner.
Meanwhile ,the RBI is hoping that the government's Indradhanush plan, unveiled in 2015, would show results soon. It is a seven pronged programme to overhaul PSBs including appointments, board of bureau, capitalisation, de-stressing, empowerment, framework of accountability and governance reforms. "The Indradhanush initiative would contribute to better performance of loan portfolio of banks," said N. S. Vishwanathan, Deputy Governor, RBI, at a seminar recently.
While the broad road map is clear, the banks will have to aggressively generate capital out of internal resources. First, the banks have to be aggressive in tackling NPAs as the numbers have reached unimaginable proportions. The banks also have to sell their non- core assets like stakes in mutual funds , insurance and other non-bank subsidiaries. The stock markets are also not helping either. If the capital doesn't come in time, banks have to make sacrifices in growth and market share.
The noose is tightening for PSBs. Over to Jaitley. ~
@anandadhikari