Sometimes movie-making happens like clockwork; other times, like a car-accident," Hollywood actor Eric Roberts once said. Thousands of miles away, at his landmark PVR Priya cinema office in Delhi's Basant Lok, where the multiplex revolution was born in 1995, Ajay Bijli would be inclined to agree. The chairman of PVR has first-hand experience of the vagaries of the film production business.

Among the turkeys Bollywood delivered last year was the expensive period film produced by PVR, Ashutosh Gowarikar's Khelenge Hum Jee Jaan Se. The next, recent release of the Bijli brothers, Ajay and Sanjeev, 3 Thay Bhai too, has had a lukewarm initial response at the box office.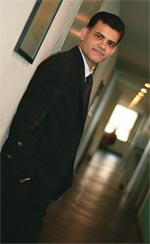 Moving into film production and distribution in 2004, the brothers have so far produced seven films. But with these setbacks, they are now becoming cautious about investing large sums in film production. "We had tremendous success with
Taare Zameen Par
and
Jaane Tu Ya Jaane Na
, but it's a volatile business," says Ajay.
Bollywood's lean season for most of 2010 has cemented PVR's faith in its core proposition - the exhibition business, where it is acknowledged as the pioneer of the
multiplex revolution
in India and seen as a frontrunner. "We are very clear that this is where we are anchored. As we grow, we simply have to keep our position clear - that we are the best in the exhibition industry, which is our core offering,'' says Ajay.
It's back to basics then, and PVR is assiduously crafting a strategy to scale up its exhibition business. It is already working with mall developers to acquire key anchor positions. "We are obsessive about getting the retail trends and developments right, and once we identify an upcoming location/project, we negotiate for bulk anchor space,'' says Pramod Arora, group president & CEO, PVR.
The PVR team believes that getting the retail mix right is critical to survival. "If you get your retail footprint right in the multiplex business, it brings you better quality consumers - people who need entertainment options and also have the ability to spend more," says real-estate consulting expert Anuj Puri, chairman & country head, Jones Lang LaSalle.
Even at the height of its involvement in film production, PVR was consistent in its approach to mall development. "They almost never invest in projects where the mall owner's objective is merely to build a property and offload it to buyers. They want to partner with developers who have a long-term view on retail development," says Puri. It is perhaps this well thought out game plan that has allowed PVR to carve out a distinctive identity. This identity in turn has attracted entrepreneurs like Amit Burman to team up with the Bijlis.
PVR also joined hands with the Thai multiplex chain Cineplex Group in 2008 to set up more bowling alleys and rinks. The joint venture, it says, is now delivering results. "We like the experience they have, and the fact that they are also in the multiplex business and know what kind of offer will add value to the core," says Arora. This venture has already shown a turnover of Rs 15 crore and is looking at double-digit growth figures.
Then, the company has firmed up plans to go one up on its premium PVR Gold service with a new offering, Director's Cut, which will add fine dining and bar options to its exhibition business. The ticket is a steep Rs 1,000 but offers a complete entertainment package to consumers who want to spend on an evening out.
PVR has also been exploiting its prime locations across urban India to garner advertising revenue, and intends to scale up this business further. It has successfully managed to offer its properties to marketers who want to tap into a captive audience.
"We are extremely organised and are able to offer our clients an array of solutions, and partner with them on their marketing and media plans," says Dutta. The company clocked revenues of Rs 50 crore in 2009/10 from advertisers, and expects to sustain double digit growth rates in the future. Ajay Mehta, CEO, Interactive TV - a company that focuses on cinema advertising and marketing solutions - agrees that PVR offers a big opportunity to marketers. "Today the cinema advertising industry is worth Rs 200 crore and PVR has a dominant 25 per cent share of this business," he says.
PVR does have to contend with stiff competition though. There are many big multiplex chains in the fray - Reliance MediaWorks' Big Cinema, Zee's Fun Cinema, INOX and Cinemax, among others - and they are all growing at a rapid clip, making sizeable investments and expanding through mergers and acquisitions.
But analysts feel PVR is on a relatively stronger wicket. "We find the PVR's management very focused, and unlike many others they are largely into this segment alone.Hence their business shows signs of better management," says Abneesh Roy, Vice President, Institutional Equities - Research, Edelweiss Securities.
The industry too, is likely to witness steady growth in the coming years which, analysts say, will allow all the big players to expand. Says Rajesh Jain, Partner, KPMG: "Mulitplexes are here to stay, especially as they bring in the bulk of the revenue collections from movies.
Also, as India seeks more entertainment options this industry is likely to witness a lot of development." Multiplexes currently account for only eight per cent of screens, but 60 per cent of box office collections come from them.
The Bijli family, meanwhile, is crafting a long term strategy. "I'm now looking to re-organise roles within the group so that we do not all get bogged down doing the same things," says Ajay. He relies on brother Sanjeev for his acumen in vetting projects. "He is very meticulous and likes to personally investigate each location before we decide to invest there, while I like to be involved in the creative aspects," he says. The duo is now mulling entertainment theme parks - which will include multiplexes - to further help their core business come out a winner.