Koustav Dhar knows the aviation business like the back of his hand. He's been an industry insider for over 15 years, first as the CEO of the now-defunct MDLR Airlines and then the CEO of Jagson Airlines. Dhar, 44, is now donning a new hat by becoming the promoter of an airline - Zoom Air, the latest carrier to fly in the Indian skies.
No one knows the pain of regional airlines better than Dhar. When the government opened up the aviation sector for regional carriers in 2007, MDLR became the first airline to acquire a permit. For over two years, the airline operated in the northern region but it struggled to fill up seats, resulting in frequent cancellation of flights. Finally, MDLR promoter Gopal Kanda, the flamboyant politician from Haryana, decided to quit the business.
In his next assignment, Dhar headed Jagson Airlines - it also had a regional licence, but didn't fly. Since then, Dhar was waiting for the right moment. The booming aviation market prompted him to launch his own premium airline early this year. He opted for a national permit this time. "I have burnt my fingers in regional aviation and I knew the problem with regional airlines," he says.
While Dhar has learnt it the hard way, other regional carriers are still struggling. Indeed, regional aviation has witnessed more failures than successes in India. In the past seven years, six regional airlines have shut shops. Air Costa took off in October 2013 and suspended operations in February 2017. Chennai-based full-service carrier Paramount Airways flew for a good five years before being grounded in August 2010. The case of Air Pegasus is even worse - it ran into financial troubles in just over a year of starting operations, and closed down in July last year.
The inordinate failures seem to have made several others wary of entering the fray. A few airlines acquired regional permits in recent years - Star Aviation, Zav Airways and King Air - but could not launch an airline. The situation of the existing regional players, Air Carnival and TruJet, is not encouraging either. Financial problems, inability to scale up rapidly, rising competition from large carriers, airport infrastructure constraints and several licensing restrictions have made the life of regional carriers miserable and there are no apparent signs of respite.
The Challenges
Passenger traffic is key to the success of regional carriers. It can be generated only if an airline has convenient time slots and is considered reliable. A regional airline can operate on a hub and spoke model in which they act as feeder carriers to the big carriers. For instance, if a regional carrier is flying between Hyderabad and Kochi, it can get two types of traffic - local passengers and connecting passengers from other flights. Since the local passenger traffic may not be huge, increasing the flight frequency doesn't make sense. The regional airline would then need attractive time slots for flights between Hyderabad and Kochi to give a viable option to a passenger travelling to Kochi from, let's say, Kolkata.
Regional airlines often falter on the reliability aspect. Take the case of Air Carnival which operates one aircraft. Since the aircraft engine was getting replaced, flights were cancelled for a few days. Regional carriers top the charts in flight cancellations and passenger complaints. In February, for instance, the highest cancellation rates were recorded by Zoom Air (14.29 per cent), Air Costa (5.58 per cent) and TruJet (3.71 per cent) among 12 operators.
All this lead to low occupancy rates and even lower market share for regional carriers. TruJet and Air Carnival, the only operating regional carriers at the moment, recorded occupancy rates of 77 per cent and 73.6 per cent, respectively, in February. Grounded airline Air Costa, though, recorded a higher occupancy of 84.9 per cent, just before its closure. In comparison, the occupancy rates of IndiGo and SpiceJet stood at 87.7 per cent and 93.7 per cent. The combined market share of regional carriers stood at 1.1 per cent in February against 39.5 per cent for market leader IndiGo.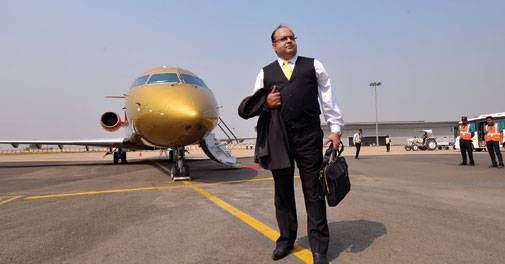 The concept of regional airlines came up around the time the low-cost carrier (LCC) market was picking up. The LCC model was intended to make flying affordable for the masses, while regional airlines would improve connectivity between metros and smaller towns. The regional scheduled operator permit (RSOP) allowed airlines to fly in one particular region of their choice - North, East, South and West. RSOP says that an airline can choose only one metro in its region, and it has to fly to category II and III routes from that metro. A regional airline from the South has an advantage because there are three metros in the region - Bangalore, Hyderabad and Chennai. They can fly to any of these three metros since they are in the same region, and that's why almost all regional airlines are based in South India. "The problem with regional airlines is that they cannot operate from one metro to another metro. You have to connect between two metros to survive," says Kavi Chaurasia, VP (marketing) at Air Costa. That gives national carriers a huge advantage over regional players. Not only do they have bigger catchment areas but can also fly more passengers at almost similar fares. "It kills the regional carriers," says Dhar.
To set up a national airline, a player needs paid-up capital of `50 crore and a fleet of five aircraft. The paid-up capital for regional airlines is `30 crore, and it needs to have three aircraft within two years of obtaining permit. For subsequent aircraft inductions, regional airlines need `10 crore per aircraft, which is half of national carriers. "The low-entry barriers lured a lot of players but many players realised that RSOP is a non-starter," says an aviation consultant. Already, several large carriers are expanding their base in the southern region. Because of capacity constraints in Delhi and Mumbai, players like AirAsia are gobbling up more capacity in the south. SpiceJet with its smaller Bombardier Q400 aircraft is also moving in there.
The government has tried to address this issue by scrapping RSOP last year and introducing a new concept - SCA (scheduled commuter airlines). With the SCA permit, an airline can now travel from anywhere to anwhere, just like national carriers. But experts feel that SCA is not going to make a difference because national carriers would continue to get preference over SCAs for slots at key metro airports.
Focus on Expansion
Whether it's about large or regional carriers, the name of the game is expansion. It includes flying more aircraft as well as covering more cities. Regional operators have not been able to ramp up their fleet leading to a lot of problems. Shyson Thomas, Managing Director of Air Pegasus, says that his airline couldn't withstand the financial pressure and within 15 months of starting operations, the airline suspended its operations last July. "Our basic problem was cash flow. Initially, we were selling tickets at moderate fares to capture market share. We needed more capital to invest," he says.
Thomas says that the regional airlines have to keep inducting aircraft to bring down per unit cost. This, he explains, is due to the nature of the cost structure. "That's when the airline starts to make profits. We had just three aircraft," says Thomas. Airline costs are divided into fixed and variable. Fixed costs include insurance, manpower costs and leasing rates. When the fleet is expanded, the fixed cost components don't increase in the same proportion and get evenly divided over a larger number of aircraft.
Air Costa, which suspended its operations after failing to resolve financial issues with the lessor, faced a similar issue. "We were operating four aircraft and 34 flights daily. The profitability comes only when an airline has a minimum of six aircraft to maximise revenues, increase profit margins while maintaining variable cost under control. Somehow we failed to induct aircraft at frequent intervals, which eventually started hitting our business," says Air Costa's Chaurasia. "It's a business of scale. Those who have closed down were not able to increase the fleet," says V. Umesh, Managing Director of Hyderabad-based regional carrier TruJet, which currently has four ATR 42-500s and plans to increase its fleet to about 20 aircraft in two years.
Air Carnival's expansion plans have been scuttled by unavailability of funds. The carrier operates one turboprop. It has signed deals for two more aircraft but doesn't have deposit money for lessors. The airline also needs money to build new stations, for maintenance, add manpower and for other expenses. Manish Kumar Singh, CEO of Air Carnival, says that no financial institution in India is ready to support regional players. "Services sector is being given priority by the government. Project funding is needed for expansion. Promoters enter the sector with hope. We have knocked on doors of most financial institutions but we couldn't raise funds," he says. Desperate to expand, Air Carnival is now close to selling a substantial stake (about 80 per cent) to investors to raise around $10 million.
Dealing with Lessors
Leasing of aircraft is a big issue for regional carriers. There are only about 10 lessors in the world who do regional jets and turboprop leasing. The bitter experience of the past - the winding up of Kingfisher Airlines and its non-payment to lessors - has eroded their faith in the Indian market to some extent. Large carriers with deep pockets manage to convince lessors but regional players usually end up signing expensive leasing deals.
Regional players with a 70-seater aircraft operate at one-third the seating capacity of a large carrier. A narrow-body Airbus 320 or Boeing 737-800 has about 180 seats. It should mean that the leasing cost should be one-third of large carrier. That's not the case right now. For instance, the lease cost for a 10-year-old narrow-body aircraft is around $200,000 per month. A brand new ATR 72 costs $18 million. The lease cost is typically 1 per cent per month which translates into $180,000 monthly. "That kind of leasing cost is unsustainable. The ideal lease cost should be not more than 18 per cent of the total cost," says Dhar.
The Second Coming
The grounded airlines Air Pegasus and Air Costa have plans to revive operations on the back of fresh funding. Air Pegasus, for instance, has recently submitted a revival plan with DGCA wherein the airline will be investing over `30 crore to restart operations. It will be on top of about `70 crore that the airline had invested prior to its suspension. Its license was revoked last year. "We plan to induct two aircraft initially. We would have a fleet of six aircraft by next year. DGCA is happy. They don't want airlines to perish," says Thomas, adding that he is finalising a deal with a Bangalore-based private equity investor for fresh capital infusion.
Air Costa has been in talks with investors too, for quite some time. It had suspended operations after defaulting on payments and salary delays. Just before that, the airline upgraded its licence to a pan-India permit (from regional permit). "The funds infusion will bring the strength in business. The promoters are putting their best to raise funds and it is going to take some time to finalise. The key is to make a plan for at least five years and follow the timelines strictly. If you don't do that, you are bound to get stuck somewhere," says Chaurasia.
The government's push for increasing regional connectivity is also giving fresh hope to regional carriers. Under UDAN (Ude desh ka aam naagrik), the government plans to cap fares on regional routes for a certain number of seats in a flight. Despite the boost to regional aviation, experts believe that Delhi and Mumbai will continue to generate most traffic. In March last year, 10 routes, involving Delhi and Mumbai, accounted for 31 per cent of the total domestic air traffic. Both the cities don't have capacity to support regional growth in terms of landing and parking slots. "Till this happens, I have serious doubts on how regional connectivity is going to work," says an aviation analyst.
So far, regional aviation market has proved to be a deathbed for several carriers. The ongoing financial issues and several operational constraints under which regional players operate make them unsustainable in the current form. But considering that most regional carriers already know their shortcomings, there appears to be some glimmer of hope on the horizon.

@manukaushik