The Volkswagen Plant in Pune is gearing up to roll out its brand new line of white Skoda Fabias in May this year. Auto engineers run around like busy bees, polishing off the few specks of dust on the bodies, running final performance tests and fixing cables. "With its growing demand, India is an important market for us," says Jorg Muller, President & Managing Director, Volkswagen India. "We will produce three car models from this plant primarily for the Indian market," he says. Currently, only a handful of cars are being produced, but when the plant finally powers up to full capacity, Volkswagen will begin churning out 1,10,000 cars every year, including the popular Polo hatchback scheduled to be launched next year.
Volkswagen is one of many foreign automakers—with the exception of well-entrenched, market leaders Maruti and Hyundai— who are busy expanding their plants and launching new product lines in India, despite the global economic slowdown and flat auto sales. The rationale of these relatively recent entrants is simple: This is a hot car market which still has enormous potential in the form of the upwardly mobile Indian middle class consumer who has yet to be as severely affected by the slowdown as his western counterpart.
"As the economy grows, there's growth in per capita income and car ownership," says Rakesh Batra, Partner and National Leader, Automotive Practice, Ernst & Young. Foreign car manufacturers have recently announced plans to add 1.02 million units to existing capacity. Combined with current and future output by Indian car makers such as Tata Motors, India's car manufacturing output could easily double in the next four to five years. The auto sector, including auto components, is now the sixth-biggest sector for foreign direct inflows, with a cumulative capital of Rs 14,680 crore. This is a big improvement from just a few years ago when autos couldn't even make it to the top 10 list of industries receiving FDI.
Clearly, India has become a vital component of any automaker's strategy. Even beleaguered US auto giant General Motors (GM)—while battling for survival back home in the US—inaugurated a new plant in Talegaon near Pune with a capacity of 1.4 lakh vehicles in September last year. GM has already invested more than $1 billion into two of its plants in India as well as a technical centre in Bangalore, and plans to launch three new cars this year. "The global crisis will likely affect all automakers across the globe to some degree," says Karl Slym, President & Managing Director, General Motors India. "But our growth plans are intact. It may take a little longer to get where we wanted to as the recessionary trend continues in India as well. But we are here to stay."
Toyota Kirloskar, too, is keeping up with the competition by building another plant at Bidadi near Bangalore, that is focussed on making compact cars, with an annual production capacity of 70,000 units.
Says Sandeep Singh, Deputy Managing Director, Marketing, Toyota Kirloskar Motor: "The compact car project is progressing as per schedule and the car will be out in the market by the end of calendar 2010. There is no change in our plans though we are revisiting each and every investment.'' Singh says that Toyota would like to bring in more products to the Indian market in the medium to long term and expand their presence. The company's focus on India means that it will not be looking to export to global markets at present.
Still, it's clearly not yet time to break out the bubbly. The current global crisis over the last six months has wreaked havoc on the growth of the Indian market. As financing dried up beginning October 2008, growth in automobile sales has slowed considerably in India, remaining flat at 1.55 million passenger cars for the period 2008-2009. At present, the industry is running below its capacity of around 1.85 million cars. Yes, there were signs of revival in the first quarter of the current year, thanks to the cut in excise duty which reduced the prices of cars to some extent. Plus, PSU banks have also been financing new cars in a big way in the recent past. However, these are far from accurate predictors of any kind of market revival.
Says Michael Boneham, MD, Ford India: "We were pleasantly surprised by how passenger car sales grew in the first quarter (January-March 2009). But I am not absolutely confident that this will continue. There is some robustness in the market but it needs to be tested. Next quarter will be critical."
Not surprisingly, some foreign automakers are adopting a waitand-watch attitude, while others have scaled back their operations— delaying expansion plans and focusing on fully utilising current capacity, and in some cases scaling back from operating three shifts to just two a day.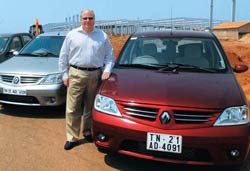 While European car producer Renault has committed investments of about Rs 5,000 crore over the next seven years, it has temporarily decided to freeze its production plans from the Chennai plant's 50-50 JV with Nissan. Says Marc Nassif, Country General Manager, Renault India: "Renault is monitoring the global economic situation very closely and as soon as we see a window of opportunity, we will jump-start manufacturing of Renault cars from the Chennai plant." The plant will be ready by early 2010 and Nissan had plans to roll out the first car by mid-2010, but that might not happen. Honda Siel, too, has balked at expanding in a downturn and has postponed the second phase of operations of its second Rs 1,000-crore plant coming up in Tapukara, Rajasthan.
The assembly operations now could take two to three years depending on the market situation. Says Masahiro Takedagawa, President & CEO, Honda Siel Cars India: "The assembly operations will begin in the second plant once the production capacity in Greater Noida is fully utilised." Still, Takedagawa says that the company will go ahead and launch new models as initially planned.
Is there a ray of hope for automakers worried about a slowing domestic market? Yes, and it is in the shape of the small car. Car producers maintain that the Nano could in fact expand the market as it seeks to convert the millions of motorcycle owners into car owners.
Naturally, several foreign carmakers, are also diving into the fray. Says Slym: "The small car has been a volume seller in India. Nano has redefined affordability. It can widen the market and generate additional volume for segments above Nano. We will bring our own small car by the end of this year. Competition will get challenging but customers are going to be the beneficiaries."
Eager to cash in on the Nano boom, Honda Siel Cars is also launching a small car. Says Takedagawa: "We too plan to enter the small car segment over the next two to three years and this car is still at a development stage. But I can assure you, it will have the core values of Honda." Even embattled Ford is designing a small car for the Indian market. Says Boneham: "The small car is Ford's first foray into the value segment globally. We intend to first launch it in India and then take it to other Asia-Pacific and African markets."
Not surprisingly, auto major GM, which is facing losses in the US, is also launching a mini-car towards the end of the year. Others, like Hyundai, have identified India as its small car export hub. At present, the i-10 and i-20 models are exported exclusively out of India. Says H.S. Lheem, MD, Hyundai Motor India: "For the first time this year, exports from the Chennai plant will be more than domestic sales. We plan to export three lakh cars against a sale of 2.8 lakh domestically."
Still, for all this froth about the small car, the question many auto experts are asking is whether all this investment in the auto business can sustain itself? Will car companies be able to log growth despite turmoil in overseas markets? While the global auto market could see a plant rationalisation in the coming years, auto makers are confident that the Indian market can steer them through these bleak times. Says Takedagawa: "India will be one of the few markets that will continue to grow. No doubt, it will not be a big growth—but under the current circumstances a positive growth is a good sign." Agrees Lheem: "BRIC countries are expected to recover fast and among them India and China are expected to recover faster." Just the right kind of news to rev the engines of foreign automakers who are here for the long haul.
Additional reporting by N. Madhavan and K.R. Balasubramanyam