India is quickly warming to the coffee house culture, and the entry of the biggest name in the business is stirring up the market. As Seattle-based Starbucks Coffee contemplates its strategy, its biggest rivals, Cafe Coffee Day and Barista Lavazza, are making inroads in small cities and towns .

In the coffee house business, a larger footprint means more revenues. Starbucks, in a 50:50 joint venture with Tata Global Beverages, called Tata Starbucks Ltd, plans 50 outlets by the year-end - a drop in the ocean for the 17,000-store global chain. When the venture was announced, R.K. Krishna Kumar, Vice Chairman, Tata Global Beverages, said the group may target 3,000 outlets in India in a few years. The Tata Group, of course, is no newcomer to the business, having been a Barista partner earlier. In a market pegged at nearly Rs 1,440 crore and expected to grow at a compound annual rate of 30 per cent over five years, rivals are unfazed, as the Indian market is underpenetrated.

A recent report by Technopak Advisors says the market grew by 200 stores a year for the past five years, and was worth $190 million by 2010/11. India has over 1,400 cafes, and Technopak says the country has space for up to 2,700 more in five years. This is tiny, compared to 200,000 cafes in Italy. Santhosh Unni, CEO of Costa Coffee India, says: "The cafe market is small, and needs to grow faster. The entry of chains like Starbucks and Dunkin' Donuts will help generate more demand."


Cafe Coffee Day
says, "The news about Starbucks's entry will increase awareness about coffee, and enlarge the community of cafe goers. There is enough room for everyone to grow." Since the chain started in 1996, at least four international coffee brands have entered India, and the market has grown with every entry. Cafe Coffee Day plans to add 250 outlets over the next year.
Los Angeles-based Coffee Bean & Tea Leaf opened its first non-metro outlet in Pune in December 2011, and plans to open six more over the next three to four months. Barista Lavazza plans to focus on its premium Espression outlets. The first one opened in Delhi in November 2011. "We plan to open Espression stores in key metros in the next 12 to 18 months," says R. Shivashankar, South Asia Director, Lavazza.
Turin-based Lavazza seeks to make India its second largest market after its home country, Italy. India accounts for three per cent of Lavazza's global turnover, and the company aims to increase this to 10 per cent in five years.
Besides Starbucks, another premium player - Dunkin' Donuts - will enter India this year. Prices are likely to rise as a result. "There is a chance of people being upgraded to a higher price point, as they were when Cafe Coffee Day came in," says Raghav Gupta, Principal, Booz & Company.
On the India pricing strategy, John Culver, President, China and Asia-Pacific, Starbucks Coffee, says: "We are going to be priced according to where the market sits and the premium experience we offer."
A growing market can accom-modate more players, but the operating environment is getting tougher. "Real estate remains a challenge," says K. S. Narayanan, CEO of PanIndia Food Solutions, which operates Coffee Bean & Tea Leaf stores in India. Starbucks is aware of such constraints. "We are going to be disciplined about how we grow in India," says Culver. "We are obviously going to be aggressive and grow as quickly as we can.
But we are going to make sure the infrastructure is there to support growth aspirations." The Tatas will leverage group businesses for the back end of the venture. Most of the coffee will come from Tata Coffee's estates in Karnataka and Tamil Nadu. Food will be sourced via the Tata-owned Taj group of hotels and TajSATS, the Group's airline catering arm.
Some outlets may be in Taj hotels and Westside stores. But Starbucks's Culver says that the Indian venture will not restrict itself to fivestar locations, and is considering railway stations and university campuses.
Analysts say Tata Starbucks's combination of back- and front-end strengths set it apart in the premium segment. Saloni Nangia, President, Technopak, says: "Starbucks understands how to create the Starbucks experience. For the supply chain, which is the difficult part in India, the Tatas bring in complete understanding."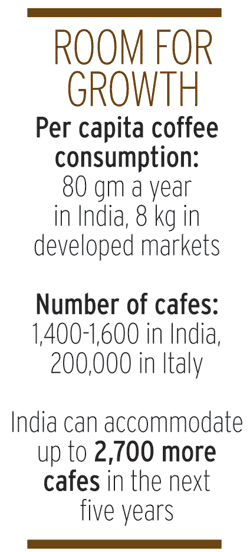 The other big late mover in the cafe business has similar strengths. Dunkin' Donuts has tied up with Jubilant Foods, whose success with Domino's Pizza is testimony to its understanding of the supply chain. Indeed, it could give Starbucks a run for its money in India. In any case, analysts expect
Cafe Coffee Day to stand its ground, albeit in the value segment, because of its vertical integration and reach. COO Madhav says: "We will deepen our engagement with consumers and expand our network." For example, his chain's outlet on the IIT campus in Kharagpur, West Bengal, is the only one within a 100 km radius. It may seem a stretch to service such locations, but the company is willing to go the extra mile - or 60 miles - if there is a market.
It would take Starbucks a while to get to such places. What the entry of the two American giants will do is increase segmentation in the cafe market. "There is going to be polarisation," says Harish Bijoor, CEO, Harish Bijoor Consults, and former VP at Tata Coffee. "At one end will be the premium market dominated by Starbucks and, at the other, the popular market led by Cafe Coffee Day." And perhaps that is how things will be until the two American giants get hungry for more, and look to expand beyond the premium segment.
Additional reporting by Anumeha Chaturvedi