Amazon - The Amazoning Story
During a trip in 2014, Amazon India employee Chirag Kohli realised that erratic power supply and limited battery life were a bane of most mobile phone users in rural Rajasthan. He knew that powerbanks were the answer to their woes. But at the same time he also learnt that the region lacked basic infrastructure to shop online. He went back to his superiors at Amazon India and suggested a business model that would serve India's rural markets. Soon enough, when the company launched Project Udaan, the 30-year-old was made its business development head. Kohli tied up with small traders in remote Rajasthan to build a network of Amazon brick-and-mortar stores. "With our skill training, it was a win-win for everybody. Custo-mers got products of their choice and small traders earned a commission," he says. Amazon has been encouraging out-of-the-box thinking right from the time it set foot in India to take on competition in a hyper competitive e-commerce market. Rajgopalan Raghavan, Director, Human Resources, Amazon India, says the staff count has been growing at a CAGR of 40 per cent over the past five years. "We are a company with interests across several segments, including e-commerce, cloud computing, app stores, advertising technology, Kindle, customer services and fulfilment centres. Our portfolio helps us attract and grow diverse talent," he says.
Twice a year, Raghavan and Amazon India MD Amit Agarwal meet the employees to hand out cowboy hats for those who did outstanding work - whether it be an engineering product, marketing ideas, category management or just for solving a customer problem innovatively. Sipra Sahu, a site merchandiser, says while the awards might not carry cash rewards, they are highly prized among the Amazonians. The Door-Desk award, a miniature desk with a small door carrying Amazon founder Jeff Bezos signature, for instance, is a much coveted trophy that everyone wants to lay their hands on. Similarly the Juggad award is handed out to those who come up with simple, but innovative solutions to complex problems. " For us awards are not merely a token of recognition for good work, the end-result should impact customers and enhance their experience," says Raghavan. "People who are self-driven and motivated do very well here. It is a fast-paced and dynamic environment. I also like the enormous flexibility I get. As long as I get it done, it doesn't matter where I am and what I am doing. This helps in better work-life balance," says Sahu. Amazon has also been growing its leadership ranks using India as a talent pool for its global operations. With 40 per cent of its workforce being women, Amazon says it is an equal opportunity employer. "We invest and hire with an eye on the long-term and India is a very important for Amazon," says Raghavan. And the talent seems to agree. - Venkatesha Babu
American Express - Harnessing Talent
Manish Kapoor, 44, joined American Express in 1992. With a hotel management background, he joined the travel division -- only he did not know much about travel. "The opportunity and culture enabled me to learn travel pretty quickly," he says. There was no looking back. Kapoor subsequently went on to handle several other assignments including a stint with the sales department as he desired. He has spent more than 20 years with the organisation now and is one of the seniormost leaders.
"We have many such stories," says Vishpala Reddy, Head of Human Resources at American Express India. She says that these stories differentiate American Express from other workplaces. Broadly, the company hires people for technology, finance, customer servicing, risks space and traditional consumer-facing roles. "We have a diverse set of businesses. We cut across many lines of services. Employees who want to make career on the cards side, customer servicing, underwriting or fraud businesses ? can navigate across these lines of businesses. They can grow in their career by moving across," she adds.
In order to promote migration from one function to another, American Express organises career fairs. "We have the luxury of having careers that are so different. We had one week [of fair] where the focus was on promoting awareness around different jobs and skill sets. We had external speakers and business leaders. We covered all locations," says Reddy. Currently, American Express is operating out of 14 cities in the country with a headcount of over 10,500.
With a strong focus on employees, American Express has come out with a set of tools and programmes to keep them motivated and create an open environment. For instance, it has partnered with an agency that offers online counselling to its employees for free. Similarly, to attract best talent, the company has adopted new methods to hire fresh graduates from campuses. For some types of businesses, it goes to management and engineering institutes. A special mobile app is being made to engage with potential candidates. The mobile app has games based on analytics designed in a way that they test the required skill sets of the students while giving them insights into how things are done at American Express. "A lot of credit goes to business leaders who are committing their time because they want the right demographics to walk in," says Reddy.
With an average age of below 30, one of the toughest tasks of the company is to keep attrition low. Its attrition is above 20 per cent, which the company claims is below industry level. "In today's age, we believe that our brand is strong enough to attract talent," says Reddy. - Manu Kaushik
Flipkart - Putting the Flip Before the Kart
In October 2015, when Indian e-commerce major Flipkart held the second edition of its Big Billion Day sale, every employee worked round the clock for five days to ensure seamless operations. And to keep the energy levels high during the 120-hour marathon sale, some even broke into a flash dance. "It was more like the Rio Carnival with balloons festooning the office and employees chattering away as they helped customers in a shopping frenzy," says Saikiran Krishnamurthy, Chief People Officer, Flipkart.
What's more, the employees, or Flipsters, took it upon themselves to make the event a success because the inaugural edition had attracted criticism for not being able to handle the never-before-seen buyer traffic. "Working here does not feel like a job. People who thrive on uncertainty and love the challenge to build something special, something new and innovative, enjoy working here," says Chandini Atmakur, a product marketing manager. And, all this raw energy and ambition from the 20-somethings have not only put Flipkart well ahead of its peers, but has also put it in a 'position of privilege' in attracting talent.
The low average age of employees - the average Flipster is 25 - has also set the tone for growth. The company realises that a top-down command structure would not work with millenials, who do not accept an authoritarian approach. Even the founders' views are not sacrosanct and, more often than not, their ideas are also challenged when top managers assemble for Flipout Fridays to take questions from Flipsters. "This culture of openness is what is ingrained in the DNA of the organisation and we will continue with it,' says Krishnamurthy.
Seniors also take time out to talk to team members over 'brown-bag' lunch sessions to discuss any topic that would help empower them. "We are an opportunity-rich and resource-constrained company. We don't try to manage leadership and outcome through programmes. We just get out of the way and smart employees take the initiative and arrive at solutions, evolving into leaders," adds Krishna-murthy. Currently, Flipkart has 23 per cent women in its workforce, and hopes to take it up to "at least 50 per cent". "Reviews are not time-bound and a few high achievers have even been promoted as many as six times in three years," he adds. Flipkart's employee-friendly rules have also helped retain talent. "While most organisations provide three months of paid leave for an expectant mother, we give six months (three before and three after) and an additional four months of flexible work hours. I have personally taken advantage of this," says Sarah Jemima Samson, a Senior Talent Acquisition Partner, adding that even new fathers get 10 days of paid leave. The same rules apply even if a child is adopted, while daycare cost is subsidised to the extent of 50 per cent. The company is also attracting talent from across the world. Says Eric Lange, a Google and Yahoo veteran who joined as Vice-President, Product Development at Flipkart six months ago: "My ability to make an impact here is much greater. The opportunity to strengthen a world-class company from India is huge."
For now, Flipkart seems to be making all the right moves in the high-growth Indian e-commerce market. - Venkatesha Babu
Capgemini - It's People, People and People
The elevation of Srinivas Kandula as Chief Executive Officer of Capgemini India a month ago shows the importance the company attaches to people. Kandula was earlier the chief people officer of iGATE, which was acquired by Capgemini, the technology services and consulting company based in France, in a $4-billion deal last year.
After joining Capgemini, Kandula was leading the integration process. While the integration was still on, Kandula moved to a bigger role, replacing Aruna Jayanthi. He had also played a key role in the acquisition of Patni by iGATE and its integration in 2011.
Capgemini Group Chairman and CEO Paul Hermelin says Kandula's diverse experience, notably in iGATE, will help the India division play an enhanced role in the group. The division has about 88,000 employees, 50 per cent of the group's total strength. It caters to over 800 customers globally.
Capgemini provides consulting, technology, outsourcing and local professional services to clients. In addition to increased focus on cloud, digital and analytics, its traditional strongholds are testing, enterprise solutions, application testing and maintenance. People matter in each of these verticals.
Capgemini started operations in India in 2001 with 200 people. Some of those who joined as software engineers about 15 years ago are now at director and vice president levels, which indicates the opportunities the company provides, says Kandula.
Capgemini has its own distinct HR framework, known as the 5C model --- which stands for compensation, camaraderie, career, culture and competency. "We give importance to all the sub-systems of HR --- hiring, reward and performance management and employee communication and engagement," says Kandula.
Capgemini, with people from 80 nationalities, has built an ecosystem that can accommodate people from all walks of life. "We have a consensual and participative work culture. We respect people. Employees get enormous opportunities to learn. They have access to everybody in the company," says Kandula.
The growth of the company also helps it attract quality talent, says B.L. Narayan, HR Head (India). "The IT industry has young people and they are aspirational. Since Capgemini is growing in double digits, attracting talent is not an issue," he says.
"We stay connected with students and engage with the top institutions throughout the year. We have a structured programme for absorbing students. After onboarding, we keep skilling, reskilling and upskilling employees," says Narayan. Despite a better compensation system, Capgemini's attrition is on a par with the industry standard of 18-20 per cent. "We have been driving specific interventions for the past two months after studying the reasons for attrition," says Kandula.
For training, Capgemini has a corporate university in Pune and a leadership training university at Les Fontaines near Paris. It also has a training and development division. - Nevin John

Idea Cellular - Making the Right Calls
Every year, Idea Cellular relocates almost 1,500 employees within the company. That's roughly 10 per cent of its permanent workforce. For any organisation, this kind of movement can be highly burdensome, but not at Idea, where it is planned well. A small proportion of these relocations, within cities or between two cities, are for filling up vacancies, but a vast majority, 90 per cent, have a different purpose.
"The intent is to bring freshness, to give people higher challenges, and to expose them to different teams, bosses and market conditions. We ensure that people keep adding value as they spend time in the organisation," says Vinay Razdan, the company's Chief Human Resources Officer. Every movement is thought through, discussed and planned.
Typically, people focus on vertical progression and rewards during performance appraisal. But Idea also focuses on career progression of employees. So, as during the performance appraisal discussion, the dialogue around career progression takes a back seat (the entire focus is on ratings), the company has created a separate process to talk about career progression. Once a year, employees talk to managers about skills they would like to acquire or projects they would like to undertake. "The organisation has multiple job profiles. If an employee doesn't plan, he or she could get lost in the same job and same vertical for 10-15 years, which means he or she doesn't get an opportunity to broad-base skill sets by moving across verticals, locations and roles," says Razdan.
Razdan says human resources interventions in Idea Cellular are immune to market conditions. He says in 2008, when the economic downturn happened, and when most companies decided to put their programmes on hold, Idea continued its high-cost initiatives. "Its an investment that you make in people. It takes years to build that trust," he says.
In order to create a robust performance appraisal system, the company uses scientific tools even at the lowest level. In other organisations, says Razdan, such techniques are usually employed for top 5 per cent talent, as it's an intensive process.
"Most companies get three-four people around to discuss about an employee and take a call whether the person should be promoted. Not many companies have diagnostics available to them in which case studies, in-basket examples and various tools are used to assess competencies of a person in a scientific manner. Our performance management and career growth engine is completely transparent and objective. If an employee has talent, he does not have to worry about being on the right side of people in life," he says.
As a result, employee engagement at Idea has been impressive. For instance, in one of the employee engagement surveys conducted at the Aditya Birla Group, including Idea, a record number - 99.3 per cent - employees participated. "We picked a day and told people across the company [to participate]. The purpose was to test alignment. It was like a thousand-piece orchestra playing the same melody. We had record levels of participation," says Razdan.
Nevertheless, the high attrition rate over the past 12 months seems to be bothering the human resources department. In the past, the company has claimed to have the lowest attrition rates in the industry. But with the entry of Reliance Jio, which is building everything grounds up, poaching has shot up. "This year, the whole industry base has shifted. The kind of people we are losing to competition are not highly rated, though. We are losing average performers," he says. - Manu Kaushik
Citibank - Citi 2: A Trendsetter in Many Ways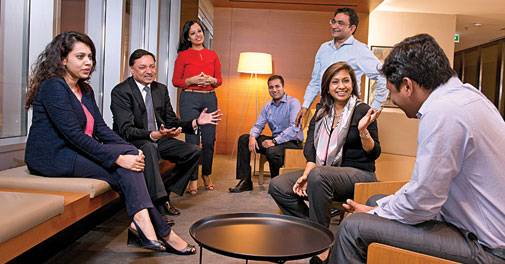 W hen Pramit Jhaveri, the India CEO of Citibank, was mentored by a team member 15 to 20 years his junior, the interaction proved to be an enriching experience. And, he was not alone. Reverse mentoring is, in fact, a norm at Citibank, where young employees connect with seniors and share their views on the business, career development and workplace culture. "Our policies are dynamic and constantly evolve, considering the average age and aspirations of our young talent pool. Several such programmes exist, including reverse mentoring, career week, women's networks, extended paternity leave, child care, etc. All of this is rooted in a strong philosophical desire to build and foster an entrepreneurial, yet open, culture, says Jhaveri.
For Citibank, the global financial crisis of 2008 was an opportunity to rediscover itself. "Between 2010 and 2011 there was a huge transformational change in India. Apart from the new management team, we also saw some plumbing in our processors, governance and controls. We were building a culture we wanted and rebuild a legacy which we would feel proud of," says Anuranjita Kumar, Managing Director (Chief Human Resources Officer), Citi South Asia.
Apart from the quality of leadership, the focus is also on talent development. "We had to change mindsets. We had to make ourselves more agile and needed to follow processes, but at the same time not get constrained by them," says Kumar, adding: "The idea was how we keep on innovating and keep renewing ourselves and not get off the treadmill." One of the things that Citi successfully implemented was the integration of captive and local operations, including salary, which was brought on a par for people with similar roles.
Citi also formed a diversity council and an innovation council to encourage participation from all. Says Pramod Rao, General Counsel at Citi India: "Diversity council has become one of the key mechanisms to address employee welfare. We receive insights from employees and address them. For instance, flexible maternity leave or a 20-day paternity leave are both unique to Citi." Within the Citi network, the Indian subsidiary was also the first to introduce an annual childcare allowance of up to `1.32 lakh, over and above their salary, which the new mothers could spend on daycare services to pursue their careers, uninterrupted. Says Jhaveri: "At Citi, it has always been our endeavour to build a meritocratic culture in order to attract and retain the best talent. In the same vein, we work hard at developing policies and programmes to help our employees find work-life balance, which in turn will allow them to develop as well-rounded professionals and human beings."
The career week, which was an India-specific initiative, generated so much goodwill that it was recently adopted by another Asian subsidiary. "Meet-the-CEO and mentorship opportunities help the young engage with the senior management, which even includes informal discussions while playing on Xbox and playstation," adds Rao. Citi also has a sponsorship programme to identify obstacles in the career of an employee and find ways to conquer them. Similarly, the leadership programme is also unique in many ways. "We believe in giving early responsibility and offer various training programmes to help them grow. At the executive level, we ensure a leader has the requisite support through mentoring, coaching and other relevant exposures they may require," says Kumar, adding: "We also ring fence the ratings of women who take maternity leave, which helps us retain high-potential performers in the organisation."
Citi India has constantly endeavoured to make employees experience the best, but it is still on the job to Wow its Citizenry! - Mahesh Nayak
Genpact - Striking the Right Balance
Most women find it difficult to strike the right balance between work and parenting, primarily because they bear the burden of childcare and housework. But what about a workplace that enhances the careers of returning moms?
Sunanda K. Malik, Assistant Vice-President, Talent Marketing and Corporate Communication, Genpact, puts it in perspective: "Of all the opportunities the company has provided me, the joy of bringing my one-year-old twins to work is the greatest. It's difficult to express how much it means to me to strike a balance between raising children and having a flourishing career."
For Genpact, which evolved into an integrated IT services player from being a pioneer in the Indian BPM space, this was a serious issue. With 40 per cent of its 70,000-plus workforce being women, ability to attract and retain was a key focus area. Unlike some of its peers, Genpact decided to do something about women dropping out or hesitating to return by starting a programme called 'Returning Moms', starting off by opening crèches at five facilities in India.. It was not just women - like Malik -who have benefited. Nitin Bhat, Vice-President, Sales Operations, says: "My wife and I both work. We decided to put our daughter in a good day care, and getting this facility at the workplace surely helped."
Piyush Mehta, who leads human resources at Genpact, says such practical solutions have helped the company emerge as an employer of choice. In the Returning Moms scheme, Genpact assured them of "no night shifts, complete flexibility on their shift choices and even the venue", says Mehta. These assurances were crucial as nearly 78 per cent of its annual revenue of $2.5 billion still comes from BPM (contact centres) kind of work.
Legacy and leadership
Genpact was started by GE as provider of back-end operations in India. Eventually GE exited and Genpact became an independent listed entity. Mehta says the company carries GE's heritage and legacy of doing things by adopting robust systems and processes.
The company does not necessarily want to be seen as the best paymaster, though Mehta is quick to clarify that it pays competitively. "The goal is to be an attractive employer who provides a career rather than just a job. For instance, our aim is to promote from internal ranks for three-fourths of leadership opportunities."
Genpact also recruits from campuses. Attrition of 24 per cent is high, but Piyush points out that it is lower than peers and the industry average. Since a large part of the workforce is in the mid-20s, it provides assistance in university graduate programmes, MBA programmes and other technical studies. About one in five of its employees have taken advantage of this, says the company.
To grow the next generation of leaders within, it runs Global Operations Leadership Development (GOLD), which is an 18-month experiential training programme seeking to enhance the operations management capabilities of managers. Candidates are put through job rotation, classroom sessions and mentorship by Genpact leaders as well as industry experts. GOLD participants hardly leave the organisation, claims Mehta.
Such policies have helped the company grow faster than the market. Over the past five years, its revenue has grown at a CAGR of around 17 per cent, compared to industry average of 12 per cent. N.V. 'Tiger' Tyagarajan, President and CEO of Genpact, says, "Recruiting, developing and leveraging a global and diverse talent pool has always been core to Genpact. Our key leaders including myself spend more than a third of our time on this."
While very few pure-play BPM companies have been able to make the shift to offering integrated IT services, Tyagarajan says the reason for Genpact's continued success is due to the talent of its employees who work at the leading edge of domain depth and lean digital and analytics capabilities. "This winning culture of generating impact where people feel empowered and are constantly developing into better professionals is what makes Genpact a truly exciting place to work."
The numbers seem to agree. - Venkatesha Babu
Aditya Birla Financial Services - The Hand Holder
A Balasubramanian, CEO, Birla SunLife Asset Management, was not keen to join the Birlas when, in 1995, he was offered the job of a trader and fixed income fund manager. One reason was that he did not want to leave GIC Mutual Fund as it was government owned. But his parents convinced him otherwise.
After that, he says, the company has not given him any reason to complain. "Most of the time I got responsibilities before I could ask for them. This has kept me motivated," he says. It is this ability to invest in people that makes Aditya Birla Financial Services Ltd, or ABFSL, the financial services arm of the Aditya Birla Group, one of the best places to work.
For instance, when Bala, as he is fondly called, was nominated as the CEO, he was assigned a coach for help in time management and communication with employees. After that, he got another coach on strategic thinking and building the business. In fact, Bala, who had no clue about marketing and sales, also got help from Pankaj Razdan, Deputy CEO, ABFSL.
It's not just Bala. Nurturing talent across all levels is ABFSL's USP. Rahul Parikh, Head, Aditya Birla Money MyUniverse, an online money management business, says faith shown in individuals is one reason why he has been with the company for the past eight years."
Boosting Morale
Most of the credit goes to Ajay Srinivasan. When he took over as the group CEO of ABFSL in 2007, it wasn't easy for him. The entity had five businesses - mutual fund, life insurance, insurance advisory, non-banking finance and financial distribution - which were making a loss of Rs 100 crore a year. Since then, he has been able to diversify into 12 businesses. The company posted a profit of Rs 850 crore last year.
"I had a clear mandate from Mr. (Kumar Mangalam) Birla to build a significant leadership business in line with the group's DNA," says Srinivasan. "When I came, what I found was that we had good employees, but there was lack of self-belief. It was a question of building confidence than anything else."
Among the first things he did was to choose four people in areas of risk & compliance, HR, marketing and operations & IT. "The aim was to follow best practices across functions and businesses so that every business we set up benefited from the standards we follow," he says.
While integration allowed ABFSL to grow much faster, it also helped it manage talent. "In the financial services space, people look for growth on a continuous basis both in terms of roles and knowledge. So, any company that provides such opportunities is a great place to work from the employee's perspective. It is simple," says Chief Human Resource Officer Subhro Bhaduri.
Therefore, the company has created a talent council that looks after talent at the senior management level across verticals. "This has opened a new horizon of growth for people not only in terms of hierarchy but also in terms of exposure to the different lines of businesses," says Bhaduri. Last year, the group shifted around 950 people from their roles. While some were assigned a role within their existing area, many were transferred to a different business, a few were even shifted to the group (Aditya Birla Group). "We are definitely ahead of the curve in providing opportunities across our platform to employees," says Srinivasan. - Mahesh Nayak