Ramlal, a rickshaw puller in Delhi, regrets his decision four years ago to vote for the Congress. He felt then that the Congress's aam aadmi plank would accommodate him and allow his family to share in the prosperity that was transforming large swathes of urban India. Ramlal earns Rs 4,000 per month with which he supports his wife and two children. He also sends money to his ailing parents who live in their native village in Uttar Pradesh. His hopes have been belied.
Ramlal's lament is that his lot, far from improving, has only got worse. Earlier, he could not only meet his day-to-day expenses and send home money, but also save Rs 500 every month. But today, he can barely manage to feed his children. "The continuous price rise is making my life miserable," he complains.
Ramlal's is not an isolated case. It is symbolic of the fact that the aam aadmi, who voted the Congress-led United Progressive Alliance to power, is less than impressed with the government. There is growing unease across various sections of the population over the government's inability to rein in inflation— it was at a 13-year-high of 11.63 per cent for the week ended June 21, 2008—which, admittedly, is largely fuelled by international factors. But has the Congress and the UPA really delivered on their promises? It has, on some counts, but hasn't on most others. But Manish Tewari, Congress spokesman, squarely blames the states for the government's failure to live up to its promises. "In a federal polity, many subjects fall under the jurisdiction of state governments.
There is little the Centre can do to improve the delivery of services at the state level. If people elect competent leaders, they get a competent administration," he says.
What went wrong?
Economist Omkar Goswami, Chairman, CERG Advisory, feels the government did earnestly try to fulfil the commitments it made in the Common Minimum Programme (CMP). "The rapid growth of the last six years has increased economic inequality, and accentuated the feeling of alienation among those left out of, or touched only peripherally by, the process," he says. The Gini coefficient— a measure of statistical dispersion that is commonly used to measure the inequality of income and wealth distribution— for consumption expenditure has increased between 1999-2000 and 2004-05, for both urban and rural India. "It is a fact that people have generally become better off, except that some have got more better off than others. Thus, the increase in inequality," he adds.
Broken promises
Ambitious social sector and economic reforms targets set out in the Common Minimum Programme (CMP) have not been met.
Targets: Increase outlay for education to 6 per cent of GDP
Status: Remains way below target. Allocation stands at 1.06 per cent of GDP in the 2008-09 Budget
Targets: Increase outlay for health to 3 per cent of GDP
Status: At 0.99 per cent of GDP, the allocation remains way below target
Targets: PSU privatisation
Status: Stalled due to lack of political will
Targets: Opening up of foreign investment in banking, insurance
Status: Stalled due to opposition from allies
Targets: Labour reforms
Status: Stalled due to pressure from the Left

Then, many of the schemes— most notably NREGA (National Rural Employment Guarantee Act), NRHM (National Rural Health Mission) and JNURM (Jawaharlal Nehru Urban Renewal Mission)—launched by the government were improperly administered. Result: the benefits did not always reach the targeted beneficiaries. Says Charan Wadhwa, Professor Emeritus, Centre for Policy Research: "The intentions behind these schemes were good, but delivery has been poor."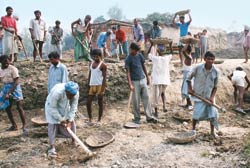 The UPA government has spent over Rs 2,00,000 crore on fighting poverty, but has not been able to achieve its poverty alleviation targets. The Bharat Nirman scheme, to improve rural infrastructure, is 66 per cent short of its goals. NREGA, UPA's flagship scheme for the aam aadmi, is generating large-scale corruption instead of employment and has, in most areas, done little to improve the lot of rural workers.
The CAG report on the performance of NREGA reveals loopholes in the system. It reports that in Bihar alone, Rs 2.77 crore and Rs 8.99 lakh were paid to unregistered and fictitious labourers, respectively, during 2006-07.
Again, the Congress begs to differ. "You should ask the people for whom NREGS makes the difference between getting a meal and starving. It is working very well in states like Andhra Pradesh, Maharashtra and Madhya Pradesh, and is money very well spent, though there may be a few instances of leakages," says Tewari. The government's achievements in the areas of health and education, too, are way behind its own targets.
Here, too, Tewari defends the government's report card. "If you check the records, you will find that the money spent on education and healthcare has increased handsomely since 2004 when the UPA government entered office," he says.
According to R. Baladevan, Senior Associate, Centre for Civil Society, a not-for-profit organisation devoted to improving the quality of life in this country, the UPA government has not been able to provide any new direction to the country. It has simply increased allocations for cetain schemes instead of trying to remodel and improve the projects. "If a system hasn't worked for 50 years, what's the use of pumping more money into it?" he asks.