Call it lady luck. On August 17, when Colors' big-buck reality show Bigg Boss-2, hosted by Bollywood actress Shilpa Shetty, went on air between 10 and 11 p.m., it ended up attracting more eyeballs than even the No. 1 and No. 2 channels, STAR Plus and ZEE TV, respectively. According to television rating agency aMap, some 11 million viewers tuned in to watch the svelte Shetty launch the reality show, which revolves around the relationship dynamics of 16 men and women living under the same roof (Bigg Boss House).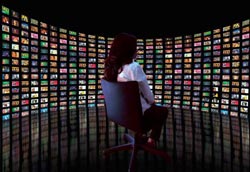 Evidently, Shetty's charm waned a bit subsequently, but it still managed to keep Colors, the newest general entertainment channel (GEC) in the Great Indian Television Bazaar, at the No. 3 slot for much of August. Rajesh Kamat, CEO of Colors, a joint venture between Network 18 and Viacom, can't stop grinning. "We have already crossed the historical mark of 150 GRPs (as per TAM data). While
Bigg Boss-2
has just debuted, what I am thrilled about is the very positive audience reaction to all our shows.
Khatron Ke Khiladi
(anchored by movie star Akshay Kumar) came as a proposition that was both disruptive and differentiated… and it's been good for our fiction serials as well," he says.
Making it to the No. 3 slot just a month after the launch is no mean feat in the Indian broadcast market. At least 15 new satellite channels (some media planners put the number at 25), all launched in a matter of 12 months, and epic media properties such as the Indian Premier League jostle for eyeballs and, consequently, the advertiser's rupee. In this melee, the genre that accounts for nearly a third of the audience share is Hindi general entertainment. It includes everything from the famous saas-bahu soaps on STAR Plus to the long-running Sa Re Ga Ma Pa Challenge on ZEE TV to now reality shows such as Colors' Bigg Boss-2.
Not surprisingly, this is where the hottest action is. More than nine months ago, Peter Mukerjea's INX Network launched 9x, followed by NDTV Imagine (headed by former STAR executive Samir Nair), and then Colors. There are other channels such as UTV's Bindass and ZEE's ZEENext that are aimed at a younger audience between 15 and 34 years of age, but don't like to call themselves GECs.
Therefore, depending on how one categorises them, there are at least 11 GECs, including Doordarshan's DD, STAR Plus, STAR One, STAR Utsav, ZEE, Sony, SAB TV, 9x, NDTV Imagine, Colors and Sahara One. Two more are set to enter the fray shortly and include the Turner-Alva Brothers' joint initiative and something from the ADAG-owned Reliance Communications.
Given the clutter, it's not surprising that all the new launches have been backed by huge marketing and promotion spends and very aggressive pitches to marketers. Even as STAR Plus has fought tooth and nail to retain the top slot versus ZEE, Sony is finding the No. 3 slot rather slippery for it. "We are seeing a close battle for the No. 3 slot," says Indrani Mukerjea, Founder & CEO, INX Media. "Since April (this year) 9x, along with other channels, has been at the No. 3 slot at different times," she points out. Adds Harsh Rohatgi, Executive Vice President (Revenue Management and New Ventures), NDTV Imagine: "NDTV Imagine is currently bunched in the second tier of GECs after STAR Plus & ZEE." Of course, Sony doesn't agree with INX or NDTV Imagine. "We are the third-largest player and there's no dispute there, but there is a fight for space among all the new entrants," says Rohit Gupta, President, Sony Entertainment Television.
Risk of fragmentation
Such skirmishes are just a tell-tale sign of the fierce battle that lies ahead for viewership as well as the advertising money, which drives every GEC's business model. In anticipation of the bloody battle ahead, channels are experimenting with new ingredients to whip up a compelling concoction for advertisers.
9x and Imagine aren't the only ones attempting something different from the run-of-the-mill soaps and shows. Anuradha Prasad's B.A.G Films & Media has launched E24, an entertainment news channel, that is partly fashioned after Times Group's Zoom TV. And the fact that the new GECs have dived into reality shows and mythological serials (or even spiritual shows such as
Mata Ki Chowki
on Sahara One) is a pointer to their desire to slice their target group more finely.
So, there's Chak De Bachche from 9x that, despite being in the eye of a storm over alleged abuse of child rights, has garnered a rating of 2.07 TVR (as per TAM People Meter Audience Research) or Kahaani Hamaaray Mahabharat Ki, again from 9x, which has been building up TRPs. NDTV Imagine, too, has found loyal viewers for a new Ramayan.
Action, reaction
Just the same, being a new player, catering to a smaller audience set isn't easy. That effectively means having to put compelling deals on the table for advertisers. The new GECs, for instance, are having to guarantee a minimum viewership, failing which the deal gets sweeter and sweeter for the advertiser.
Earlier, Sathyamurthy N.P., Joint President, Lintas Media Group, had told Business Today that media planners were taking investment calls based on guarantees of viewership share from broadcasters. "Usually, we review this within four weeks of launch, and if the commitment has not been met by then, we get additional commercial time for our clients," Sathyamurthy had said. Evidently, the viewership commitment gets reviewed in six months and then nine months. "If 70 per cent of the viewership commitment has not been met until that time, we get 30-35 per cent of our commitment money back," Sathyamurthy had explained.
It could be this safety net, or the fact that advertisers know a good thing when they see one, that has led to all the big brands spreading their presence onto the new entrants as well. And with this rush, the era of a handful of shows delivering all the eyeballs is apparently over. "The era when shows used to garner viewership rating of 10 and 12 is over," says Debashis Sarkar, Senior Director & Chief Marketing Officer, Max New York Life. His company has just unveiled a new brand positioning tagline and will allocate nearly Rs 25 crore to promote it this quarter.
Other marketers agree. For instance, Behl says that the general entertainment genre is bound to face stiff competition from other genres on account of decreasing share of overall viewership and increased fragmentation within this segment. "This will impact advertising revenues because marketers will chase target group eyeballs and not any particular genre," adds Behl.
That raises an important question: are the new players eating into the shares of the incumbents, or are they surviving on discounted deals to advertisers? "Competition is good for the customer because it will eventually improve the quality of content produced by broadcasters to stay ahead in the race. And competition is also good for the advertisers because space sellers will enhance brand value through more cost competitiveness and innovations," reasons Behl. So, who's getting hit? "I think the pressure is on the new entrants, since the established players with a basket of channels to offer are well cushioned. Besides, we have 100 per cent sellout of our inventory and our spot rates have increased by 10-15 per cent," claims Gupta of Sony.
Final measure
Given the mood, it's not surprising that more and more players want to define their turf differently. "With the market evolving, broadcasters will be segmenting their audiences more keenly— either by demographics, psychographics, through geography, or through content," says Sunil Lulla, Director & Group CEO, Alva Brothers Entertainment.
His company is on the verge of launching a new channel in the GEC space. So, there will be more and more players who will target either metro, semi-urban, rural, or go for a different demographic band altogether. "Bindass is India's No. 1 youth channel and its target audience is 15-34 age group… We are not a GEC channel," declares Zarina Mehta, CEO, Bindass.
Her view is in sync with what advertisers also feel. "I think channels themselves will formulate their unique strategy; it's happened across categories," says Chandrasekar Radhakrisnan, Head of Brand & Media, Bharti Airtel. "The moment they do this, the marketer can also decide what channel/programme to back at what time." The good news: viewership for the space has not gone down. So, this category will only grow the way News grew with the entry of new players, reckons Radhakrisnan.
Interestingly enough, neither the broadcasters nor the advertisers think that there are too many GECs around. "With only 12 GECs at present, it would not be fair to say that it's a crowded space," argues Mukerjea of INX. She points out that in places with lesser diversity and smaller population there is a far higher number of GECs. In the US, for example, there are more than 40 GECs, in the UK over 28 and Germany has nearly 60.
It's clear that over time there will be more experimentation, with newer and different formats getting tried out. "Even as channels are growing, so are the brands and their needs. I do not see budgets coming down at all, but will get more finely focused on chasing specific audiences," says Sarkar of Max New York Life. Looks like there's a happy story in the making for India's starry-eyed broadcasters of general entertainment channels.