"It just happened"
Ramesh J. Chauhan, Chairman, Bisleri International
In 1969, When Ramesh J . Chauhan bought the Bisleri brand from an Italian entrepreneur, the last thing on his mind was bottling water and selling it. Chauhan, then a 28-year-old sprightly player in soft drinks, was on the hunt for a branded soda (carbonated water) to complete his portfolio. Signore Felice Bisleri, who created the eponymous brand in 1965, introduced the concept of bottled water to India in the same year. Bisleri was launched in Mumbai, in glass bottles, in two variants: Bubbly and Still.
"We had brands such as Gold Spot but no soda; in the late '60s and early '70s there was good demand for soda from five-star hotels. Bisleri Soda was popular, which is why I bought out the company. But we did not even look at the water business then," recollects the 67-year-old canny businessman.
Chauhan turned the spotlight squarely on bottled water only in 1993, after selling his soft drinks stable to Coca-Cola for a cool $60 million (Rs 186 crore). But the going wasn't easy. Being a heavy but low-priced product, transporters were not willing to touch Chauhan's water bottles. Solution? Transport the water on his own. The gamble has paid off; today Bisleri has over 2,000 trucks moving the Bisleri range—which starts at 250 ml and goes up to 20 litres—across the country.
To be sure, Chauhan can take credit for creating a category from scratch, which is today estimated to have a market size of Rs 2,000 crore (just the organised sector). In the process, he has succeeded in making Bisleri a generic name for bottled water; he controls 60 per cent of the market in volume terms; owns a brand that consultants have valued at Rs 3,000 crore; and is growing at 35-40 per cent annually, faster than the industry rate of 25 per cent. The company claims to be selling some 15 million bottles a day via 3,15,000 nationwide retail outlets (paan shops are one of the most popular) and some 3,400 exclusive distributors.
Ahead in the race
That's not bad going, considering that the market for bottled water has three strong national players other than Bisleri: Aquafina, Kinsley and Tata's Himalayan; and countless regional pretenders. There seems to be room for all. And a few more, too. "The water business is huge and is going to get much larger," says Chauhan. He points to an AC Nielsen study on the beverages market that indicates water is 2.2 times the size of the soft drinks market, in terms of litres.
And you thought it's only water
Bisleri has been around for over four decades.
Origin: Italian entrepreneur Felice Bisleri brings the bottled water brand to India in 1965
Early avatar: In glass bottles, in two variants: Bubbly and Still
The Chauhan factor: In 1969, Chauhan buys the brand (for its club soda)
Big break: In 1993, when Bisleri was sold in half-litre packages for Rs 5
Big gamble: A foray into transportation. It worked. Today, Chauhan has some 2,000 trucks nationwide
Annual growth rate of Bisleri: 35-40 per cent.
Bottles sold per day: 15 million
Number of retail outlets covered: 3,15,000
Exclusive distributors: 3,400
Number of factories: 54, will have another 30-32 more by March 2010
New variants: Bisleri Mountain Water, Bisleri Mountain Water from the Himalayas. Contemplating launch of enhanced water, vitamin water and flavoured water
Good reason for being in the business: Water is 2.2 times the soft drinks market in litres, according to a study

The most developed market is Tamil Nadu, followed by Gujarat and Maharashtra. Adds Homi Battiwalla, Vice President, Emerging Categories, PepsiCo India, which owns Aquafina: "The packaged water business has shown robust signs of growth as more and more consumers have become increasingly hygiene-conscious. In addition, there has been a growing trend of consumer awareness about health & wellness, which has spurred the growth in packaged water phenomenally."
Battiwala claims Aquafina is "among the top three retail water brands in the country." Chauhan's advantage is that his focus is water and little else. For the likes of Coca-Cola (which has Kinley), Pepsi, Kingfisher, Nestle et al, water is just another business, and not the flagship one. This has allowed Chauhan to get his distribution act together—right to the paanwalla in the remotest village— get his pricing and packaging right, and focus on innovation.
Chauhan isn't keen to get into other related segments like fruit juices or beverages. However, he sees infinite potential to extend the Bisleri brand into premium categories.
In October 2006, along with a re-branding exercise (the Bisleri colours were changed from blue to green), the company introduced a new variant of natural mountain water. Today, it has two brands in the premium segment: Bisleri Mountain Water and Bisleri Mountain Water from the Himalayas. Although a highermargin business, it is still small and serves more as an image driver than a revenue generator.
Go global
Bisleri plans to take its mountain water brands international, to Europe, America and West Asia. Says Chauhan: "We have not yet started exporting because we are still working on getting the packaging right; we are looking for innovative, light-weight and sturdy packaging material." In future, Chauhan doesn't rule out forays into enhanced water, vitamin waters and flavoured waters, where the company is doing its research.
Meantime, Bisleri finds itself locked in combat with Tata's Mount Everest Mineral Water (a bottled water firm that Tata Tea recently bought into). Chauhan is fighting charges of breaching copyright for the use of the Himalayan brand name, under which Mount Everest sells its water. Bisleri believes that the word Himalayan is generic and cannot be used as a registered trademark.
"Bisleri had launched its mountain water 'from the Himalayas' in December 2006. We question the delay in filing an objection to the authorities. The company is trying to hide its marketing failures, which is the real reason behind the legal move. I believe that this move will have a zero effect on Bisleri."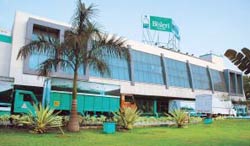 Mount Everest officials were unavailable for any comment. Another headache for Chauhan is the generic nature of his brand. It's doubtless a matter of pride for virtually every bottle in the market to be called Bisleri, but it also means that consumers aren't exactly brandconscious and will settle for any bottle thrust into their hands. "Every bottled water is called Bisleri and that's what we need to overcome…. If we are able to do ten times of what we are currently doing, then I would say we are in a satisfactory position," shrugs Chauhan. "There is a lot of work we need to do for Bisleri. We have to now make inroads into Kerala, Jammu & Kashmir and other places. We have not paid attention to these markets so far. We have a long way to go in this business," he adds.
The pioneer is clearly thinking ahead, but that doesn't prevent the grapevine from crackling with talk of Bisleri being sold. If he could sell Thums Up, say observers, why not Bisleri? "No, they (these rumours of selling out) are not true. I might have sold our carbonated brands. But the water business is doing well and I am in a position to build and sustain Bisleri, and will not sell it at any cost."