"India will succeed so long as it is not splintered on religious lines. Every person has the right to practise their religion how they choose"
Barack Obama, US President, to Agencies

---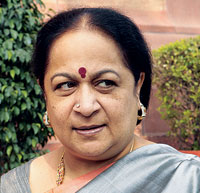 "I received specific requests [which used to be directives for us] from [Congress Vice President] Rahul Gandhi and his office forwarding environmental concerns in some important areas and I took care to honour those requests"
Jayanthi Natarajan, former Congress leader and environment minister, in a letter to party president Sonia Gandhi

---

"Display of love in the entire Valentine's week is equivalent to not following Indian traditions. Anyone found displaying love on Facebook, Twitter or WhatsApp will be caught hold of. Eight teams have been formed in Delhi to keep a check on social media"
Chandra Prakash Kaushik, President, Hindu Mahasabha, in The Times of India

---
"Demand for iPhone was staggering. This volume is hard to comprehend"
Tim Cook, Apple CEO, to analysts, after the company posted the biggest quarterly profit in corporate history

---
"... I am not scared of anyone... I don't do politics for industrialists. I do politics for the interests of the poor and will continue to fight for their rights"
Rahul Gandhi, Vice President, Congress party, to Agencies

---
"My reputation is being maligned, my record being trashed. Why was this necessary?... Why has it become so low and dirty?"
Sujatha Singh, former foreign secretary, after being removed from the post, to NDTV