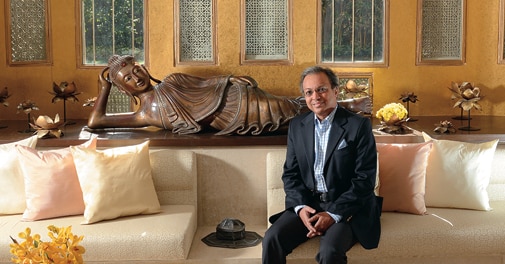 Real estate investment company Landmark Holdings, promoted by Gaurav Dalmia (in pic), made three exits from companies in 2013 through buybacks Photo: Shekhar Ghosh
Buybacks, by companies or promoters, are fast emerging as a viable option for private equity (PE) funds looking to exit their investments. Exits through buybacks have steadily increased in recent years, from 11 in 2008 to 50 in 2013, according to data by private equity research firm VCCEdge. There were a total of 172 exits last year. Buybacks were the second most preferred exit route after open market transactions (60).
Buybacks were the second most preferred exit route after open market transactions last year
"With limited exits through the capital markets in the last couple of years and investors not getting the right valuation for a strategic sale as they hold minority stakes, promoter buybacks have grown in number," says Bhavin Shah, Partner-Private Equity Group, KPMG India. "In the coming 12 to 24 months, we will
witness more buybacks as an exit
option," he adds.
Buybacks (through the company or the promoter) are part of the multi-pronged exit strategy of IL&FS Investment Managers Limited (IIML), one of the oldest and largest private equity fund managers in India.

"While the last couple of years have seen the IPO markets drying up, we still have managed to generate a healthy exit pipeline. Buybacks have provided 40 per cent of our exits. A higher proportion of such exits have come in the last one to two years," says Archana Hingorani, CEO and Executive Director, IIML. The fund manager has recently exited manufacturing, logistics and consumer services companies through buybacks. It registered one of the biggest buyback exits in India last year by offloading its stake in Bhartiya Urban Infrastructure and Land Development Co. IIML had invested $35.89 million in the real estate company in 2007 and exited the investment last year for $60.02 million through a buyback.
It has also been noticed that often indian promoters like to hold a controlling stake in a company and therefore opt for a buyback.
Buyback offers are driven by a permutation of various factors. Anuj Nangpal, MD, Investor Services, DTZ International Property Advisers Pvt Ltd says that project delays can be one of the reasons for a buyback by a company or promoters. Then, most funds have a well-defined life and staying invested with promoters through the entire duration of a project is not an option. Further, the dollar volatility as well as the economic downturn has resulted in a loss of confidence among investors. With exit options to third party players limited, promoters view it as an opportunity for a buyback.
"At the time of investment, the fund will look to mitigate its risk by incorporating an exit clause wherein the promoter or investee company will provide an exit through buyback option," says Nangpal. "A fund may incorporate it due to its short life, currency fluctuation, and minimum rate of return.
A promoter may incorporate it due to a potential cash rich position of the investee company where he may want to limit the upside of distribution to the investor."
A majority of these buyback exits are happening in real estate. Some 32 of the 50 buyback exits last year were in that sector. Landmark Holdings, a real estatefocused investment company promoted by Gaurav Dalmia, has had three exits last year through buybacks in Shipra Group, ATS Group and Wave Inc. Gaurav Dalmia, Chairman, Landmark Holdings says that buybacks in real estate are a common exit option and can be executed pretty easily. "For the investor it works as a sure shot option for an exit.
However, the choice of developer is the key," says Dalmia. "In housing, the real estate company or developer liquidates its stock and that surplus cash can be used to do a buyback. As an exit option, it works well both for the developer and the investor," he adds. Landmark clocked one of the biggest buyback exits in 2013. It exited Wave Hi-Tech City for $56.98 million while the company had invested $25.18 million in the project in 2007.
"Growing buyback offers are also a reflection of the new opportunity available for funding these transactions with new pools of capital through local NBFCs (Non-Banking Financial Companies), alternative investment funds and offshore investors," says KPMG India's Shah. Also, often Indian promoters like to hold a controlling stake in a company, given their view of its growth potential, and therefore opt for a buyback. In such cases servicing the bridge funding seems a cheaper option than equity dilution, points out Shah.
Clearly, the popularity of buybacks as an exit option seems set to grow in the future.