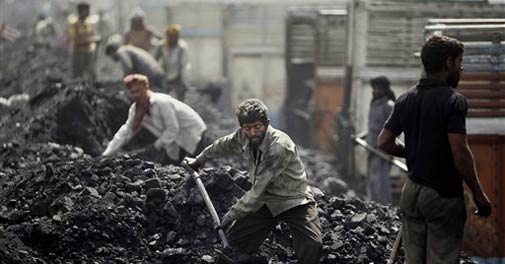 Last week I was on a flight to Mumbai. About two hours in, the captain announced that there was unseasonal heavy rain ahead and it might be difficult to land in such bad weather. "We have fuel for about fifteen minutes," he said, and we might have to divert to another city if the weather did not improve. The fifteen minutes passed, with no sign of Mumbai, and silence from the flight deck. There were quite a few white knuckles and pale faces around me, especially when we hit a turbulent patch. Then, as suddenly, the wheels came down, and we made a hard, bumpy landing. Not a word from the pilot as we exited the aircraft, shaken and stirred.
It felt exactly like going on the Great Indian Economy Ride. We have a
largely mute political leadership
that dispenses rare and barely audible sermons from the mount to counsel us that things are bad, but we should stay buckled in. The prime minister is known to feel that a baleful triumvirate - the media, the Comptroller and Auditor General's office, and the Supreme Court - are breathing down the government's neck and giving his administration short shrift. A few days ago the Prime Minister's Office sent the Editors Guild an eight-page note listing more than 50 reforms carried out in 2012 and 2013. It is sad that the PM's office feels the need to send such a reminder to a questioning and cynical audience.
Nature abhors a vacuum. Our senior judiciary would not have butted heads so often with the legislature and the executive if a strong and honest government were at work. Congress-led coalitions have now had nine and a half years to transform the face of this nation. Instead, the rupee has lost more than half its value; the current-account deficit has gone from a surplus to a grim battle to contain it at a $70 billion deficit this year; Gross Domestic Product growth this fiscal year is now forecast at 4.7 per cent by the World Bank and at 4.3 per cent by the IMF. The finance minister said in April that he had identified 215 major projects that were halted and another 126 projects that had not even taken off. If you combine environmental clearance, land acquisition and outdated labour laws, there is no incentive to set up new manufacturing capacity - and that has shown through very starkly in industrial production data. IIP crawled up by 0.6 per cent in August. Between April and August, IIP rose at near-zero, or 0.1 per cent year on year. During the same five months, manufacturing shrank by 0.1 per cent.
There are some slivers of light. Last year India ranked 94th out of 176 countries on Transparency International's Corruption Perception Index. In happy contrast, Indian companies were ranked by TI as the most transparent in their business practices among emerging-market multinationals (and four Tata group companies topped the charts). That should tell us something - if Indian companies are allowed to do business in an open, transparent and competitive manner, they can be world-beaters.
Therein lies the rub. Take the case of the capital markets: the Sensex is trading near three-year highs, but corporate sentiment is very subdued. The government has made it so difficult to do business that it is a miracle Indian companies are even contemplating expansion. There were only 16 initial public offerings (IPOs) in the April-September period, and all but one of them were from small and medium companies. Not a single large company stepped forward.
Nowhere is the mess more visible than in mineral resources. India sits on some of the world's biggest deposits of iron ore, coal and bauxite, but look at how disastrous our mineral-exploitation policies have been. Since we are in the
throes of Coalgate
, let us consider a few facts.
India has the world's fifth-largest coal reserves at 294 billion tonnes. But because of environmental hold-ups, coal production has gone up very slowly to 558 million tonnes last year from 457 million tonnes in 2007/08. Coal imports have shot up from 60.88 million tonnes in 2008/09 to 140.63 million tonnes in 2012/13; three-quarters of that was non-coking coal used by thermal power plants, and 85 per cent of that came from Indonesia.
What does this mean for power generation, which turns the wheels of industry? A large number of power plants are either stillborn, or unable to generate and sell electricity at the prices they were contractually committed to. In August, a committee headed by Deepak Parekh recommended raising tariffs at plants run by Tata Power and Adani Power in Gujarat. Together the two plants generate 8,620 megawatts (MW) of electricity, but have been running consistent losses because they have to import expensive coal. The proposed hikes, however, have been held back by the Central Electricity Regulatory Commission because end-users are howling in protest. Tariffs were decided six years ago. Although Indonesian thermal coal prices have been in a slump for four years, the Indian rupee's precipitous slide has pushed up our import bill: in 2012/13 coal imports cost $15.4 billion, up from just $3.2 billion in 2004/05, the year the UPA was elected. Is it any wonder that our power-starved industries are gasping for breath?
This messy situation has to do with extraction of a mineral that India has in abundance. Here's another example of our capacity to hobble ourselves. India was the world's third-largest iron-ore exporter not very long ago, but is likely to turn a net importer this fiscal year. Iron-ore exports fetched just $1.6 billion last year, down from a peak of $6 billion in 2010/11; the Supreme Court banned iron-ore mining in July 2011 in Karnataka and last year in Goa. The Karnataka ban has been partly lifted, but steel production and exports have suffered. We now make a lot less steel and import much more - but let that not take away from the optimism of Indian entrepreneurs: capital-goods imports totalled $91.45 billion last year, up from $18.28 billion a decade ago. Where did that money go? Into building factories and power plants that - if pigs could fly - will one day propel India into the big league of industrialised nations. First, of course, there is the small matter of electricity to help turn those ingots of iron into steel. We have it all planned.