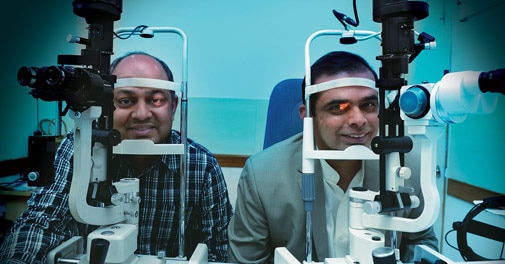 Rajat Goel (left) and Dr Ajay Sharma have raised funds from private equity investors to expand the footprint of their eye care chain (Eye Q) in India. PHOTO: VIVAN MEHRA/www.indiatodayimages.com
It was tough going for Rajat Goel and Dr Ajay Sharma. In 2007, they had an eyecare facility called Eye Q in the small, dusty town of Rewari in Haryana. "Being first-generation entrepreneurs, we found the initial years challenging," says Goel. The idea was to provide affordable eye care in smaller towns of India. "We started with internal accruals as banks did not lend without collateral. In a high growth and capital-intensive business like ours, capital is critical." Soon they began scouting for private equity (PE) partners to create a socially-driven outfit with a financially-viable business model. Watch video:Eye Q Hospital co-founders on their journey
HEALTH CARE
IS EMERGING AS A BLUE-EYED SECTOR FOR INVESTORS, PARTLY BECAUSE OF SOME BIG TICKET EXITS RECENTLY
Their efforts yielded results. In 2010, Eye Q raised funding of Rs 10 crore from Song Investment Advisors. Eye Q subsequently raised additional capital in two more rounds of funding. Helion Venture Partners and Nexus Venture Partners pumped in Rs 45 crore in 2011, followed by another Rs 25 crore in April 2013. PE funding has enabled Eye Q to spread its operations across the country. Today it has 28 centres in small towns and cities in India, including Rothak, Hissar, Meerut, Surat and Jhansi. "I can confidently say that PE funding has helped Eye Q take eye care to the masses," says Sharma.
Eye Q is not the only health-care provider riding on funding from PE investors. Indeed, PE investments in health care have been rising over the last few years. In the year 2011, there were 29 investments in the space by PE funds. It shot up to 45 in 2012, and 71 in 2013.
Health care is clearly emerging as a blue-eyed sector for investors, partly because of some big-ticket exits recently. In 2013, Apax Partners exited from Apollo Hospitals for $360 million, three times its initial investment in 2007. Avenue Capital exited its stake in Medanta in 2013 for $155 million, more than four times its initial investment in 2006. The number of exits in the sector rose from three in 2012 to nine in 2013. Most of the exits have been through secondary sales to other PE funds.
All PE funds players have identified health care as a primary target for their investment portfolio, says Sanjeev Aggarwal, Senior Managing Director, Helion Venture Partners, which has invested in two tranches in Eye Q. In May this year, Helion invested Rs 27 crore in Hyderabad-based dental care firm Denty's. It had also invested Rs 35 crore last year in LifeCell International Pvt Ltd, a stem cell bank.
THE HEALTHCARE SECTOR
HAS ALREADY CLOCKED 16 PE INVESTMENTS IN THE FIRST QUARTER (JANUARY TO MARCH) OF THIS YEAR
The health-care sector has already clocked 16 PE investments in the first quarter (January to March) of this year. The bullish trend has sustained in the second quarter (April to June) as well with some big deals. Olympus Capital and India Value Fund in May pumped in Rs 400 crore in Kochi-based health-care services company Aster DM Healthcare. Also, a clutch of PE investors is looking to buy a majority stake in Vasan Healthcare which operates eye care and dental hospitals.
According to a survey by global management consulting firm Bain & Company, retail and consumer goods were the sectors most favoured by PE funds in India in 2012. However, health care became the most preferred sector in 2013. No wonder then, in the last couple of years there have been some big-ticket investments by PE funds in the space, with multinational funds such as KKR and Carlyle leading the way. Last year, KKR invested $200 million in Gland Pharma, a Hyderabad- based injectables manufacturing company, while Carlyle put $161 million into Medanta Medicity, a multi-specialty medical institute in Gurgaon. In the same year, Bain Capital invested $113 million in Emcure Pharmaceuticals, based in Pune.
Neeraj Bharadwaj, Managing Director, Carlyle Asia Partners, says that the Indian health-care industry provides an attractive investment opportunity for PE funds. "India continues to have low hospital bed density and low health-care spend on a per capita basis. But rising income levels, an ageing population, increasing prevalence and awareness of lifestyle diseases and rising insurance penetration have led to a strong demand for health-care services," says Bharadwaj. "The private sector continues to provide superior health-care services and has potential to further increase its share, especially in the tertiary care segment. Expansion to Tier II and Tier III towns will also be a key driver of industry growth going forward," he adds. Carlyle has an extensive global health-care portfolio. Its current and past health-care portfolio include investments in China, Japan, Turkey and Australia among other countries.
Multinational funds are not the only ones actively chasing health-care assets in India. Karan Singh, Partner and Head of Bain & Co's Asia-Pacific health-care practice, says local funds are increasing their participation in India. He cites the example of Multiples Alternate Asset Management's investment in hospital chain Vikram Hospital and IDFC Alternatives' investment in Medi Assist India, a third-party administrator of health insurance policies.
Indeed, health care in India is witnessing greater interest from PE funds than BFSI (banking, financial services and insurance), another favoured sector of both local and global investors. "Both in PE deal volume and value there is a marked growth in health care," says Singh. BFSI accounted for 41 investments worth $907 million in 2012, compared to 45 in health care worth $1262 million. Similarly, in 2013 there were investments worth $1195 million across 66 deals in BFSI against 71 in health care worth $1359 million.
However, funds also need a reality check, say experts. Health-care valuations should be judicious, says Singh. More so, given the structural issues plaguing the sector such as a shortage of physicians and nursing staff in India and across Asia-Pacific, he adds.
However, the challenges are unlikely to deter investors who are attracted by the recession proof nature of the industry. KPMG estimates that India's health-care sector had grown to $78.6 billion in 2012, from $45 billion in 2008. It expects this to touch $158.2 billion by 2017. It is not surprising then that in recent years several health care dedicated funds have been launched in the country. "Focused funding in the sector has created an entrepreneurial environment," says Amit Mookim, Partner and Head of Healthcare, KPMG. "Risk capital funds , including Anand Burman's Asian Healthcare Fund and Singapore- and New Delhi-based Quadria Capital, are raising more money to invest in health-care companies."
THE FEW CHALLENGES,
HOWEVER, ARE UNLIKELY TO DETER INVESTORS ATTRACTED BY THE RECESSION PROOF NATURE OF THE INDUSTRY
Rana Mehta, Leader Healthcare practice, PricewaterhouseCoopers India, says that oncology and orthopaedics would be among the fast-growing categories in health-care segments and would require large amounts of capital. "There is a realisation in the industry of a large latent demand for these services among Indians," he says. "At the same time, formats like diagnostics, mother and child hospitals, infertility clinics require relatively low amounts of capital but are fast growing and will definitely attract investor interest going ahead," he adds.
Aggarwal of Helion Venture Partners says it is relatively easy to do business, both for investors and companies, in health care since the sector is lightly regulated. "It does not spring surprises from a regulatory perspective," he says. Since most health-care chains are driven by domestic consumption. Aggarwal envisages there will be a clear window for exits through the capital market. However, he says that valuations tend to be on the higher side since health care is a sought after sector.
Clearly, given the opportunities, there will be sustained PE interest in health care in the years ahead.