MUKESH AMBANI


ANTILLA
Reliance Industries Chairman Mukesh Ambani resides in India's most expensive home, Antilla, at Mumbai's Altamount Road. The building has 27 fl oors, a multi-storey garage for 168 cars, a health spa, multiple swimming pools, a yoga studio, nine elevators, a fl oor with vehicle maintenance facility, three helipads, ballroom, a movie theatre with 50 seats and lush green hanging gardens. The home is named after a mythical island in the Atlantic Ocean.
COST - $1 Billion (approx)

LAKSHMI MITTAL
18-19, Kensington Palace Gardens
London-based steel baron Lakshmi Mittal's residences, 18-19, Kensington Palace Gardens, is the world's second most expensive. The area is also known as London's "Billionaire's Row". The average price per sq metre in this area is $107,000. His immediate neighbours include Hassanal Bolkiah, Sultan of Brunei; and Roman Abramovich, Russian businessman and politician.
COST - 117 million pound (approx)

GAUTAM SINGHANIA
JK HOUSE

Gautam Singhania, Chairman & Managing Director of Raymond Group, will soon shift to JK House, located in the Breach Candy area, South Mumbai. It is a 30-storeyed mansion that is 145-metre high. It has an impressive view of the sea and the amenities include six levels of car parking facility, private swimming pool, gym with spa, helipad and a museum floor.
Cost NA
ANAND MAHINDRA
GULISTAAN

It's a three-storey bungalow near Priyadarshini Park, Mumbai. Nearly a decade ago, Anand Mahindra's grandfather K.C. Mahindra had rented it. Later on Mahindra's real estate division bought it. Anand Mahindra continues to occupy the bungalow, which is currently COST - $1 Billion (approx) under rennovation.
COST - Rs 250 Cr
NAVEEN JINDAL


Industrialist-turned-politician Naveen Jindal owns a heritage bungalow spread over three acres at Mansingh Road in Delhi's upscale Lutyens' Zone. The area also has bungalows of other famous industrialists like Sunil Mittal, K.P. Singh, and L.N. Mittal.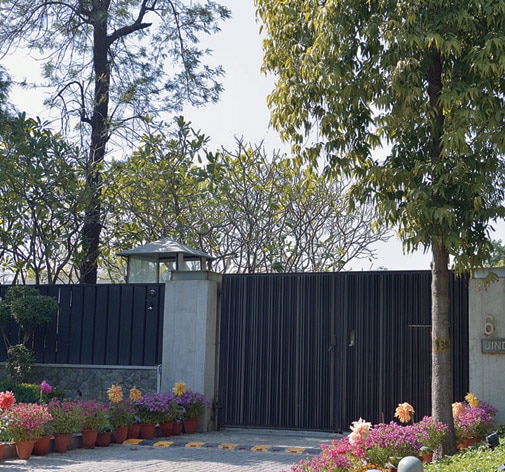 COST - Rs 150 Cr
Graphic by Anand Sinha

Research by Jyotindra Dubey