Vaghji Rathod, at 80 years and four months, can still recall in vivid detail how he gave the first lessons on profit to classmate Dhirajlal Hirachand Ambani under a banyan tree in Chorwad. "We had a book called Gokhale's Ganit, and Dhirubhai was unable to master it. But he was eager to learn and picked up very fast," says Rathod, who went on to become the headmaster of a local school. "Sitting on a charpoy outside our hovel, which was more like a jhopdi, we covered algebra, area, square root and profit and loss."

As Ambani's family descended on this small Kathiawadi town, where Dhirubhai spent most of his childhood, to celebrate his 80th birth anniversary , all and sundry basked in the limelight. But at the back of everyone's mind, there was profit and loss .


While the residents of Chorwad thought about how they could profit from the Ambanis' presence there, the show of unity by brothers Mukesh and Anil was seen as a business boost for them, especially for Anil, who has been reeling under a combined debt of more than Rs 70,000 crore. No wonder his Reliance Communications stock climbed 4.9 per cent on December 27, a day before the anticipated reunion. It is another matter that Mukesh's Reliance Industries dropped around one per cent on the same day.
Chorwad was once the holiday home of the Nawab of Junagadh. It lies on the road connecting the tourism hot spots Dwaraka and Somnath. A dilapidated beach house stands witness to its association with royalty. However, the new royalty here are the Ambanis, and the main market has a huge gate named after Dhirubhai. The Ambanis have funded a school here for girls.
Dhirubhai is reported to have spent Rs 25 lakh every year on drinking water for Chorwad in the difficult months of December to February when the wells dry up. Last year, drinking water from the Narmada started to flow in.
Hirabhai Chudasama, the president of the Chorwad Nagarpalika from the Bharatiya Janata Party, says the drinking water dole ended after Dhirubhai's death, and so did the access. "Earlier, anyone from Chorwad could go to Maker IV (Maker's Chamber IV), the Reliance headquarters at Nariman Point in Mumbai, and meet Dhirubhai. Now it is impossible to meet Mukesh or Anil."
Chorwad could do with easier access to the Ambanis. Chudasama wants industrial investment here. It only has a Hindustan Unilever factory, which makes fish paste and employs 1,000. Chudasama is pinning his hopes on mother Kokilaben, who has been a frequent visitor and decided to stay on at Chorwad for a few days longer after the reunion.
Brothers Mukesh and Anil have other, bigger fish to fry - while Anil has his debt and 2G, Mukesh has his KG D6. The brothers bickered through the boom years of the economy. But, as a downturn looms, it makes sense to close ranks.
Against this backdrop, it did not hurt to project the image of a united family. And if the Chorwad appearances of the brothers, as well as sisters Neena Kothari and Deepti Salgaocar with their spouses, the grandchildren and Dhirubhai's older brother Ramnikbhai and his son Vimal, were orchestrated, it was a fine composition.
What did they do? According to Reliance Industries Group President Parimal Nathwani, who is also a member of the Rajya Sabha from Jharkhand, this is how it went: Anil did a puja at the house, known as Manglurwala ka Dela when the Ambanis were tenants there, but now called Dhirubhai ka Dela, on December 27. The same afternoon Mukesh did a havan. The evening saw a feast and congregation at the Chorwadi Bhawani Mata Ki Mandir with garba and dandyia, where the entire family was present. Around 700 locals were invited. Chudasama, one of the organisers, says Rs 15-16 lakh must have been spent.
On December 28, Dhirubhai's birthday, Anil took a chopper to the ancient temple at Somnath to offer a puja. The family's spiritual adviser, Rameshbhai Oza, then performed a Ganesh puja in the house and inaugurated the Dhirubhai Memorial set up there. It will be opened to the public on January 16. Some local students, who were invited to see it, said it had a collection of photographs and a 15-minute documentary show.
Oza later told reporters that the brothers would continue to live under the same roof, which they have been doing all through their prolonged skirmish over the now famous 'ownership issues' and the subsequent rapprochement. Though Mukesh's humongous residence-cum-office, Antilla, in south Mumbai had its housewarming on October 28, 2010, he continues to live at Sea Wind, the old family residence, sharing it with mother Kokilaben and Anil's family.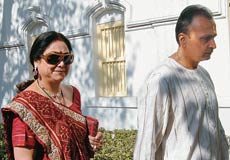 Chudasama is quick to report that the brothers largely stayed away from each other. "While Mukesh was offering flowers at the memorial, Anil was moving away towards the gate," he said. While it would be folly to read too much into this, it would also be unwise to ignore the camaraderie among the family members, who were at loggerheads just a year back,
at the dandiya
. On December 28, as Anil returned from Somnath and stepped out of his car, Mukesh came up to meet him and the two spoke briefly before moving away inside the house. One could see that the ice had been broken, though it had not quite melted away.
Says Nathwani, who was mentored so closely by Dhirubhai that he is often referred to as his third son: "The atmosphere was very emotional. You could see it in the eyes of the family. I am reminded of 1996 when the entire family had last come to Chorwad. We all went to Gir and Dhirubhai wanted to have a meal at a naysra, which is a camp for cattle inside a jungle. We travelled in an open jeep. We all miss him today."