"We already have the foundation of a strong partnership. We now have to revive the momentum and ensure that we get the best out of it for our people and for the world"

Narendra Modi, Prime Minister, India, to Agencies
"... As the two largest democracies, it is critical for us to continue to deepen and broaden the existing framework of partnership and friendship that already exists"

Barack Obama, US President, to Agencies
"When you look at the outcome, it is definitely disappointing. There are no major takeaways... India and the United States have a strategic partnership, this is not new"

Anand Sharma, Congress spokesperson, to IANS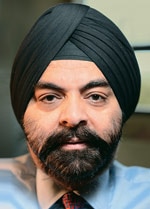 "The real thing that he [Modi] has got to do is restore trust in the way people perceive India as an investor destination. For that you need predictability and consistency of policy"

Ajay Banga, President & CEO, MasterCard, to CNBC-TV18