Cricket carnival:
The sixth edition of the Indian Premier League T20 cricket tournament has begun. Advertisers are placing their bets on this money machine, expecting TV ratings to improve over those of last year. Broadcaster Multi Screen Media has roped in 11 sponsors and 80 per cent of its ad inventory has been sold.

CORPORATE

The Supreme Court has overruled a Madras High Court order to shut down India's largest copper smelting plant in Tuticorin, Tamil Nadu. However, it has imposed a fine of Rs 100 crore on the Anil Agarwal-promoted Vedanta Group for causing ecological damage to the area surrounding the unit. The penalty will increase if the company causes further damage to the environment, ruled the court. The 400,000-tonne plant has seen an investment of Rs 8,300 crore. Sterlite contributes about 50 per cent of India's copper production.
Airline passengers are in for a bonanza. Malaysian airline AirAsia is offering two million seats at a discount. Also, India and Singapore have inked a pact to enhance air services, raising airline seats by 10 per cent each way. But those rushing to cancel bookings made on other airlines would do well to pause. Jet Airways has revised its cancellation charges from a flat Rs 1,050 to as much as Rs 2,000 in certain cases.
Mobile handset sales in India rose 20.8 per cent in 2012 to 221.6 million units, driven mainly by growth in the sale of smartphones. Brands like Samsung, Nokia and Sony - in that order - sold the most in this category.

On April 1, Tata Sons Chairman Cyrus Mistry addressed employees of Tata Motors from the company's plant in Pimpri, Pune, carrying on a 25-yearold tradition. In the speech, broadcast to 55,000 employees globally, he urged them to leapfrog ahead of the competition.
The Bombay High Court has refused to stop Kingfisher Airlines's lenders from selling shares pledged by UBI Holdings to recover their dues. The Vijay Mallya-promoted UBI Holdings had pledged its stake in United Spirits Ltd and Mangalore Chemicals & Fertilizers Ltd with the lenders as security against loans to the airline. The carrier, also owned by Mallya, has been grounded since last October. It paid salaries for two months to 2,000-odd employees after they threatened to hold protests at the residences of Indian Premier League team members. Mallya owns Royal Challengers team.
For most MNCs, doing business in China is not easy. Apple has learnt this lesson the hard way. After the country's state media criticised the firm, CEO Tim Cook apologised to Chinese consumers for poor communication over its warranty policy. Apple will now change the terms for some of its iPhones sold in China, its second-biggest and fastest-growing market. Apple's sales in China rose almost 40 per cent, touching $6.8 billion, in the final quarter of 2012.

ECONOMY
India's economy is capable of absorbing $50 billion in foreign direct investment (FDI) per year, according to Finance Minister P. Chidambaram. The country's financial account, which includes FDI, portfolio investment and overseas borrowing by companies, showed a surplus of $31.1 billion in the December quarter of 2012/13.
India's manufacturing sector saw its slowest rate of expansion in 16 months in March as power outages hampered production activity and new business orders dwindled. The HSBC India Manufacturing Purchasing Managers' Index (PMI) - a measure of factory production - stood at 52 in March, down from 54.2 in February. The HSBC Services PMI, based on a survey of 400 companies, fell to a 17-month low of 51.4 in March, down from 54.2 in February.
Further reflecting the current gloomy economic scenario, the Centre's direct tax collections for 2012/13 have fallen short of even the revised estimate, by Rs 17,000 crore, to Rs 5,48,845 crore. This may hit efforts to curb fiscal deficit
Rs 6,000 cr
The amount mopped up by Indian companies during 2012/13 through initial public offerings (IPOs). This is a slight increase of four per cent from the total funds raised through IPOs in 2011/12, when 33 companies together mopped up Rs 5,808 crore. Bharti Infratel came out with the largest public issue of the year when it hit the capital market to raise Rs 4,118 crore.
10.4
The percentage of mutual fund investment, amounting to Rs 19,124 crore, in software stocks at the end of February. The mutual fund industry's total equity assets under management stood at Rs 1.83 lakh crore.

MARKETS
Investors may need to brace themselves for further downgrades of companies' earnings in 2013/14, says Bank of America Merrill Lynch.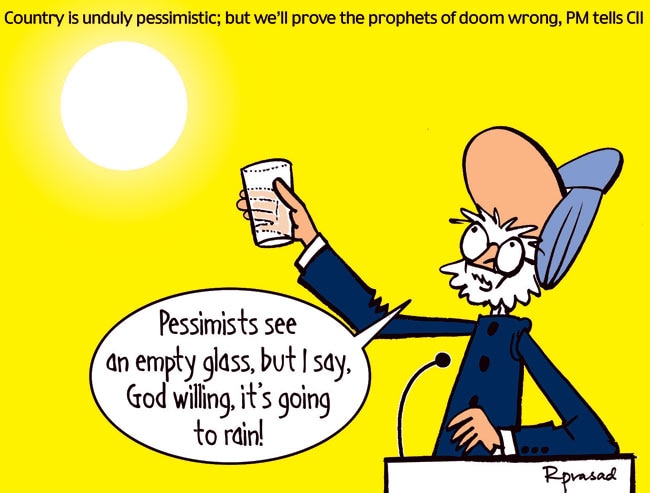 The Centre is unlikely to raise the import tax on gold further, says Finance Minister P. Chidambaram. Instead, inflation-indexed instruments to rein in the current account deficit are on the cards. Chidambaram also said the government will continue to seek a lowering of interest rates by the RBI.
IndusInd Bank and NMDC are the new entrants in the Nifty, replacing IT major Wipro and capital goods company Siemens. The impact on the stock prices of the four companies varied.
COMING UP
The Damodaran committee, set up in August 2012 to suggest ways to improve India's overall business climate, is likely to submit its report by April-end. The committee has examined a slew of issues, including infrastructure development.
Good news for mobile Internet consumers. Google is likely to launch a new version of its Nexus 7 tablet, powered by Qualcomm's Snapdragon processor, around July. It aims to ship eight million of the Asustek-made tablets, throwing down the gauntlet to other lowend tablets such as Amazon's Kindle Fire and Apple's iPad Mini.