Dev Narayan (39) and Jeetu (47) have many things in common. Both are from the musahar community, which is so poor that its people were once known to eat mice to survive. In their eastern Uttar Pradesh villages, 100 km apart, they are considered outcasts. Also, their villages have been adopted by the respective parliamentarians to be developed into model villages under the Saansad Adarsh Gram Yojana (SAGY), Prime Minister Narendra Modi's pet scheme to develop villages.
The similarity ends here. Jeetu lives in a newly-built concrete house that has a bedroom, an open kitchen and separate toilet and bath. He has access to solar power and a community hand pump right outside his house. In contrast, Narayan lives in a mud hut without electricity, water or ventilation. His wife and two children travel three kilometres every day for water.
In case you are wondering why, Jeetu's village, Jayapur, in Varanasi district, has been adopted by the prime minister, while Baidwar Kalan in Allahabad, where Narayan lives, has been adopted by Shyama Charan Gupta of the Samajwadi Party, Uttar Pradesh's ruling party.
"You cannot compare an ordinary MP's village like mine with Mr Modi's. He is the prime minister. He only has to identify a village and the administration and industrialists will invest. Who am I in front of him? Nobody comes to help me," says Gupta.
The contrast between these two villages is a rule rather than an exception. The stark differences in development in the 761 villages adopted by Members of Parliament (MPs) under the SAGY - with some villages getting nothing and a few, like the prime minister's, getting first-world facilities - are a pointer to hurdles that can nip in the bud a scheme that has the potential to redraw India's rural economic landscape.
The hurdles include indifference (12 per cent MPs have not adopted any village), lack of separate funds (it is supposed to tap funds from 223 Central and several state schemes), poor coordination among agencies, and social discrimination. And in villages where the scheme has been a success, the role of companies, even non-government organisations, or NGOs, is all too visible.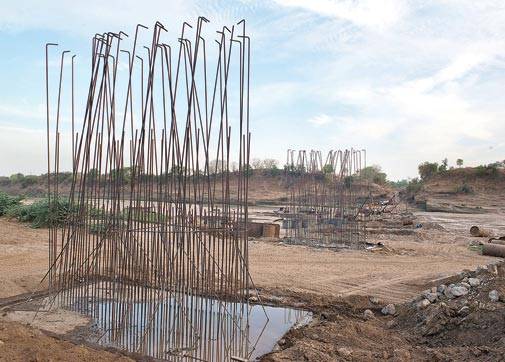 "The scheme has been a mixed success so far," says Utkarsha Bhardwaj, Lead, MP Engagements of Swaniti Initiative, an NGO working on a comprehensive data set for the scheme.
The launch of the SAGY could not have come at a better time. The Central government recently approved the Fourteenth Finance Commission recommendation for allocating Rs 2,87,436 crore for local bodies (including 2.48 lakh gram panchayats) over five years, more than three times the Rs 87,519 crore recommended by the Thirteenth Finance Commission. Union Budget 2016/17 allocated Rs 87,765 crore for rural development (up 10 per cent from 2015/16), Rs 1,51,581 crore for the social sector (up 8 per cent) and Rs 35,984 crore for agriculture and farmer welfare for uplifting India's six lakh villages. With average rural per capita income half the urban per capita income, there is a huge gap that the government is trying to fill. The SAGY, if implemented well, can play a big role in that.
Under the scheme, the prime minister wants to develop 6,320 model villages by 2024. In the first phase (2014 to 2016), 699 MPs adopted their first village. As on May 3 this year, 62 had chosen their second village, too. After 2019, the government hopes to see five villages (one every year) being nurtured by each MP till 2024 to take the tally closer to the target.
The effort involves pooling in all (central, state, local body level) the resources that can be tapped by a village. Corporate involvement, while to be encouraged, was not originally seen as the prime mover.
"Our government has several programmes for employment, infrastructure, housing, drinking water, and so on. The SAGY converges these. MPs can adopt villages and use resources from these schemes to build a model village. Even if 25-30 per cent of the adopted villages become model, they can be replicated in the rest of the country," says S. Parasuraman, Director, Tata Institute of Social Sciences.
"The success of the scheme is dependent on proper planning, community participation, consistent monitoring and impact assessment vis-à-vis the baseline situation," says Bhardwaj of Swaniti Initiative.
Success Story, Written by Corporates, NGOs

When Modi called upon the 795 MPs to nurture a village each as an adarsh gram, or model village, six-time MP and Union Minister of Chemicals and Fertilisers H.N. Ananth Kumar chose to go by the script. He selected Ragihalli, on the periphery of Bannerghata National Forest, dominated by backward castes and Lambinis (banjaras). With Tejaswini Ananth Kumar, his wife, who runs Adamya Chetana, an NGO, managing things for him, Kumar tapped Indian Institute of Science to identify areas where he could make a meaningful impact. After consultations with residents of the 16 villages under the Ragihalli Gram Panchayat, an action plan covering 18 areas was drawn. Then, all 738 households in the villages were mapped.
The focus areas were employment for women through making and selling things like chappatis/paper bags and cattle rearing, apart from education, sanitation, drinking water supply and enhancing green cover. Since children had to travel long distances to attend school, Adamya Chethana arranged for a bus and also got some of the students admission into well-known schools in South Bengaluru. Since these students have a lot of catching up to do in academics, they are given snacks and two hours of extra tuition in Maths, Science and English. Tejaswini says they distributed solar lamps as poor power supply was impacting their studies.
Ningamma, a 37-year-old housewife, says she earns an additional Rs 100 per day by making bags. "The best part is that I can do the work at home for two-three hours every day while watching television in the afternoon. The newspapers and the twine (for the handle) are supplied by them." The bags are marketed by the NGO.
Under the Gou Chetana project, 30 cows were distributed to select families. One beneficiary, Parvathi, 34, says she now earns about Rs 6,000 per month from milk. Adamya Chetana planted about 3,500 trees, mostly Neem and Tamarind, to prevent soil erosion and provide economic benefits. The Centre's Jan Dhan Yojana has ensured that every household has a bank account. Also, there is a target to build 250 toilets, of which 35 are already functional. A community bio-gas plant is also under construction. "The focus is on Anna, Akshara, Arogaya (Food, Education and Health) by leveraging strengths of private, voluntary and co-operative sectors," says Tejaswini.
What Ananth Kumar has done is the sum and substance of what the SAGY stands for except, perhaps, the overdependence on corporate funding. But the fact remains that corporate funding has played a big role in villages that have progressed well, be it in Kumar's or Prime Minister Modi's (his village has been adopted by Allanasons, Welspun Energy, United Bank of India and, recently, Vedanta).
Jaitley, Irani And Others: Study In Contrast
Ask any God-fearing Gujarati about Karnali in Vadodara district and the conversation would lead to the Kuber Bhandari temple on the banks of Narmada that attracts a sea of people every amavasya to seek blessings of Shiva. Karnali's latest claim to fame is that it has been adopted by Finance Minister Arun Jaitley.
The Karnali gram panchayat comprises three villages, Pipaliya, Vadiya and Bagilpura, with a population of 2,500. The contrast with Maghrol (100 km away), adopted by Human Resources Development Minister Smriti Irani, is clear.
Irani, in the past one year, has invested Rs 7 crore in Maghrol on 21 projects, most of which are close to completion. Karnali has got a commitment of Rs 22 crore. From a bridge to Chanod (which also has religious significance), water tanks, concrete roads, sewerage, gas-based crematorium, well-equipped playground and renovation of ghats, the list of promises is long. However, one is yet to see much proof of development here. While the local district officer gives a long list of works that have been done (such as distribution of 125 kisan credit cards, 323 soil health cards, old-age pension, and so on), all that is visible is construction of water tanks in the four villages and activity around the site of the proposed bridge. Village roads continue to be dusty. The sewerage work is nowhere in sight. Ramanbhai, the Vice Chairman of the panchayat, says the progress of the development work has been extremely slow. He points towards a vast stretch of land that has been allocated for the playground but is just a piece of barren land as yet.
So, while villages adopted by some MPs like Irani are as sparkling as Modi's, others, for instance Jaitley's and Congress President Sonia Gandhi's (see ) have shown little improvement.
"She has done nothing for the village. The adoption hasn't changed anything for us," says B.N. Chalak, a grocery shop owner in drought-hit Lahuri, adopted by Rajani Patil of the Congress, in Maharashtra.
Smart Politics
Among MPs who have expressed reservations about adopting a second village are former Congress minister K.V. Thomas and Dushyant Chautala of the Indian National Lok Dal. Their reasons give a clue to how politicians see the scheme.
While Thomas says absence of funding is a dampener (thereby putting the blame on the BJP-led central government), Chautala, whose party is in opposition in BJP-ruled Haryana, puts the blame on slow execution of projects by the state government. In both instances, the attitude is not in tune with the spirit of the scheme, which is about bringing together the entire political class and administration for a common cause.
There is an easy way to earn brownie points as well - adopt a village that is already well off. Several MPs have done that, including External Affairs Minister Sushma Swaraj in Madhya Pradesh and actor-turned-politician Paresh Rawal in Gujarat. Others have been even smarter. They have roped in private companies to do the job from corporate social responsibility (CSR) funds. Tapping companies is easy as profit-making companies have to anyway spend 2 per cent net profits for CSR activities under a new law. However, not every MP has the clout to get this done.
More corporate funding may indeed be the way ahead. "The SAGY will see active participation from players in private, volunteer and corporate sectors who are willing to provide technical and financial assistance," says Bharadwaj of Swaniti Initiative.
"Even if 25-30 per cent adopted villages become model, we can replicate them across the country"
Tata Institute's Parasuram agrees that the companies can play a big role. "Their CSR resources can be used to create model villages that can be replicated elsewhere in the country. Companies should adopt villages, appoint facilitators to work with the community and train them to deal with the challenges the community is facing. For instance, most MPs have given funds for building toilets in every home. But people should use these toilets too. This requires a change of attitude. This is where the companies can step in," he says.
Even though the role of CSR is clear in many instances, the government is yet to publicly announce this as the key fund-raising option under the SAGY. In fact, CSR is just one of the channels that SAGY guidelines recommend. On March 3, the rural development ministry informed Parliament that "no instances of private companies having participated under the SAGY through the public-private-partnership mode" have come to its notice.
Jeetu, meanwhile, is already enjoying the fruit of private participation. He has been allotted the first of the 14 houses built by Mumbai-based Allanasons, which is in the business of exporting processed food. Mining major Vedanta has also taken up a project in Nagepur, the second village adopted by Modi in Varanasi.
Changes sought
Early May, Rural Development Minister Birendra Singh told the prime minister that unless dedicated funds are allocated, the scheme may fall through, as few MPs have the patience and ability to cut through the political, administrative and bureaucratic maze to ensure timely fund allocation from government schemes. The proposal is to at least part-fund the projects. Incidentally, the absence of dedicated funds was the only big difference between the SAGY and the UPA government's Pradhan Mantri Adarsh Gram Yojana. In addition to the convergence of relevant Central and State schemes, the UPA government had provided "gap filling" funds to the tune of Rs 20 lakh per village and pitched for a matching contribution from states. What the Modi government may end up doing could be on similar lines.
Swaniti's Bharadwaj says that the SAGY could trigger similar initiatives in states. "Many states such as Andhra Pradesh, Gujarat, Chhattisgarh, Rajasthan, Karnataka and Maharashtra have launched rural development programmes on similar lines," she says.
As we await the Prime Minister's next move, corporates will feel more pressure on them to fund development programmes in model villages.

Reporting by Sumant Banerji, Dipak Mondal, Ajita Shashidhar, Venkatesha Babu, E. Kumar Sharma and Sarika Malhotra