The central message that came through in the Reserve Bank of India's third quarterly monetary policy statement on January 24 was that Finance Minister Pranab Mukherjee would have to shoulder the primary responsibility for pulling the economy out of its current morass.

In the statement, RBI Governor Duvvuri Subbarao took a small step towards loosening monetary policy which he has been tightening for the past two years. The cash reserve ratio (CRR), or the ratio of customers' deposits banks must keep with RBI, was cut by 50 basis points to 5.5 per cent. Subbarao kept both the repo rate, the rate at which the RBI lends to banks, and the reserve repo rate (the rate at which it borrows from banks), unchanged at 8.5 per cent and 7.5 per cent, respectively.

The reduction in the CRR freed up an additional Rs 32,000 crore for circulation and thereby eased pressure on the upward movement in bank interest rates. "But, it may not translate into rate reduction by the banks," analyst Tushar Poddar of Goldman Sachs wrote in a report summing up the RBI move.


"In effect, fiscal consolidation will be a necessary precondition for monetary easing," says Samiran Chakraborty, Regional Head of Research, Standard Chartered Bank.
The stance of RBI is all the more worrying because the government does not have the leeway to provide triggers for a revival of growth. "I don't see fundamental change by which India will revive growth in the next fiscal year," says Manoj Vohra, Head of Research, South/Southeast Asia, Economist Intelligence Unit. "There's absolutely no trigger."
Predicting that the economy would grow 7.1 per cent in the current financial year, and 6.3 per cent in 2012/13, he adds: "Their (policymakers) hands are tied both on the monetary and the fiscal side. RBI has put the ball partially back in the government's court."
Given the prevailing high interest rates, most economists feel that cuts in 2012 are inevitable. The timing, however, will depend on two factors: the government's measures on fiscal deficit, and the trajectory of core inflation. (This is inflation leaving out fuel and food, which RBI policy directly influences.) Overall or headline inflation in December did indeed drop, down to 7.5 per cent from the previous month's 9.1 per cent, but this was primarily due to a sharp fall in the price level of vegetables. Core inflation has shown no signs of cooling. Over 11 consecutive months, it has remained at or above seven per cent, compared to its long-term average of four per cent. The next date to look out for is April 17, when the next quarterly policy statement will be released. "RBI will make its move after assessing the trajectory of inflation and the commitment of the government to fiscal consolidation as revealed by the upcoming Budget," says Upasna Bhardwaj, economist at ING Vysysa Bank. "If they do not have credible fiscal consolidation coming from government, there could be a postponement of rate cuts."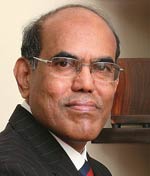 Finance ministry officials are silent on what the forthcoming Budget intends to do about fiscal deficit. But they realise it is not possible to postpone tough decisions for much longer. Along with the current economic slowdown, there is the constant fear of a sudden surge in global crude oil prices, which can make a mockery of the assumptions that underpin a budget.
Energy spikes also feed into core inflation and keep interest rates elevated. "Budget remains susceptible to energy risks," said Andrew Colquhoun, Head of Sovereign Ratings, Asia Pacific, with ratings agency, Fitch Ratings, speaking a week before RBI's latest announcement. Fitch retained India's sovereign rating at 'investment grade' in 2011.
Given this vulnerability on the energy front, RBI has to be cautious about cutting rates unless inflation shows a marked downward trend. Colquhoun said investors overseas could get jittery if they perceive monetary policy to be too heavily geared towards growth.
A central bank that is perceived to tilt a bit too much towards growth gives the impression of being unmindful of macroeconomic volatility. He said: "It is for RBI to demonstrate that it is achieving a suitable balance. Perception does matter."
Subbarao knows this. The January 24 statement explicitly highlights risks India faces on account of Europe's economic woes and the consequent volatility in foreign portfolio flows into India. "In this scenario, the size of the current account deficit poses a significant threat to macroeconomic stability," it said.
The current account deficit, imports, net of exports and other transfers, in the first half of fiscal 2012 was 3.6 per cent of gross domestic product, a level that makes both the central bank and the finance ministry nervous. Maintaining that fiscal policy was already being shaped to narrow this deficit, a finance ministry official pointed to the January decision to levy customs duty on gold and silver imports to discourage their imports.
But the big question is what sort of fiscal policy the Budget will outline and whether it will give RBI the space and the confidence to reverse its tight policy stance. Vohra is pessimistic, saying people should not expect miracles. "India's elephantine economy will continue to lumber on, but it is unlikely you will see it dancing in 2012," he says.