In December 2009, alarm bells rang when headline inflation, based on the wholesale price index, or WPI, touched 7.15 per cent. It was way above the Reserve Bank of India's comfort level of 4 to 4.5 per cent. Since then, there has been no going back.

Inflation dips to 8-mth low | Hints towards another rate hike

In July this year, inflation was 9.2 per cent and RBI expects it to rise for a while longer. The policy response to this macroeconomic challenge before India has had fascinating sub-plots.

RBI has emphatically staked its claim to lead the fight against inflation by reminding everyone that it is the only institution in the country with a formal mandate to deal with it. It has also pointed out that the Central government has not pulled its weight in the battle, leaving the central bank to carry the ball.

Food inflation rises to double digits

The result has been 11 policy rate increases since March 2010, and a strong chance of one more on September 16, when the next policy announcement is due.

Deutsche Bank economists Taimur Baig and Kaushik Das, who wrote a report in August after a meeting with the central bank, are among a growing band of analysts who have concluded another interest rate hike is around the corner.


RBI's strategy to tame inflation has been by pulling back demand in the economy through the repo rate, or the rate at which RBI lends money to banks. An increase in the repo rate gradually translates into higher market rates of interest for car and home loans, which act as a drag on demand.
Since March 2010, the repo rate has gone up from five per cent to eight per cent. These measures were expected to slow the rate of increase in the general price level in India. That has not happened so far.
EXCLUSIVE:
BT Editor Chaitanya Kalbag speaks to RBI Dy Governor Subir Gokarn
So, is the interest rate, RBI's chosen tool to pull back demand, the best option in the current circumstances? Even if it is not, there have been no loud dissenting voices.
In August, Kaushik Basu, Chief Economic Advisor in the Ministry of Finance, in a working paper uploaded on the ministry's web site made a nuanced argument on interest rates and inflation which, in a circuitous way, raised questions on RBI's approach. The paper carried a disclaimer that the views in it were personal.
Taming inflation govt's top priority: Pranab
The crux of Basu's analysis was that increasing rates when there is a shortage of liquidity, or credit supply, in the system will lead to higher costs all around without really making a dent in inflation. Basu concluded that curbing demand was the right strategy, but interest rates should be used only in the right context. His paper drew attention to details that needed to be understood before using interest rate as a tool to deal with inflation.
Basu did not offer an opinion on RBI's current policy stance. Besides, the paper was ambiguous about the timing of a tight monetary policy. RBI's early interest increases in 2010 came when the unexpectedly high bidding in 3G auctions led to a surge in demand for liquidity.
India can grow at 9% during 12th five-year plan: Montek
Did some of RBI's interest hikes last year take place in a situation of liquidity deficit? "The answer is we do not know," Basu concluded. Separately, in a recent study on inflation, Mumbai University's Neeraj Hatekar, Ashutosh Sharma and Savita Kulkarni concluded that restrictive monetary policy might be of limited relevance in controlling non-food inflation.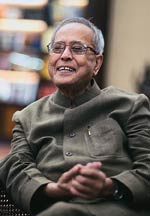 Interest rates play more than one role in fighting inflation. One of RBI's toughest challenges is to deal with a fuzzy thing called inflationary expectations. Consumers' expectations of inflation can be self-fulfilling, and when expectations are high, the economy is in trouble. The interest rate is the only real tool RBI has in reining in expectations and one it has used like a sledgehammer since May to signal its commitment to price stability.
"There's a clear link between expectations and interest rate," says D.K. Joshi, Chief Economist at rating agency CRISIL, the Indian arm of Standard & Poor's. "You have to raise interest rate, that's what anchors expectations." Regardless of the liquidity situation in the economy, then, a few doses of interest rate increases are the only way RBI could have signalled its commitment to price stability.