Last year marked the most disastrous period for financial institutions in history. The subprime crisis not only felled blue-chip firms such as Lehman Brothers but caused staggering losses for others such as AIG and Citigroup. Then came the economic slowdown. Now, banks in Europe and the US are finding it increasingly tough to generate income when companies across the board are cutting jobs and slowing production.
Still, while business has braked overseas, India has become a beehive of activity. Some foreign banks have increased their advance-tax payments significantly, signalling a solidly profitable quarter for their India operations. A few have even managed to make tidy sums through their investment-banking services. Most significantly, despite the slowdown, many of the major foreign players in India are expanding their retail operations and some have even made sizable private-equity investments in Indian companies.
Banks such as HSBC, Citigroup and UBS may have bled a lot of money overseas, but their advance-tax payments against accruing profits in India—which have increased at least 90 per cent on average—are a good indicator of how well their businesses are doing here. According to market sources, Citibank's advance tax for financial year 2009 increased 35 per cent to Rs 1,710 crore. JP Morgan Chase's advance tax increased nearly three times to Rs 388 crore.
These foreign players are even outstripping well-entrenched domestic ones by a hefty margin—the top four local banks, including ICICI Bank, Kotak Mahindra, HDFC Bank and Karnataka Bank, increased payments by a meagre 13 per cent in comparison. For banks like HSBC that have made most of their money in global banking and cash management, it is the retail customer—and hence the domestic commercial banking operation—who holds the most promise. HSBC's Indian commercial banking business grew by 34 per cent last calendar year while HSBC's Indian operations as a whole reported a 26 per cent growth in operating profits to $666 million—compared to a 62 per cent decline in the bank's global profit figures.
In rupee terms, its profits would have been even higher if not for the depreciation of the rupee. In fact, the HSBC India money machine has rapidly become a vital component of the bank's overall strategy. It has grown from being the 16th largest contributor to group profits in 2005 to ninth in 2008.
Says Naina Lal Kidwai, Country Head, HSBC India: "We are fortunate that the bank at the operating level did make a profit and we did a one-off correction for goodwill. We have clearly enunciated that our policy is to grow in emerging markets and India clearly benefits from that."
Emboldened by its India success so far, the bank has been far from reticent in chasing after other potentiallylucrative businesses. Last year, HSBC acquired a 94 per cent stake in the listed retail broking business IL&FS Investsmart for Rs 1,680 crore and also invested in its technology.
Meanwhile, Swiss giant UBS's $18-billion loss last year doesn't seem to have deterred it from aggressively courting business in India. The firm, having received a banking licence from the Reserve Bank of India (RBI), is in the process of launching retail banking operations in the latter half of this year, armed with an equity capital of $50 million—twice more than the RBI's requirement. It is also planning to set up a wealth-management arm. According to UBS, key department heads have been appointed and the bank will be helmed by Country Head, Manisha Girotra. "India is a core market for us," she says.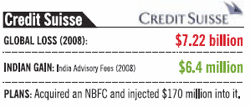 Not to be outdone by its Swiss brethren, Credit Suisse has also applied for a bank branch licence in India. Late last year, it acquired a non-banking finance company and capitalised it with $170 million, which it will use to provide financing support to clients. It also expanded its investment banking team in the last two years, and its wealth-management team already has more than 30 employees. Says Mihir Doshi, MD & Country Head: "I expect all our businesses to make a solid contribution. In spite of the global turmoil, Credit Suisse's view of India as a strategic growth market remains unchanged."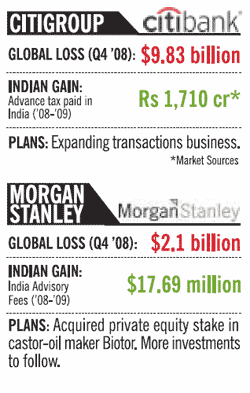 Lucrative investment banking fees in India have pushed Morgan Stanley into focussing mainly on India and China. It has big private-equity plans for the country, aiming to deploy a chunk of the $1.5 billion in its global private-equity fund domestically. The firm already made its first investment in India last year when it picked up a Rs 182-crore stake in an unlisted castor oil manufacturer Biotor, and the bank says that more investments are underway. Says Narayan Ramachandran, Country Head, Morgan Stanley Investment Management: "As capital market activity has slowed from mid-September last year, so some of our business has slowed. But overall we are expanding our presence in India."
Still, for all those who have grand strategies to leverage growing Indian middle-class incomes, there are a few who are being forced to scale down and rethink their plans. Royal Bank of Scotland, which lost $34.4 billion last year, is exiting its profitable Indian commercial banking business. It will, however, retain its global banking and markets services business, which includes corporate and investment banking as well as its global transaction business of cash management and trade finance. Says Chairman Philip Hampton: "India is an absolutely critical market for us. We would have liked to have been in retail and SME, but we don't have limitless capital." AIG India, too, is re-jiggering its plans after an ambitious expansion that has scaled to more than 500 offices and 11,000 employees since 2000. While it will continue its main business of insurance in India, the firm plans to hive off some of its non-core operations.
Says Sunil Mehta, Country Head, AIG India: "We will see how the global business will get restructured over a period of time, but our core focus is insurance." In India, AIG's insurance joint venture with the Tatas is growing at a healthy clip of 22 per cent.
While the India operations of foreign players are undoubtedly thriving, their global counterparts are feeling the squeeze. The party may last only as long as their parent companies remain in sound financial health. Consequently, strategies for each firm will vary, according to HSBC's Kidwai. "You can't paint everyone with the same brush. Each strategy will vary depending on how these parents companies emerge from the crisis." For now, however, it's boom time for foreign banks in India.