The tribals in the sleepy village of Kalyandi in Jharkhand depend on fish farming for living. However, till last year, the hectic activity would come to a grinding halt in May. The reason: non-availability of water in the ponds. This May, fish farming is on in full swing and the ponds are swarming with fish—all thanks to a livelihood development programme initiated by Tata Steel. For pisciculture farmers groping in the dark, the programme has been a manna from heaven. Water is available now because ponds have been deepened to increase their capacity. A new water management system ensures use of water without exhausting it fully for irrigating crops. And most importantly, the tribals are now armed with knowledge to sustain better pisciculture operations. There are winds of change at the neighbouring Masodih village, where the yield of paddy crop is estimated to have trebled from 0.5-0.6 tonnes per acre last year to 1.5-1.7 tonnes per acre. The optimistic farmers say it's possible to increase it to more than 2 tonnes per acre.
In its 100th year of existence that was preceded by a string of acquisitions—NatSteel Asia, Singapore, Millennium Steel, Thailand, and Corus—the behemoth Tata Steel is busy making a difference to the lives of tribals in Jharkhand, its home base. The group bills it as part of its 100-yearold ethos of nation building; villagers across 21 villages, including Kalyandi and Masodih, perceive it as a new way of life.
Says Kailash Majhi, Chairman of the Village Development Committee of Kalyandi village: "Earlier, we would just catch fish and sell them for meagre sums after keeping some for our own consumption. But now, with conducive fish farming conditions, we get large varieties like Rohu and Katla, which we sell in the market for no less than Rs 40-50 per kg. Over the last six-to-seven months, each one of us has earned nearly Rs 25,000…. We could have never thought of this a year ago."
A new dawn
When Tata Steel adopted 21 villages in the Seraikela and Kharsawan blocks of Seraikela-Kharsawan district in September 2007, the idea was to carry out a sustainable livelihood development programme through watershed management. The objective: to enhance the overall socio-economic conditions of the rural and tribal population and ensure proper management of natural resources. The project, now in its eighth month, has done exactly that and much more.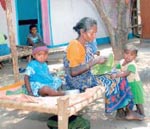 This programme includes a bouquet of initiatives that has made life simpler and richer for these tribals. The villages boast of solar home lights, solar street lights, biogas plants, woody biomass gasifier, energy plantation (trees grown for fuel), irrigation wells and green manuring.
And for the company that also makes steel, "these initiatives are as important as becoming a global leader through organic and inorganic routes," says B. Muthuraman, MD, Tata Steel, who met BT at the sidelines of the company's Foundation Day celebrations.
The world's sixth-largest steel company, with an annual crude steel capacity of 28 million tonnes, has a simple philosophy. Says a spokesperson for Tata Steel: "We have persisted with the company's legacy of returning to the society what we earn, evoking trust among consumers, employees, shareholders and the community in a measure.
The adoption of these villages 55-60 km off Jamshedpur stems from this guiding principle." The project, once completed, is expected to benefit as many as 1,362 households.
And the results are already visible. Says Gurcharan Saddar, elected head of Village Development Committee of Sidma Kudar village, 55 km off Jamshedpur: "This (the Sustainable Livelihood Development Programme) is fast changing our lives. Even six months ago, we couldn't think of electricity in our village. But now, most of our homes have solar power. We also have piped biogas flowing into our homes. And our paddy production has nearly doubled through structured water harvesting and irrigation."
This programme is part of Tata Steel-CINI (Central India Initiative) that aims to ensure food security in the region. It has introduced best practices in agriculture—timely field preparation, quality and timely availability of seeds, fertiliser doses, timely weeding and post plantation care, among others.
That's not all. Over the last few months, water harvesting infrastructure and irrigation facilities have been built across the 21 villages to ensure regular availability of water for irrigation.
This apart, as many as 3,500 plants (teak and mahogany) have been sown over 5.75 acres and the local Bhunij Munda tribals are already dreaming of a large appreciation in the long run. These dreams are, however, based on some solid number-crunching. In one acre, there are around 500 saplings.
Considering mortality at higher side, i.e., 30 per cent, this will yield at least 350 live plants. The maturity period for both teak and mahogany is 30 years. Each plant will fetch a minimum of Rs 1 lakh at the rate of Rs 1,500 per cubic metre (at current rate) after this period.
Thus, Tata Steel, which is enriching shareholders even as it integrates its operations around the globe, is also fortifying the lives of these tribals at the other end of the spectrum.