Airport road is one of the busiest avenues in Bangalore. Unruly traffic, rash drivers, blaring horns and chaos that characterise most Indian cities are very much in evidence here. Enter Britannia Gardens, the spacious, old-world headquarters of Britannia Industries located on the very same Airport Road, and an almost eerie calm prevails.
Bali (centre) with team:
(L-R) Richa Arora, GM (Head-Marketing & Innovation); Anupam Dutta, Head, Britannia New Zealand Foods; Neeraj Chandra, VP, Sales, Marketing & Innovation; Durgesh Mehta, CFO and Rajesh Lal, Head, Operations
Its manicured lawns, colonial architecture and the artwork on the walls transport visitors back to another more genteel era. It's almost as if the New Economy, exemplified by the glass and chrome structures that surround the building, has been banished by the wave of a magic wand.
But first impressions can be deceptive. The second floor of this old-fashioned building is where the top brass of Britannia, including its Managing Director Vinita Bali, sits.
There is fast-paced action happening here. But unlike her colourful and controversial predecessor Sunil Alagh, who loomed larger than life during his stint, the diminutive Bali is deliberately low key.
Asked about this, she smiles. "I'm glad you notice the change in atmosphere. The days of the imperial MD are over. It is all about teamwork now.
Our growth numbers are a vindication of the new strategy," she says.
Growth is the key word
The Rs 6,500-crore organised biscuit market in India is growing at 14-16 per cent per annum. Britannia, which enjoys a 38 per cent market share by value and about 32 per cent by volume, is growing faster, at more than 20 per cent, informs Bali. Traditionally the company has been strong in the mid- and top-end of the market. Points out Richa Arora, gm (Head-Marketing & Innovation): "Our six 'power brands'-Marie, Tiger, Milk Bikis, Good Day, 50-50 and Treat-bring more than 80 per cent of our business." Each of these "power brands" generates more than Rs 100 crore in turnover every year.
At Rs 2,300 crore, the (mass market) glucose segment is the largest, and Parle is the overwhelming market leader here, with a two-thirds market share.
Tiger, Britannia's brand of glucose biscuits which it launched in 1997-98, though not the leader, is still a considerable success; it commands about 19 per cent market share and with all its non-glucose variants, is already a Rs 600-crore brand.
Says Arora: "We've done well in the mass-market segment which is traditionally considered a weak area for Britannia." Except for the glucose segment, Britannia is the market leader in all other biscuit sub-segments like Marie, milk, cream, cookies, crackers and health.
Interview: Vinita Bali
"We must have rational competition"
In January 2005, Vinita Bali, 51, joined Britannia as CEO and was elevated as MD in June 2006. An FMCG industry veteran of more than 20 years-she has worked with Cadbury and Coca-Cola-Bali has managed to put Britannia back on the growth path. In an extensive interview with Business Today's Venkatesha Babu, she discusses her plans for the company. Excerpts:
While the topline has been growing, Britannia's profits have been under pressure. Are you buying growth at the cost of margins?
No. (Frowns). Not at all. The emphasis has always been on growing the company profitably. But input costs of the key ingredients have gone up significantly due to inflationary pressures. Then, competitors are cutting prices just to gain marketshare. We must have rational competition.
Has the ongoing spat between Wadias and Groupe Danone, both of whom are equal shareholders, had any impact on Britannia ?
No.
…but the dispute over the Tiger brand …
..(interrupts)…That is a separate issue and is being settled between them. Let me make one thing clear: Britannia owns the Tiger brand.
You have made a couple of acquisitions. Is inorganic path the preferred route for growth from now on?
Not exactly. The combined value of the acquisitions is only about Rs 50 crore. Our growth has come from within. Our cakes and breads division, for example, has done business worth Rs 200 crore in 2006-07, which is phenomenal growth (100 per cent), compared to where we were two years ago. But yes, if we spot opportunities at the right price, we will consider acquisitions.

But while the company's top line has been jogging along at an impressive rate, profits have failed to keep pace. After touching a high of Rs 148.8 crore in 2004-05, it slid to 107.6 crore in 2006-07. Durgesh Mehta, Britannia's soft-spoken CFO, points out the reasons for this. "Fat (read: oil), flour and sugar are the three key ingredients in our industry. The prices of all these items have risen 20-25 per cent in the last year alone. Though our long-term supply arrangements helped to mitigate the impact, we have, nevertheless, been affected by the general inflationary pressure in the economy," he says.
Bali adds that the company has been able to pass on only a portion of this increase to customers because of competitive market conditions. "Biscuits are not the core business for one of our two main competitors (read: ITC), so it sells at irrational prices just to get marketshare. The other one (read: Parle) is privately held, so nobody knows its real numbers. It is creditable that in spite of such competition, we have been able to grow at this pace," she says.
Hemant Malik, Head, Marketing, ITC Foods, however, dismisses these claims. "The Indian biscuit market is a three-horse race between ITC Foods, Parle and Britannia. Less than three years after entering the market, we have captured a 10 per cent market share. We believe that the mid-market segment will drive growth. Our Sunfeast brand has shaken up this segment at the cost of incumbent Britannia," he says.
Sparring Partners
The Wadias and Groupe Danone are fighting on several fronts.
Britannia's two major shareholders (co-promoters), the Wadia family, promoters of Bombay Dyeing, and French food giant Groupe Danone, have not been on an even keel for some time now. There are several fault lines running through the relationship. The latest spat is over Tiger, Britannia's best selling brand of glucose biscuits, which, along with its variants, accounts for 30 per cent of the company's revenues. Danone sells biscuits under the Tiger brand name in five countries, including Malaysia, Pakistan and Indonesia. The Wadias want Danone to pay Britannia a royalty for using the Tiger brand. Both camps say that a settlement on the issue is likely soon.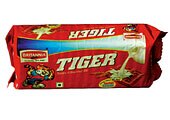 Then, Danone, which has globally known dairy brands like Actimel and Activia, has not taken too kindly to Britannia's joint venture with the New Zealand-based Fonterra for dairy products. Further, when Danone tried to enter the country with a 100 per cent subsidiary, the Wadias objected under Press Note 1 (which gives Indian partner some say in what areas its foreign partner can enter; this provision may now be relaxed). Also, Danone's m5-million investment in a nutraceutical venture by Avesthagen has been challenged in court by the Wadias. So, in spite of Britannia MD Vinita Bali's denial, it does look like the warring partners will need some more time to settle their differences.
Incidentally, the Wadias and Danone each own 50 per cent of Associated Biscuits International Holdings (ABIH), which holds a 51 per cent stake in Britannia through its wholly-owned subsidiary Associated Biscuits International. This gives the Wadias and Danone a 25.5 per cent indirect stake each in Britannia.
Difficult days
ITC, in fact, entered the scene around the time when Britannia, which had dominated the Indian biscuit market for decades, was passing through a very rough patch. In June 2003, Sunil Alagh was sacked as CEO under very messy circumstances; for the next 18 months, the company was both leaderless and rudderless. The entire management team, including its then marketing head Nikhil Sen, either left or was sacked for perceived closeness to the old regime.
In 2004, it got into a bruising battle with ITC Foods' Sunfeast brand even as traditional rival Parle ran rings around it. A number of regional players like Priya Biscuits, Dukes and Bakeman's (now owned by Ceylon Biscuits) began to bite into its market share even as international players like Sara Lee, Excelsia Foods, United Biscuits, Kellogg's and GlaxoSmithKline began to challenge its dominance in the mid- to premium-end of the market. Not surprisingly, employee morale and investor confidence were low.
It was in those dark, difficult days that Nusli Wadia, Chairman of Britannia, picked Bali, an FMCG industry veteran who had run operations for MNC giants like Cadbury and Coca-Cola in several countries, to turn the company around. For nearly a year after taking over in January 2005, Bali remained almost incommunicado with the media. "We had to set things right internally before we communicated with the external world," says Bali.
Even during its worst days, Britannia always enjoyed tremendous brand pull, but innovation had stagnated. Its last major launch was Tiger-and that was in 1997-98. Arora, who's in charge of Innovation Strategy, however, has a different take. "People associate innovation just with the launch of new brands. That's not correct," she says. For instance, the familiar image of a glucose biscuit is a rectangular slab. What, she asks, if Britannia were to launch it in small pieces and packaged it like a snack instead of the traditional format? "Last year, we introduced more new offerings than the rest of the industry combined-whether it was the sugar-free NutriChoice SugarOut or the individual tikki pack, we have laid stress on innovation," Arora adds.
Hemant Malik
Head (Marketing), ITC Foods: "
In less than three years, we have captured a 10 per cent market share"
The company claims that it is this innovation that has helped it increase its rural sales from a third to close to 40 per cent of its sales. In the last one year alone, the company says, it has invested Rs 200 crore in capital expenditure. Says Mehta: "This is significant because, at present, 80 per cent of the company's products are manufactured through outsourced partners." He adds that Britannia, a zero-debt company, is sitting on Rs 400 crore surplus cash which can be used for inorganic growth if required.
Bali has already made a couple of moves in that direction. Last year, it acquired a 50 per cent stake in Daily Bread from Café Coffee Day. Daily Bread is a specialty manufacturer and retailer of premium bakery products. Arjun Sekri, who owns the remaining 50 per cent in the company, says Daily Bread is looking to piggyback on Britannia to emerge as a national brand. In West Asia, Britannia has formed a partnership with the well-known Khimji Ramdas Group to run two bakery product companies. It has bought a 70 per cent stake in the Dubai-based Strategic Foods International and a similar stake in the Oman-based Al Sallan Food Industries Co SOAG. Bali says the two companies have a combined turnover of over Rs 160 crore. "Both in the Indian and international marketplace, we will continue to look for growth opportunities," she says.
Dairy foray
Britannia also has a Rs 125-crore dairy JV with Fonterra of New Zealand which sells cheese, curds, butter, dairy whitener, ghee and other products under the Milkman brand. With India emerging as the world's largest producer of milk, Anupam Dutta, who heads the JV, says the potential for value-added products has increased. Given that potential for growth, Motilal Oswal in its post-result update on the company, said: "We believe that the worst is over for Britannia and the impact of pricing and brand power on sales and profitability will be visible in the coming quarters."
Bali will be hoping that the bottom line starts reflecting this sentiment.