After years, a ray of hope is streaking through for the Mitras of Noida. It's been four years since the family of three-father, mother and daughter-moved to the National Capital Region (NCR), but despite being a solidly well-off middle-class couple, the husband and wife haven't been able to buy a house of their choice, which in their case, translates into a 2,000 sq. ft apartment with basic amenities such as power back-up and round-the-clock water and security.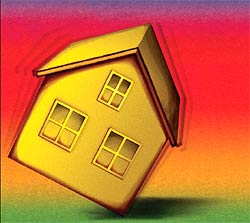 At Rs 5,000 a sq. ft, the modern apartments in Noida have been out of reach of the white collar, 30-something couple. A fortnight ago, though, the Mitras' dream of owning a home in NCR seemed within reach. A canny investor, the husband sensed that a slowdown in the economy-more specifically the 20 per cent drop in the Sensex over the last four months-would probably be hurting real estate developers. So, on a recent Sunday, he paid a visit to a couple of developers who have ready-to-move apartments for sale.
Starting with a rack rate of Rs 4,750 per sq ft for a 1,950-sq-ft apartment in Noida, complete with power and water back-up, club-house, swimming pool, jogging track, and the works, Mr Mitra managed to bargain down to Rs 4,000 per sq. ft-an almost 20 per cent discount unimaginable even at the start of this year.
So, did the Mitras sign up for the apartment? No, because Mr Mitra thinks that prices will drop some more in the months ahead and he would rather wait and watch than buy at a rate that he still believes is excessive. The story of the Mitras could be the story of the Chadhas or the Subramaniams or the Chitales across India. It's wait and watch for now. Those who are yet to buy their first homes are holding off in the hope that prices will fall further, while those who have already invested in their second or third homes for investment purposes are wondering if they should exit at current prices, lest they drop.
So, what should you do? Buy or sell your apartment now, or wait?
Return of reason
To answer that question, one needs to understand what's really going on in the real estate market in the country. First of all, realty in India is largely about residential housing -it makes up 75 per cent of the $15-billion realty market, while commercial space, including office and retail, account for the rest. Therefore, from a macro-economic standpoint, any trouble would stem more from housing than commercial realty.
It's well known what has happened to residential prices over the last seven years: they've shot through the roof across the country (and the world, actually). In hot property markets like Delhi's NCR region, specifically in Gurgaon and Noida, prices have shot up some 500 per cent in just six or seven years, with builders competing (or colluding) to put out pricier properties in the market. Why did prices soar the way they did? Simply because both the economy and the stock market were on a burn, growing at unprecedented rates. IT companies and BPOs were expanding, modern retail was creating demand for quality space, as were hospitality and life sciences sectors.
That apart, interest rates, thanks to low inflation, had halved in a matter of a few years, prompting millions of Indians to buy houses. As the demand for housing (and commercial space) surged, property prices shot up too, partly due to rising prices of land and raw materials such as cement and steel. Now, as the economy betrays signs of slowing down, the real estate industry is slowing down to catch its breath, too. "The US subprime crisis, the rupee-dollar equation, inflationary pressures and the resultant liquidity crunch-all of these contributed to an economic slowdown, which was not totally unexpected," says Sanjay Verma, Executive Managing Director (South Asia, Australia and New Zealand), Cushman & Wakefield.
The question investors-not just those buying a house or office space, but those who've invested in real estate companies-want answered is simple: is the real estate bubble bursting, if yes, who will get hurt and how much? While it's impossible to answer that with certainty, it's easy to say what won't happen almost certainly: a crash in prices.
Here's why: a crash, like what's happening in the US currently, happens when there are more sellers than buyers in the market. In India, that's unlikely to happen for several reasons. One, the economy is still growing at more than 8 per cent, so people on an average are getting richer with every passing year. Two, millions of Indians still don't own homes; in fact, in cities such as Delhi and Mumbai, nearly half the population lives in slums, which means there's a huge latent demand that exists (but for low-cost housing).
Three, only a small percentage of the population that drove India's housing boom-the middle and upper middle class consumers-owns multiple homes; most of them live in the house they've bought. Therefore, even if their home loans get expensive, as they are now, they would rather cut back on savings and consumption than put out their house in the market (Home turf no more).
That leaves the speculators- for the sake of convenience, let's just think of them as multiple home owners-as the only variable in the realty equation. Among those, the ones who've suffered losses in the stock market would probably look to sell the property bought in hope of quick appreciation. (In fact, they are being blamed for the drop in prices; more on that in a bit.) But the others who are fairly confident of their future cash flows would probably turn to rental income to partly meet their mortgage obligations, if any. "Real estate in India is usually a family investment representing social security. If you see, the default rate for home loans is very low. Besides, buying a house here is never a short-term decision-it's a long-term purchase," says Niranjan Hiranandani, Founder and MD, Hiranandani Constructions.
Metro snapshot
How the key cities are faring.
Delhi & NCR
Residential: It's stabilisation as far as the brokers and developers are concerned and a correction if you are a buyer. In terms of price, the market is down by 17-18 per cent, with parts of Gurgaon seeing a dip of 22-34 per cent over the prices last year. Volumes, too, are down in pockets of NCR-ranging between 20 and 65 per cent. Land prices have fallen between 15 and 25 per cent.
Commercial: Rentals have remained firm with micro-markets displaying different trends. While areas like Connaught Place (central business district) have shown an increase from Rs 325 per sq. ft to Rs 340 per sq. ft, SBD (secondary business district) areas like Nehru Place and Jasola have either remained stable (Jasola at Rs 190 per sq. ft) or declined (Nehru Place from Rs 200 per sq. ft to Rs 150 per sq. ft). With no significant supply expected, except in Jasola, rentals could increase marginally in the next quarter.
Mumbai
Residential: A city that always manages to buck the trend, prices here are showing few signs of softening. However, the premium segment (above Rs 20,000 per sq. ft), where prices had risen 14-19 per cent in 2007, might experience a correction towards the latter half of the year. The sub-luxury segment (Rs 15,000-20,000 per sq. ft) has also seen an increase of 12-18 per cent. Prices are stable in the upper mid-market segment (Rs 9,000-15,000 per sq. ft), but down by 1 to 2 per cent in the mid-market segment (Rs 5,000-9,000 per sq. ft). Suburban towns like Thane and Navi Mumbai might witness an increase in prices of 2 to 3 per cent.
Commercial: Rentals in Nariman Point, Fort, Cuffe Parade (CBD), and Lower Parel, Worli and Prabhadevi (EBD or extended business district) appear to have stabilised since 2007-end, possibly in anticipation of the increase in supply from the mill land, which should enter the market towards the third quarter of this year. Prices in the CBD and EBD are same as in the last quarter of 2007, at Rs 450 per sq. ft and Rs 375 per sq. ft, respectively, but could soften due to the prevailing economic climate. Suburbs like Powai and Malad and Thane have, however, shown an increase-from Rs 90 to Rs 100 per sq. ft and from Rs 45 to Rs 50 per sq. ft, respectively.
Bangalore
Residential: The city is witnessing contradictory trends in its micro-markets. While south, south-east and east Bangalore have seen a drop in prices- from 8-15 per cent, 10-20 per cent and 6-12 per cent, respectively-prices in the north-east have risen by 8-12 per cent, while those of north-west have also firmed up by 7-10 per cent. Average volumes are down across micro-markets by 10-40 per cent, with some projects struggling to sell 10 per cent of their offerings even six months post-launch. Land prices have also softened by 5-15 per cent.
Commercial: The commercial market, surprisingly, seems unaffected by the troubles in the residential segment. Prices across the micro-markets have firmed up since the last quarter as the supply has been either low or non-existent in areas like M.G. Road, Richmond Road, Residency Road (CBD) and Indira Nagar and Koramangala (non-CBD). Prices in CBD have risen from Rs 74 to Rs 80 per sq. ft, while in non-CBD, they have risen from Rs 55 to Rs 60 per sq. ft. The peripheral business district (Outer Ring Road, Electronics City, Whitefield) is also supply-strapped, but since space is limited and a number of SEZs are planned along the Outer Ring Road, prices have remained stable since December 2007.
Chennai
Residential: Surprisingly, while volumes are down by about 8-12 per cent across the city, prices are either stable or firming up. Ditto for land prices-which could perhaps be attributed to developers not being aware of the slump in the market.
Commercial: With a supply constraint in CBD (Anna Salai, T. Nagar and R.K. Salai), there is a large premium on rentals, particularly for non-IT office space. This has made non-CBD areas like MRC Nagar, Guindy and Taramani the preferred choice for offices. With new supply slated to come in, rentals are expected to remain stable. The SBD and PBD areas (Old Mahabalipuram and GST Road) have seen the highest offtake and with supply expected to exceed demand, there could be a softening of rentals in some areas.
Hyderabad
Residential: Prices are stagnating, although some properties prices may have fallen by 10-20 per cent. The silver lining for developers, however, is the new airport area, where prices are on an upswing. Significant developments are expected around the city due to a proposed outer ring road.
Commercial: Rentals are expected to continue their upward journey during the first half of 2008, though there may be a stabilisation in the third and fourth quarter as nearly 7 million sq. ft of Grade A office space supply will enter the market. Rentals in CBD micro-markets like Begumpet and Somajiguda could also stabilise with the shifting of the airport from Begumpet to Shamshabad (PBD), where low rentals continue to be attractive for companies aiming to lower their cost of operations.
Kolkata
Residential: The only market among the major cities where investor sentiment appears to be strong, pushing up both volumes and prices. It's probably due to a late shift in the average rich Kolkatan's investment strategy, which hitherto focussed on commercial real estate. However, with the other cities already in correction mode, Kolkata could follow the trend.
Commercial: With SEZs being the growth drivers, rentals across the market have already firmed up. Infrastructure is also getting a makeover through new flyovers,which could substantially reduce travel time between the city and the suburbs, such as Salt Lake. The CBD (Park Street, Carmac Street, Theatre Road, Chowringhee Lane) have the advantage of connectivity and proximity to residential areas and government offices, but due to a lack of quality space, is being bypassed for SBD areas like E.M. Bypass and Gariahat.
Source: Asipac and CB Richard Ellis