Over the last three years, Pinstorm, a Mumbai-based full service interactive agency, its founder Mahesh Murthy claims, has been approached by two large advertising networks at least seven times: by giant WPP thrice and Publicis Groupe's Starcom twice, among others. And all the seven times, 42-year-old Murthy claims, he's had to say no. Why? He's got plans of his own. Pinstorm is expected to log Rs 25 crore in revenues during 2007-08, but "we will be three times this next year and would be qualified to be among the top five mainline agencies by billing," promises Murthy, who runs angel and VC funds called Passionfund and Seedfund, respectively.

If self-funded digital agencies like Pinstorm can afford to thumb their nose at global advertising giants it's because they are in a sweet spot that the latter desperately want to squeeze into. Internet advertising, already a $15-billion industry in the US, is set to explode in India. According to a recent Lintas Media Report, internet advertising stood at Rs 215 crore last year (a 43 per cent growth over the previous year), but industry watchers say that it could grow more than ten-fold (to Rs 2,500 crore) by 2011. In fact, GroupM, the media buying arm of WPP, predicts that by 2010, most other forms of media will either barely maintain or start ceding ground to the online medium, besides radio.
Mobile advertising, which is hot in India simply because, for every internet user there are five mobile phone users, is also projected to grow from Rs 40 crore currently to Rs 500 crore by 2011. "We are looking to grow our business in digital both organically and through acquisitions in the digital space," Mark Reed, Director (Strategy), WPP, told BT during his recent visit to India. While WPP has been open about its intent (having acquired Quasar Media), Publicis Groupe hasn't made any such statements, but within the industry it's a well-known fact that it too is quietly scouting for possible alliances (See Most Wanted). "At this time point, we are focussing on our core business, which is digital marketing and should a lucrative opportunity arise...(Publicis Groupe) may make this a focal point," says Hari Shankar, Business Director, Starcom IP.
The digital landscape
Today, there are three clear categories in this space that are drawing the attention of entrepreneurs, investors, and established agencies. These are: mobile-related search and advertising, ad networks that aggregate advertisers and sites and play match-makers, and full-service agencies that do everything from search engine marketing to blog creation to online advertising.
Communicate2, Webchutney, which prefer to call itself a full-service interactive consultancy, Connecturf (launched in 2000 by V. Ramani), Regalix and Interactive Avenues (promoted by former Mediaturf executive, Ratish Nair) are some fullservice agencies. "We are a marketing services firm with focus on online and do everything from placing ads to generating market intelligence," says Nimish Vohra, country head, Regalix.
In the relatively nascent SMS space, too, there's no dearth of players. mKhoj, founded by 29-yearold Naveen Tewari in late 2006, started by offering shopping deals (say, shirts on sale in Bandra), but now helps advertisers target mobile internet surfers much better. "It's a healthier model (than offering shopping deals), since we offer contextual ads based on key word search," says Tewari, who has global competitors such as Admob and Google Mobile. Some others like 160by2 offer registered users free text messages, where ads piggyback. "We have a pull model where anyone who wants to send bulk messages signs up on our website and we offer 80 characters free with the rest being used for ad," says Ravindra Kumar, Chief Commercial Officer, 160by2 (160 is the standard number of characters allowed per SMS—hence the firm's name). Kumar, too, has competitors such as way2sms.
Then, of course, these are the ad aggregators or networks such as Komli and Ozone. Founded by 31-year-old Amar Goel, Komli is just over a year old and offers advertising products for the online market in India. "Our ad network uses technology to aggregate advertisers and online publisher and helps them match effectively. We are already serving a billion ad impressions every month," boasts Goel.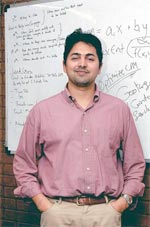 Ozone, started by 37-year-old serial entrepreneur Kiran Gopinath, is self-funded and follows a model similar to Komli's. There's serious money chasing such players. Early this year, Komli received $7 million (Rs 28 crore) in venture funding from Nexus India Capital and co-investors Draper Fisher Jurvetson and Helion Ventures. Komli plans to use the money to grow its headcount and launch new technology initiatives in 2008. Interactive Avenues also received an undisclosed sum from Sequoia India in July last year.
Mobile2win, mGinger, and Webchutney are some other players in this space that have received VC investment (fresh or follow on).
Way to go
Despite the hubbub in online marketing and advertising, it's early days in terms of business models. Take SMS advertising, for example. Most of the companies here are "push-based" (that is, they still need to be shoved to consumers rather than consumers 'pulling' such ads).
Therefore, "it's too early to say if this model will be the dominant model or not," says Alok Mittal, MD, Canaan Partners. "I feel most of the companies (in this space) do not have a scalable business model, but there's no denying that there's a lot of interest in the Indian market," adds Ganesh Rengaswamy of Greylock Partners, who co-founded Travelguru and is going back to being an entrepreneur.
In comparison, the online ad networks seem more mature. Most of them don't just have stable and growing revenues, but are profitable. And since they can churn out quality work at much lower costs than rivals abroad, they make attractive targets for foreign majors. "Likely acquisitions here could be from global internet majors," says Mittal, "but I don't really expect ad agencies to acquire these."
In fact, some of these players aren't looking to get acquired at all. Ybrant.com, which owns a clutch of digital marketing firms, has filed for an IPO, and Pinstorm plans to make acquisitions of its own. "I believe we can build a bigger business and we are among the very few digital agencies that can be called Indian MNCs," says Murthy a bit dramatically. And surely it's the promise of growth that is driving every other player in this business.