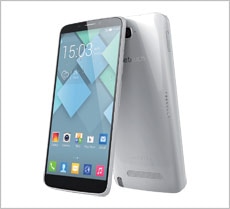 Alcatel Hero

Alcatel's new flagship, Hero, is a 6-inch full HD phablet encased in an 8.5mm candy bar. It is powered by a 1.5 GHz quad-core processor and 2GB of RAM, and runs Android 4.2 Jelly Bean OS. It has a 13MP camera, can capture full HD videos and comes with 16GB internal storage. The phone also has Side Kick, a Bluetooth accessory that can be used to browse contacts, and make and answer calls.
Rs 31,000
Google slashes Drive storage prices

Cloud storage is the next big thing. To lure customers, Google has slashed prices of its cloud service Drive's monthly storage plan. Google offers 15GB of free storage to Google account users. Google cut prices of its 100 GB to $1.99 per month from $4.99 and to $9.99 from $49.99 for 1TB storage. The 10TB plan now comes with an option of adding more space, starting at $99.99. For 20TB storage, you have to shell out $199.00 a month, while 30 TB is available for $299.99.
GOQii Life fitness tracker
The GO Qii Life is a wearable device that tracks daily fitness activity and has an integrated human factor which uses health data to provide customised advice. The device features a touchscreen OLED display and a 360-degree motion sensor. It gives back up for four to five days on a single charge. While the company is planning to ship the device to India in a couple of months, Snapdeal has listed subscription plans for GOQii products and services, including band, experts and coaching for six and 12 months at Rs 5,999 and Rs 9,999, respectively. Rs 5,999 onwards


Samsung Galaxy Tab 3 Neo

The new 7-inch tablet from Samsung is the Galaxy Tab 3 Neo. The tablet has 600x1024 pixel resolution and runs on Android 4.2 Jelly Bean operating system. It is powered by a 1.2GHz dualcore processor and is paired with 1GB of RAM. Samsung has added a 2MP rear camera to this tablet. It comes with 8GB internal storage, a microSD card slot and a 3600 mAh battery. Connectivity options include Bluetooth, Wi-Fi and GPS. The tablet measures 193x117x9.7mm and weighs 310gm.
Rs 16,750
Lenovo IdeaPad Z510
Lenovo has launched a new notebook in India, the IdeaPad Z510. The a 15.6-inch laptop, with full HD LED display, weighs 2.2 kg. It has fourth-generation Intel Core i5 & i7 processors and Windows 8.1 operating system. It has a backlit keyboard with Accutype, Hybrid 1TB SHDD Storage, NVIDIA Graphics card with 8GB NAND flash, OneKey Recovery data back up, and 1MP HD camera. It features JBL speakers with Dolby Home Theater certification. Rs 52,954

Motorola Moto X
After the successful launch of the Moto G in India, Motorola has now launched the Moto X smartphone. Priced at Rs 23,999, the device features a 4.7-inch 720p display. It runs Android 4.4 KitKat and is powered by a 1.7GHz dualcore Qualcomm MSM8960Pro Snapdragon processor along with 2GB of RAM. It has a 10 MP rear camera and a 2MP front-facing camera. The smartphone has 16GB of built-in storage and is available for sale only on Flipkart.

mosimageUninor Internet offerings

In order to attract subscribers, Uninor has launched a new scheme where users will get unlimited access to Facebook and WhatsApp. The scheme is branded as "Sabse Sasta Facebook" and "Sabse Sasta WhatsApp". One day of unlimited WhatsApp usage costs one rupee, one week Rs 5 and one month Rs 15. For Facebook the plans are 50 paise for an hour, one rupee for a day, Rs 5 for a week and Rs 15 for a month.