When Business Today was putting together a feature on best PSU banks for 2006-07 earlier this year, a bank chairman asked which bank was at the top. When told it was Indian Overseas Bank (IOB), he smiled in approval. IOB's ascent, he remarked, was only to be expected under T.S. Narayanasami, 59. Narayanasami has since moved to head Bank of India (from June 2007). And amazingly enough, BoI has snatched the spotlight from IOB ever since.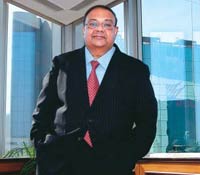 Name: T.S. Narayanasami

Age: 59

Designation: Chairman & Managing Director

Institution: Bank of India
Narayanasami is a man of action. Of late, while there was a scramble for liquidity all around, BoI was busy disbursing it to hungry business houses. In the recently ended quarter, disbursal of corporate credit by the bank grew at a healthy 64 per cent. No wonder, the bank has ended both its half year as well as the quarter with an 80 per cent growth. This is miles ahead of the 33-35 per cent growth that analysts had predicted. "We are close to the best in the private sector," he told
BT
.
A banker with 39 years of experience, Narayanasami is noted for his sharp nose for business opportunities. This ability was recognised early on when the Union Bank of India, where he served 31 years, gave him a double promotion in his younger days. He left the bank at the cusp of the millennium on his elevation as Executive Director of Punjab National Bank (PNB). Not many perhaps know that PNB was the first bank to network all its branches, and Narayanasami was the moving spirit behind this. After four years, he moved further up to become CMD of Andhra Bank in May 2005, and a year later, he took the reins of IOB. The two eventful years here saw IOB report record profits.
Peers vouch for his calibre. "Wherever he has worked, he has increased profitability and taken the bank concerned to greater heights," says M. Venugopalan, CMD of Federal Bank. Says Narayanasami: "I am proactive. After keeping aside my social banking commitments, I effectively use the balance corpus available to strengthen the bottom line. PSU banks have a huge reach and network. They have enough areas to operate in." The man, by the way, is also the Chairman of Indian Banks' Association.
Quite aptly, Narayanasami is another name for Lord Vishnu, the saviour.
—
K.R. Balasubramanyam