Shantanu Bhatnagar (shantanubhatnagar@hotmail.com) wrote: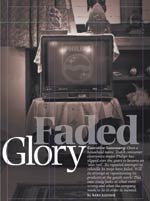 For Philips India 'more is less'. Its consumer business has meandered into multiple segments, from DVDs to feeding bottles (Avent), without a clear cut strategy. Hiring brand ambassadors/celebrities will not solve the problem when there is a basic flaw in the marketing strategy.
You can make a short-term impact by running advertisements with high profile ambassadors or offering lucrative dinner coupons on purchase of products. But for the long term, the marketer has to develop a connection with its target group after understanding the latter's attitude and behaviour which is clearly missing in the Philips strategy.
Its definition of the 'young' is extremely indistinct. Its rivals, the Korean companies, have not only identified the right price points for Indian consumers but have also improved significantly in terms of quality and value proposition after understanding the needs of their target group. They have not only worked on their distribution networks but also on providing innovative India specific products, whereas in Philips's personal care portfolio, all products are global specific. The Philips story is a classic example of what not to do in marketing.
Shantanu Bhatnagar wins a Harvard Business School Press pocket mentor