Every year, the Consumer Electronics Show in Las Vegas, USA, defines the coming year in terms of new products and new technologies. Like tablets last year, the 2012 event read the future as being dominated by new televisions (OLED and 4K, which has a resolution four times that of HD), Ultrabooks (superslim Intel-led laptops), quad-core chips for tablets and smartphones and Microsoft's new Windows 8 operating system for PCs and laptops. But beyond these regulars, we also espied a melange of innovative, funky, cool yet utility-driven gadgets ranging from apps to wrist watches and from wireless charging to robots. Here are a few that caught our attention.

LENOVO IDEAPAD YOGA
A super thin notebook that flips over and turns into a touchscreen tablet describes the Lenovo Yoga the best. The Yoga's screen swings 360 degree so it can either be used as an ebook reader or be placed on a flat surface to look like an all-in-one desktop. Running on the Windows 8 platform, the Yoga is 0.67 inches thin and has a 13.3 inches screen. It also has a 256GB SSD and 8GB RAM onboard. Is the thin line differentiating a notebook from a tablet diminishing with the Yoga?

PROJECT FIONA

Razor, a major gaming peripherals player, was in the limelight at CES 2012 with its showcasing of 'Project Fiona'. Aimed at hard core gamers, Project Fiona is a tablet with twin gaming controllers on either side. The fixed controllers (at the moment non-detachable), if awkward in terms of design, however, enables great gaming on this Windows-powered tablet. With the 10.1-inch bright capacitive touch display, the gaming tablet will have Intel's upcoming Ivy Bridge-based core i7 processor. Still a prototype, it will be released in Q4 this year and should be priced under $1,000.
LENOVO K91

This year, the flat panel TV segment witnessed a lot of action at CES. Apart from OLED and 4K TVs, Lenovo announced the world's most advanced TV. The K91 has a 55-inch panel that runs Android Ice Cream Sandwich and is powered by Qualcomm's 1.5GHz Snapdragon Processor. Voice recognition algorithms along with a 5.0 MP camera for facial recognition will be onboard for enhanced usability. The flicker free backlit LED panel has a refresh rate of 240Hz. Other features include Wi-Fi, 8GB onboard storage, SD card support and access to Android Market.
CANON POWERSHOT G1 X
Canon announced a new entrant in its popular 'G' series, the Canon G1 X. Boasting a bigger sensor, which is normally spotted in mirrorless and fullsized DSLR cameras, this pont and shoot features a new 1.5-inch, 14.3 megapixel CMOS sensor. The sensor is combined with the Digic 5 image processor that manages to give beautiful blur, lower noise, and extraordinary resolution in low-light shooting and can also shoot at ISO of up to 12800. It comes with 4x optical zoom, RAW image support and captures 1080p videos. Expected to be released in February, the camera will be launched for $799.
VUFORIA BY QUALCOMM
Taking augmented reality to the next level, Vuforia, an augmented reality platform, will allow user to access more information by pointing their device at a real world object. Qualcomm, along with Sesame Workshop, has developed and displayed a prototype playset for kids that makes the traditional board game much more interactive and entertaining. Using Sesame Street characters-Cookie Monster, Bert and Ernie-the stories come alive with these lovable protagonists transforming them into interactive experiences. This is achieved by pointing the tablet's (with Vuforia AR) camera towards the characters.
MIMO MICRO USB MICROSD CARD READER
One cool stuff that caught our eye at the biggest tech show of the year was the MimoMicro USB MicroSD card reader from Mimoco. The company has come up with tiny figures of popular characters like Darth Vader, C-3PO, Yoda, Batman and Superman that hold a microSD reader at the back. This has a cap free design where the USB plug flips out from the back. This acts as a 3-in-1 device: along with USB card reader it can be used as an instant flash drive and as an easy way of carrying data when placed in devices. It will be available in the international market for $12.95 from March onwards.
VICTORINOX SSD
It's not only the flat panel TVs that are becoming slim and trim. Victorinox, the famed maker of the Swiss Army Knife, showed one equipped with a solid-state drive (SSD), claiming it to be the world's smallest high-capacity SSD drive. This pocket knife and thumb drive combo can connect to both eSATA and USB using a single connector while featuring a monochrome graphic display to show what's stored within. The SSD has read and write speeds of 220mbps and 150mps respectively, as well as security software onboard. Fitting in neatly alongside a knife blade, scissors, nail file, the storage device will be available in capacities of 64,128, 256GB-and a massive 1TB.
CASIO GB 6900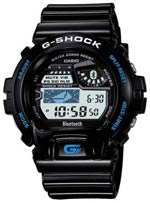 Smartphone compatible, the new G-Shock watch from Casio can do much more than just display time, incoming calls, missed events or SMSes. Paired over Bluetooth 4.0, the low-energy Bluetooth technology, to Android smartphones that also feature the same technology, this watch can activate the alarm or vibration on the phone with a touch on the display of its face. A handy feature in case you misplace the smartphone. The G-Shock GB6900 has a bright LED backlit glossy paint with a classic back and will be available in three colours in March 2012.
SAMSUNG TRANSPARENT DISPLAY
Alongside the OLED TV and 4K TVs on show, there was also Samsung's transparent LCD on display. This new transparent display doesn't have back-lit units and it instead utilises ambient light. This allows you to see right through the display. Intelligently designed, there are special transparent backlighting units that act as the light source in a dark environment. Unlike traditional LCDs, where backlighting consumes most of the power, this transparent display doesn't consume much energy and is, therefore, environment friendly. However, it is aimed at commercial use, and not for the home user.
SPHERO
Taking gaming to the next level will be Sphero who introduced a robotic ball that can be controlled from a smartphone. Operative only with the dedicated application available for Apple iOS 4 onwards and Android v2.2 onwards devices, close to five different apps are available for download. The ball is controlled wirelessly over Bluetooth and comes with an operative range of 50 ft. The box contains an inductive charging base.
GLASS KEYBOARD AND MOUSE
Ask about computer peripherals and we have something innovative to talk about- the wireless, multi-touch glass keyboard and mouse by Jason Giddings. Made of quality tempered glass, a solid metal base along with finest components, the glass works on a touchscreen technology known as Frustrated Total Internal Reflection. "There are basically infrared LEDs placed at the edge of the glass, hidden inside holes where the glass is mounted to the metal base," says the company. "Because of the low angle at which the light impacts the internal glass surface, it is bounced around inside the glass, much like looking through a tube to see the reflections on the inside walls. When the glass is touched it frustrates the reflection and the IR light is diffused downward, out of the glass, allowing the camera to see it. Software then determines the location and sends the appropriate information to your computer." The software that controls this device will be open source.
QUALCOMM SNAPDRAGON S4
Last year, the smartphone industry upgraded to dualcore processors from single-cores. In rapid succession, the year 2012 is all set to be dominated by the smartphones and tablets running on quad-core processors. All chipmakers are betting high on their new chips supporting quad-core CPUs, among them Qualcomm. From the System 1 that was meant for mass market smartphones to S2 and S3 for high performance smartphones/tablets and multitasking and advance gaming, Qualcomm has now introduced the all-new Snapdragon S4 chipset. The Snapdragon S4 is a powerful chip meant to do much more for next generation devices. The S4 means the introduction of Qualcomm's second generation CPU named the 'Krait'.
This new micro-architecture increases the performance by 60 per cent over the existing Scorpion processor. The S4 processor family also includes the Adreno 225 GPU that delivers 50 per cent greater graphics processing power over the existing Adreno 220 and can go up to Adreno 320. In simple terms, the Snapdragon S4 family will offer chips in future with single, dual and quad core CPUs with 'Krait' architecture that can be clocked at a speed of up to 2.5GHz. Like the S3 chipsets, even the S4 will be capable of capturing full HD video (1080p resolution). Interestingly, the new chip supports up to three cameras with up to 20 megapixel along with a stereoscopic kit that enables 3D video playback, 2D to 3D conversion and 3D content capture. Along with the superior speeds, the devices powered by S4 are likely to offer superb gaming experience and graphic interface.
The S4 chip also integrates the 4G/LTE mode. This new processor has been manufactured using 28 nanometer process technology instead of the 45 nanomater used in the earlier chips. The net result is that the same work is now being handled by a much smaller chip that will inherit advantages in frequency scaling, power consumption and size reduction. Dr Paul Jacobs, Chairman and CEO, Qualcomm, said at Las Vegas, "There are already 300 devices using Snapdragon and another 350 in development. Snapdragon processors are all about doing more and charging less". Also, the Snapdragon processors are not just restricted to smartphones and tablets anymore. The chipsets are all set to power Wi-Fi displays and Smart TVs as well.
DISCOROBO
Tosy Robotics, a Vietnamese robotic firm, had two interesting robots at the display during Digital Experience at CES. The more interesting of the two, the DiscoRobo, is a hi-tech toy that can feel the beat and dance to the music. Still in the early developing stage, the company claims it is a smart combination of entertainment and technology. In the future, the DiscoRobo will be able to change its dance moves with a change in the music/beats. It will also have "living" emotions, something that kids will love to play with and show off. The other Robot was the SketRobo that is designed to capture the moment and then sketch it. It will be capable of sketching portraits and can even give lessons to children on how to draw by connecting the dots.
Wi-Fi 802.11AC

On the connectivity front, Broadcom look a leap forward by announcing the next generation of Wi-Fi standards-802.11ac. The new Wi-Fi capability will improve coverage area and eliminate dead spots. As this technology uses 5GHz spectrum, it is also known as the 5G Wi-Fi. Since it offers higher data transfer speeds, users can seamlessly download HD videos using the new transfer technology. It also allows more devices to be connected simultaneously on the same network. Broadcom's initial partners-Motorola, Microsoft, Netgear, Huawei, Lenovo, Belkin, LG, etc-are already at work to deploy the standards in their upcoming products.
POWER BAG
Power Bag by RFA Brands was the winner of CES Innovations 2012 Design and Engineering Award. This innovation has brought in the ultimate charging power to a bag by adding built-in, lightweight batteries with 3000, 6000 or 9000 mAh capacities. The batteries are charged by connecting an AC adapter to the charger, and they then store the charge until needed to recharge four mobile devices at a time, using the pre-routed connectors for a micro, mini, 30 pin Apple and one USB connector.
HTC TITAN 2

Unlike last year, only a few smartphones were launched at CES this year, with nothing much revolutionary about them.With manufacturers waiting for the Mobile World Congress in Barcelona, HTC Titan 2 was one of the few phones that caught our attention. Running on Windows Phone Mango, the Titan 2 has an unbelievably amazing 16MP camera with an F2.6 aperture that capture good images in low light conditions.
QUALCOMM HALO

Looking beyond the regular plug-in modes of charging electric and hybrid vehicles, specially at the street level, Qualcomm has demonstrated an easy and wireless way of recharging electronic vehicles. Deployable in all geographic areas, the Halo uses the fundamentals of inductive power transfer. Using magnetic resonance to couple power from Base Charging Unit on/under the ground to the Vehicle Charging Unit on the vehicle, the power is transferred to the VCU pad through magnetic coupling and this energy is then used to charge the vehicle battery.
Courtesy:
Gadgets and Gizmos