Here are the showstoppers from one of the largest computer and technology fairs in the world - Computex 2012 . It is held annually in Taipei, Taiwan.

Acer Iconia W700
Among the deluge of Windows 8 and Ivy Bridge tablets, this was another one that stood out from the crowd. The Iconia W700 is a Windows 8 tablet with an 11.6-inch Full HD (1920 x 1080) multitouch display. It will ships with a cradle that angles the panel at 70 degrees for landscape eyeballing and 20 degrees for finger-touch use. You can also pick up a Bluetooth keyboard to make convert it into a nifty desktop PC replacement. Thicker than most current tablet offerings in the market, the W700 is built around Intel's Ivy Bridge CPU. It comes with micro HDMI, three USB 3.0 ports, Dolby Home Theater for enhanced audio and a Thunderbolt port. In addition to a Windows key, there are, of course, the obligatory volume rocker, headphone jack, a front facing camera-along with a 5 megapixel autofocus camera at the back.

Xpal Spare One

Not in your wildest dreams can you ever imagine a cell phone without a display in circa 2012. Well, that's exactly what the Xpal Spare One handset is all about. This screenless simpleton is designed to run on a single AA battery (alkaline, NiMH or lithium) and intended to work for up to 15 years on a single charge as an emergency phone. So caught in a tight spot with your battery down and need to call for help? Just plop your SIM/micro-SIM into it and call for salvation. The sans-screen, 75 gm backup phone obviously doesn't have the provision for an address book. So you must either punch in a number or redial the last missed call. You cannot send or receive SMSes either. Yet, if you receive an SMS, it automatically replies on your behalf, saying that you can't send a text and to call you instead. The $50 slim (though well-built) non-smart phone, replete with an Energizer Ultimate Lithium AA battery, comes in two avatars: for the US and the rest of the world.
Edimax BR-6268nL
Looks, as the ancient adage goes, can be incredibly deceptive. And this was never truer as in the case of this diminutive device. To the naked eye, the Edimax BR-6268nL appears to be just another regular Ethernet adapter for those skinny WiFi-only ultrabooks that have been sprouting out of the woodwork these past few months. Yet, what lies beneath actually serves as a portable WiFi 150Mbit/s 802.11n hotspot. This allows you to share a wired Internet connection with as many as six wireless devices. For juice, the Edimax BR-6268nL sucks on your laptop's USB port. Or, it can also be powered by an add-on portable battery option. What's also neat is the way its short, in-built USB lead can be tucked very conveniently into the base when not in deployment.
Genius BV 150iPhone Projector
Small can well be sensational at times. And the name, in this case, tell you only part of the story. Yes, this is uncomplicated snap-on device. Yes, it lets you beam content from your iPhone on to the wall. And no, that's not all. A mere flick of a switch, allows you to convert the Genius BV 150 iPhone Projector to do double-duty as a charger as well too! This new pico projector can be attached to any Apple device. The projector is rated at 20 lumens and is capable of a 640 x 360 resolution. The charger part stocks up 2,200 mAh of power to rejuice your iDevices. As the iPhone 4S carries a 1420 mAh battery, the BV 150 offers more than double. While the BV is yet to hit the shelves, the rumoured price of this slight contraption is a mite much at around $350.
MSI Slider S20
From the company that was first off the blocks in the netbook race comes another innovative offering. The 11.6-inch (1366 x 768) Ultrabook MSI Slider S20 is a a slender convertible ultrabook that can metamorphose into a 10-point multi-touch screen tablet in a jiffy. The Slider ingenuity stems from its hardware keyboard that can slide out from under the screen to make it a laptop. Or double up as a prop stand in tablet mode as well. It runs the new-gen Intel Chief River CULV platform processor alongwith Windows 8. An array of ports, comprising USB 3.0, Bluetooth 4.0, and HDMI make up the I/O options.
Asus Transformer AiO
In a serious effort to breath fresh life into the declining personal computer, Asus has reinvented the all-in-one desktop. The unique new Asus AiO not only serves as a desktop PC but also as a monster sized, 18.4-inch tablet. To top this, the devices offers dual-booting (Windows 8 in desktop mode and Android 4.0 in tablet mode) at the the touch of a button-the moment you pop it off its dock.
Making it tick is Intel's third-generation Core or Ivy Bridge processor. The 18.4-inch 10-point multitouch LED backlit display is backed by a discrete graphics card. An inbuilt kick stand allows you to prop up the giant tablet when you've ditched its dock. While exact hardware specifications of the world's largest tablet and its base are yet to released by the company, an array of ports, including USB 3.0, Ethernet LAN and an optical drive could be spotted on offer.
Asus Taichi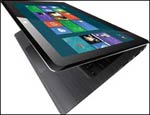 The cynoclosure of all eyes this year at Computex without a doubt was the Asus Taichi, a curious-looking, yet sleek, laptop with not one but two screens. The dual-display Windows 8 laptop/tablet hybrid boasts IPS/FHD displays. The outer lid display works as a multitouch tablet while the inner functions as a regular laptop display. Each screen even has its own camera associated with it. Both screens are LED-backlit, offer a 1080p resolution and can operate independently of each other. So, in fact two people can create and consume content on the device at the same time. The Windows 8 running device will launch later this year with an Intel Ivy Bridge Core i7 processor, 4GB of RAM, SSD (solid-state drive) storage, two USB 3.0 ports, micro-HDMI, mini DisplayPort, dual-band 802.11n Wi-Fi, a 5-megapixel rear camera, and a frontfacing HD camera. Asus Taichi will be available in 13.3-inch and 11.6-inch sizes.
GigaByte X11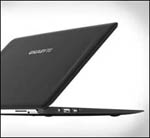 While the jury is yet to come in on its claims to being the lightest ultrabook at 975 gm, the GigaByte X11 is impressible to say the least. Made of superlight, ultra durable carbon fibre (Gigabyte claim: "6 times stronger than an aluminum notebook"), the 11.6-inch notebook measures 0.12 inches at its tapered front and 0.65-inches at the rear. It comes with a 3rd-gen Intel Core processor, 128GB SSD, a 16:9 ratio 1366x768 LED backlight display, USB 3.0, Bluetooth 4.0, 4730mAh Li-ion sealed battery and a low-key, Apple-style keyboard and Windows 7 Home Premium or Professional. According to the company, its "large resonator and diaphragm monomer" speaker system allows for a richer audio experience and improved bass.