The recovery in the US economy, a strengthening dollar and surging equity markets weighed on gold, resulting in a sharp drop of 18 per cent in the yellow metal prices between September 2013 and March 2015.
Says Kunal Shah, Head, Commodity Research, Nirmal Bang Commodities: "Sharp appreciation of the dollar has hit gold. Strongerthan-expected US economic data and investors betting on risky assets rather than safe haven instruments are also some of the reasons why gold is under pressure."
In the past five years, gold yielded an annualised return of 9.6 per cent. It was priced at Rs 26,550 per 10 grams on April 10, 2015 as against Rs 16,778 on the same day in 2010. The returns for 2012, 2013 and 2014, however, declined from 12 per cent to minus five per cent and nine per cent, respectively, at a time when the key benchmark index, S&P BSE Sensex, jumped 25 per cent, eight per cent and 30 per cent, respectively.
ALSO READ:How Gold Monetisation Scheme will benefit you

According to the World Gold Council, investment demand in India for gold bars and coins plunged 50 per cent to 180.6 tonnes in 2014 from 362.10 tonnes in 2013. Demand for gold jewellery, however, remained steady with an offtake of 662.10 tonnes in 2014, against 612.70 tonnes in 2013.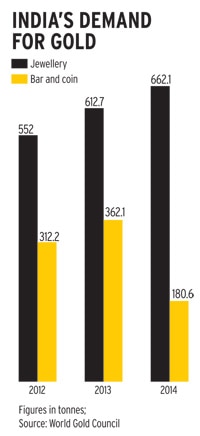 A sturdy greenback makes the dollar-denominated yellow metal more expensive for holders of other currencies, reducing its appeal as a hedge. Between June 2014 and April 1 this year, the US dollar index rose 23 per cent to 97.86. A drop in demand for investment has also hurt the metal.
Says Keyur Shah, Chief Executive Officer, Precious Metals, Muthoot Pappachan Group: "The talk about US economy reviving and Fed eventually increasing interest rates have been a damper for gold prices." A rise in interest rate will increase yields of US government bonds which will attract more investors and, thereby, it will reduce demand for gold.
Gold exchange-traded funds (ETFs) has seen net outflows of Rs 2,294 crore and Rs 1,475 crore in 2013/14 and 2014/15, respectively. The bleak outlook of the yellow metal has kept investors away. "At present, investors are betting on equity markets instead of gold. However, demand for gold jewellery remained strong due to its traditional role in weddings," says Chirag Mehta, Fund Manager, Commodities, Quantum Mutual Fund.
Experts say gold will continue to face challenges in the near term. "Globally, due to projection of strong GDP growth, people are investing in risky assets such as equities. Since fears about recession seem distant, they are not investing in gold and so investment demand continues to remain slack," says Shah of Nirmal Bang Commodities.
In 2014/15, equity mutual funds saw a net inflow of Rs 68,121 crore, against a net outfl ow of Rs 7,627 crore in 2013/14. The Sensex also jumped 20 per cent to 28,879 on April 10, 2015 against 24,122 on May 16, 2014.
Says Renisha Chainani, Manager, Research, Edelweiss Comtrade: "The biggest headwind continues to be expectations of the rise in US interest rates as the ultra-loose monetary policies of some developed economies (notably in euro zone) remain in place. This will help drive up the dollar against other currencies. Low infl ation, weak commodity prices and strong equities are other factors that should keep gold under pressure. However, we believe 2015 is likely to mark the end of the bear market. The last few months of the year may see a modest recovery, with more meaningful gains likely in 2016."