Gone are the days when you could walk into a bank and walk out with an instant home loan. Banks and financial institutions have started feeling the heat of the real estate market, which means buyers will have to dig deep into their resources to fund their new homes. Worries over rising defaults in home loans, coupled with soaring interest rates, have prompted banks to tread cautiously on this turf for now. Says Amar Pandit, Director, My Financial Advisor: "With the world's financial markets in turmoil, following a crisis in the US mortgage lending sector, bankers in India are wary when it comes to assessing home loan applications. For them, the ability of borrowers to pay is paramount."
Winds of change
Banks and housing finance companies (HFCs) have raised the financing margin for home loan borrowers, and borrowers now have to make higher down payments on loans. Says Harpreet Singh, Business Director (Wealth Management, Distribution & Loans), Centurion Bank of Punjab: "Banks have cut down the ceiling on maximum loan available to 80 per cent of the total value of the property from the earlier level of 85-90 per cent." For example, Punjab National Bank (PNB) is financing up to 75 per cent of the purchase value of a property compared to 85 per cent earlier.
Similarly, Union Bank of India (UBI) will finance up to 80 per cent for all fresh sanctions of housing loans against 85 per cent earlier. Another reason the banks are wary is the expected correction in property prices. "Real estate prices have increased by about 50-60 per cent over the last one year. Going forward, we could see a correction of around 20-25 per cent in prices over the next few months. As a result, transactions are going to be hit very badly," says Singh.
"Normally, when a bank finances a home, it calculates the current market value and gives a loan on the basis of exposure (say 80 per cent of the total value) it wants to have in that property. If tomorrow, the price of property goes down, and the bank wants to keep its exposure at the same level (80 per cent), it will ask the borrower to pay the rest from his/her pocket," he adds.Currently, home loan rates are hovering between 10.5 and 12.5 per cent. Industry watchers believe that every rise in rates from here on will make loan repayment more burdensome even with the extended loan tenures. "Monetary measures like the CRR (cash reserve ratio) hike will certainly push home loan rates upward, making it difficult for borrowers," says Harsh Roongta, CEO, Apnaloan.com.


No wonder, the last few weeks have seen banks reducing the cap on debt service ratio (DSR) of borrowers before approving home loans. "This will give banks a clear idea of whether a person will be able to afford a loan or not. When the DSR is low, there can be room for increasing the EMI (equated monthly installment) to cover any rise in interest rates. An amount (EMI) higher than 50 per cent of your take-home is a clear indication that you could be heading for trouble, especially in the current scenario of rapidly rising interest rates," says Singh.
Going slow
Home loan disbursements, as a result, are expected to slow down. Egisto Franceschi, CEO, Wizard Home Loans, thinks growth in home loans has been slowing this year. "It is expected that the market will grow at around 10-11 per cent this year compared to around 14 per cent a year ago due to rising interest rates and the growing base of borrowers," says Franceschi, adding that a borrower's creditworthiness remains the primary consideration in determining loan eligibility.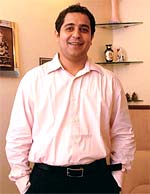 Other factors taken into account include income level, credit history and repayment ability. "We follow robust Six Sigma processes to understand customer needs and structure the deal in such a way that the consumer is comfortable and understands his payout," adds Franceschi.
At current rates, home loans are the cheapest form of retail credit. A top-up loan is another name for a personal loan given to home loan borrowers at the prevailing home loan rates, which is usually backed by the property's rising values.

It is a useful emergency funding line for individuals. Banks usually lend up to 20 per cent of the disbursed value of the home loan after one year of repayments.
However, as the overall market sentiment is turning negative, most players in the banking space are either reducing this cap or clamping down on top-up loans entirely. "Today, banks and HFCs are trying to minimise their topup loans lending, and, at the same time, are advising individuals to evaluate their options well while utilising the top-up loans already taken from the banks," says Singh.
Reality bites
How the housing finance scenario has changed over the last two years.
Then
Margins: Down payments ranged from 10-15 per cent and, in some cases, banks were willing to finance 100 per cent of the loan amount
Interest rate: The rate of interest hovered in 8-9 per cent range; a few good borrowers could negotiate even lower rates
Fixed versus floating: The differential between a fixed and a floating rate home loan was about 100-200 basis points
Top-up loans: This form of loan came easy as buyers could top-up their existing loan by about 20 per cent; ideal for furnishing your new home or tide over an emergency at cheaper rates
Now
Margins: New home buyers have to shell out about 25 per cent or more as down payments as banks have tightened their lending norms fearing a correction in realty prices
Interest rate: The current floating interest rate has inched up to about 11 per cent, while rate negotiations with banks are a strict no-no
Fixed versus floating: The rate differential between a fixed and floating rate now stands at about 250-300 basis points, making fixed rates more expensive
Top-up loans: Banks have been forced to cut back on top-up loans for new buyers due to the shrinking loan-to-value ratio