"I think therefore I am," said the Greek philosopher. Snapshots of eight Indians who figured in the definitive 2011 list of the world's 50 top business thinkers

Vijay Govindarajan
Every December, Vijay Govindarajan, 60, or VG as he is known, Professor of International Business at the Tuck School of Business in the United States, brings a group of young executives on a 'pilgrimage' to India. "For global giants, future growth is in emerging markets," he says. "They cannot succeed if they do not understand them. A visit to India opens their eyes to a whole new world.'' He organises a similar annual visit to China too. The Chennai-born champion of emerging markets is renowned for his concept of reverse innovation - developing products for emerging markets and then taking them to developed countries. His recent idea of building a $300 house got him the Breakthrough Idea Award at this year's Thinkers 50 listing.

MUST SEE: Thinking Indians on global list


Nitin Nohria
By the time he got his degree in chemical engineering from the Indian Institute of Technology, Bombay, Nitin Nohria, now 49, was sure of one thing: chemical engineering would not be his profession. His heart lay in management. In May 2010 he became the first person of foreign origin to be appointed Dean of Harvard Business School. He has written, co-authored or edited 16 books. His best work is a co-authored trilogy examining the lives of great business leaders, their routes to power and the lessons to be learnt from them.
Pankaj Ghemawat
In 1991 Pankaj Ghemawat, then 32, became the youngest full-time professor in the history of Harvard Business School. He had already created ripples in academia when he entered Harvard College at 16 and was accepted for Harvard Business School's Ph.D. programme at 19. Now 51, the Jodhpur-born Ghemawat specialises in globalisation and has written at length opposing Thomas Friedman's 'the world is flat' theory, or the view that in the new wired world, information, ideas, money and people can move around the planet faster than before. "The world is neither truly global nor truly local. Cross border differences are much larger than we assume," he says.
Sheena Iyengar
She is an expert on choice. In her recent, much lauded book The Art of Choosing, Sheena Iyengar, 42, S.T. Lee Professor of Business at Columbia Business School, explores why choice matters, the ways people make choices, the relationship between our choices, and our identities, and more. She has made many a difficult choice herself. Afflicted by an eye condition, she began losing her sight as a teenager, and became totally blind by the time she reached her late teens. That did not deter her from choosing to complete her education and start what would become a flourishing career in academics.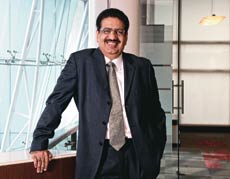 Vineet Nayar
The town hall meetings he holds with his employees have become legendary. Vineet Nayar, 49, CEO HCL Technologies, typically begins by dancing to the tune of a pulsating item song. Having grabbed the attention of his employees, he throws the floor open to no-holds barred questioning. He answers most of the questions without hedging, survives some using his wit and ducks only a few. To revive HCL Technologies, which was in slow decline at one stage, he turned conventional management theory of 'customers first' upside down and announced the 'employee first, customers second' initiative. A book on the subject soon followed. Does he not feel odd dancing before his employees, despite being the CEO? "Why should I if it helps kindle fire in my employees and improves their productivity," comes the reply.
Subir Chowdhury
He is often called a 'quality prophet'. Subir Chowdhury's book The Power of Six Sigma sold over a million copies and has been translated into 20 languages. His latest book, The Ice Cream Maker, which underscores the importance of quality, was distributed to every member of the US Congress. Now 44, this Indian Institute of Technology, Kharagpur, alumnus practises what he preaches. He sent out the manuscript of The Ice Cream Maker to 100 people he did not know personally, releasing it for publication only after he got positive feedback.
Nirmalya Kumar
Nirmalya Kumar, 51, who teaches marketing at London Business School, has never shied away from taking controversial positions. He ruffled quite a few feathers when he pronounced: "Marketing today is in a crisis, caught in a whirlpool of obscurity due to excessive focus on 4Ps - product, price, promotion and place." A connoisseur of art, he has close to 80 paintings of Jamini Roy - the father of modern Indian painting. The collection, displayed at his London home, is the largest collection of Roy's paintings outside India. "It was love at first sight for me with Jamini Roy paintings," he wrote in the preface to a book on Roy. Paintings of another Bengali artist adorn his home in Kolkata: Rabindranath Tagore.
MUST READ:
Book review of India Inside by Nirmalya Kumar & Phanish Puranam
Rakesh Khurana
Rakesh Khurana, Marvin Bower Professor of Leadership Development at Harvard Business School, believes management, like medicine or law, should have licensing tests and code of ethics with a stated aim to improve society. He feels management education in its current form is not delivering results. Khurana, who has extensively researched the CEO labour market, always warns companies that consult him against searching for 'charismatic CEOs'. His reason: they do not work.
Compiled by N. Madhavan