Edward Nusbaum, CEO, Grant Thornton Intl Photo: Vivan Mehra/www.indiatodayimages.com
Upbeat on India
The Indian economy is going through a rough patch but Edward Nusbaum is optimistic. "There will be ups and downs every few months. Over the long term, India will continue to develop as a strong base for foreign investors and successful Indian companies," says the CEO of leading accounting firm Grant Thornton International. He added that cheap asset valuations have made Indian companies attractive. In the past month, in fact, Grant Thornton India received six new queries from investors. "Some people perceive rupee depreciation as a negative thing, but it actually makes labour costs cheaper here as compared to foreign markets," said Nusbaum, 58, who joined Grant Thornton 35 years ago, and likes to go on safaris to take a break from work.

-Manu Kaushik


Watchful Eye on the Market
Charles Villoz has watchmaking in his blood. The Vice President and Head of International Sales at Longines is from the fourth generation of a family that makes a living out of horology. The Swiss luxury watch brand formally entered India in 2002, and several estimates peg the market size at between Rs 1,000 crore and Rs 1,200 crore. The 57-year-old Villoz says: "The über-luxury market in India is not as big as was expected. Our target consumers are people who value quality and can afford our products, including middle-class people and professionals. We have to listen to young people and their aspirations." He adds that Longines's growth has been in the double digits for the past three years. "We are investing heavily - the marketing budget for India is one of the largest within the Swatch Group," he says. Although Villoz started his career as a watchmaker, he briefly worked in Swiss Army before returning to his family's roots. He joined Longines in 1989 as a regional sales manager and today handles sales and distribution in 130 countries, including India.
-Manu Kaushik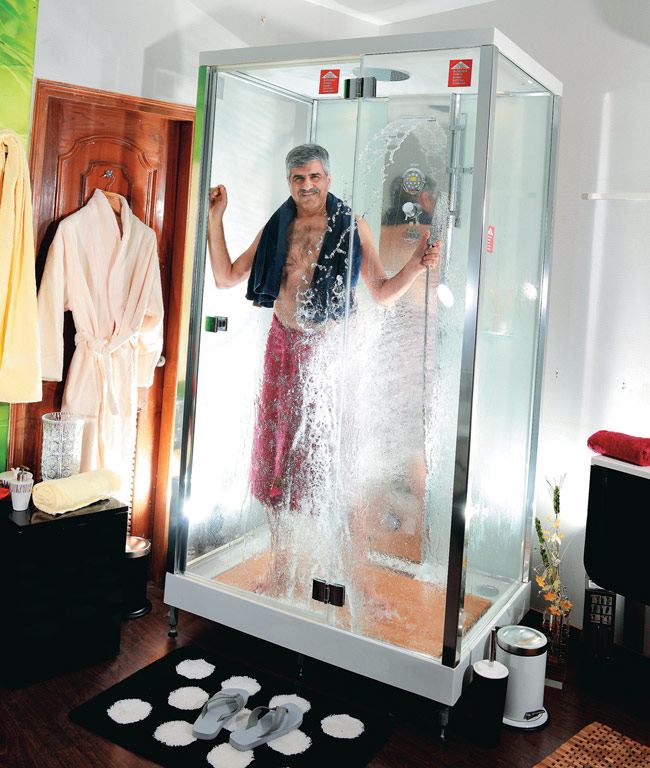 Awash with Luxury
For Rajnish Ohri, coming back home for a warm shower is bliss. The Managing Director at Coram India, a luxury bath and shower fittings company, says bath spaces are "places of peace and tranquillity". The company recently announced the launch of a new range of Extreme wellness showers. The shower chamber can double up as a home spa, and the innovative technology reduces water wastage. The experience, however, doesn't come cheap. The entry-level showers cost Rs 5.5 lakh and the top end ones Rs 13 lakh. Ohri says the company expects to sell 50 of them in the first year.
-Sunny Sen

Designing Solutions
When people think of design these days, they mostly think of Apple - esoteric stuff that few can achieve. However, Amar Hanspal, Senior Vice President of Platform Solutions and Emerging Business at 3D design software company Autodesk, was recently in India to dispel what he thinks is a myth. Hanspal, who spoke at the INK Conference in Kochi, believes that design is about problem-solving. And Autodesk helps solve many design problems for architects, engineers and construction companies, who all use its software. The company's Indian employees, Hanspal says, are playing an important role by developing products. The country is also a promising market from a business perspective.
-Goutam Das
People Person
Prabir Jha, a former IAS officer and self-made human resources expert who has worked with Tata Motors and Dr Reddy's Labs, will shortly take over as Chief HR Officer at Reliance Industries. Greater focus on people management could well play a pivotal role for a company that seems to be on its way to becoming one of the world's top five petrochemicals producers. The company plans to invest Rs 150,000 crore over the next three years in all its key businesses, including exploration, production, refining, petrochemicals, retail and digital. Both Jha, 46, who loves to cook, and RIL have, however, refused to comment.

-E. Kumar Sharma