In the lap of luxury
The latest entrant into the Indian hospitality space, Lebua Hotels and Resorts, is known for its innovative business strategies. Yet, CEO Deepak Ohri prefers to call it a branding company entering hospitality. The Bangkok-based luxury hotel brand, previously Challenge Hospitality, first entered the segment with restaurants such as Sirocco - the world's tallest al fresco restaurant - before going into hotels. Lebua has shaped the luxury accommodation and dining scene of Thailand and New Zealand, and now, Ohri is determined to do an encore in India. "We have an edge over others, but we don't compete with them. Our competition is with brands like Cartier and Louis Vuitton, which target the young, highly-educated and well-travelled segment." The food and beverages operations constitute the most important part, and Ohri claims the chain brings emotions into the hospitality business. "It is about how we understand the mood maps and passion peaks and that translates into the bottomline," he says. "Our customers are very loyal. The return rate of consumers is 60 per cent; at the global level it is 20 per cent." Lebua has drawn the attention of strategists and it is in the first stage of becoming a full-fledged case study at Harvard Business School.
-Anumeha Chaturvedi


Right diagnosis
"It is the process of creation that drives me forward," says 32-year-old Ameera Shah, Managing Director and Chief Executive Officer, Metropolis Healthcare. "It is all about watching your baby grow in front of you." Shah was recently felicitated as the Young Entrepreneur of India 2011 by Franchise India-Bloomberg UTV. After completing her education at the University of Texas, she returned to India to turn around her father's business from just a single pathology lab in 2003 to 65 diagnostic centres across India and overseas by 2011. The annual turnover of the company stands at Rs 250 crore today, up from Rs 12 crore in 1981. This Roger Federer fan has a bigger dream as well - to become a social entrepreneur and empower women.
-
Dearton Hector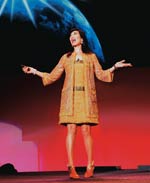 Power behind puff
In her signature pearls and business suit, Andrea Jung,52, embodies her company's profile. The Chairman and CEO of the world's largest direct selling company, Avon, was in Delhi recently as part of her 16-city world tour to celebrate 125 years of the company. In her 17 years with Avon, Jung has not only put her business acumen and innovative marketing skills to work in reviving the image of the cosmetics major, but has turned around the fortunes of the once loss-making organisation. Avon's India business witnessed a 65 per cent jump last year. Jung, who is frequently listed among the top female executives in the world, also serves on the boards of GE and Apple. "As the company for women, Avon feels an obligation and responsibility to play a leadership role in helping women improve their lives," Jung told her Delhi audience.
-
Anand J.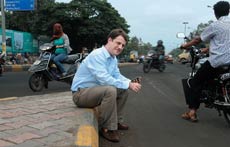 Mapping real India
Jocelyn Vigreux preferred history over geography when he was in school. Little did he know that one day he would head TomTom's India operations, which deals in digital maps and navigation devices. To map India, he has been travelling widely, always carrying his Personal Navigation Device with him. "When we are looking at India, we are looking at creating the best quality map," he says. Vigreux previously headed TomTom's US business, which managed to win a 35 per cent market share there. It wants to achieve the same here, even with dominant players such as MapmyIndia around. He agrees that mapping India is very different. "Here streets don't have numbers!" he says. So every time a new street is added to his navigator, he feels a sense of achievement, and shares a bit of saunf (fennel seeds) with his colleagues. A small token for a small winding street somewhere in India.
-
Sunny Sen
Climbing high
Mohamad Ali, like his renowned boxer namesake, is an adventurous man. Despite his busy schedule, he runs 16 km on weekends, goes skiing in New Hampshire and hiking in the White Mountains. Ali, Senior Vice President, Corporate Development & Strategy, at Avaya, a global networking company, relishes sport. After spending 13 years in IBM, Ali moved to Avaya and guided it through the Nortel acquisition. Now he is taking Avaya through a global rebranding process. His workload will only increase in the coming days, but he is sure to still find time to climb the mountains.
-
Sunny Sen