Million-dollar arm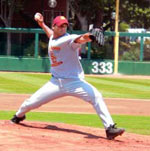 What would you give for a shot at US major league Baseball—an arm perhaps? Well, that's exactly what Rinku Singh, 20, and Dinesh Patel, 19, gave at a competition organised in India—the Million-dollar Arm contest.
The duo was selected from among 37,000 entries to win for themselves a chance to play for Pittsburgh Pirates, a Major League Baseball team.
While Singh was the winner for the $100,000 (Rs 50 lakh) bounty, Patel showed enough promise to be airlifted to Los Angeles, California, where the duo is undergoing extensive training in pitching techniques.
"The first step is to get into the minor league, for which there will be a spring training starting in February 2009, lasting two months," says Patel. Singh admits it's a lot of hard work.
The former national level javelin throwers from Uttar Pradesh, however, are not complaining—stardust, as they are now aware, is theirs for the asking.
Tryst with terror

Britain's high profile Asian businessman Sir Gulam Noon was in Suite 361 of the Taj Mahal Hotel on the night of terror attacks in Mumbai. Exactly one week later, he says, he is still "mentally bruised". Sir Noon, 72, was trapped in his room along with five others till 6 a.m. the next day when firemen saved them all.
He can't thank Mumbai's firemen enough for this. Born and brought up in what was then Bombay, Sir Noon is the "Curry King" of Britain, selling 1.5 million readymade Indian meals a week in Britain through Noon Products that he founded in 1987. This Member of British Empire (MBE) is a compulsive food aficionado, but that's hardly on his mind at the moment. "This was an attack on our prosperity and peace," he says. A frequent visitor to India for the last 28 years, Sir Noon is sure Mumbai will perk up in no time. "Mumbaikars are as resilient as Londoners were at the time of 7/7," he says and promises to be back in the city of his dreams early next year.
Business of breakfast

In many parts of the world, the most popular meal-time at the ubiquitous golden arches of McDonald's is breakfast, but it has taken the chain 12 years to start serving a breakfast menu in India. "You can't just start breakfast. We are a limited menu place and every addition to our menu has a lot of planning involved," says the 53-year-old Vikram Bakshi, Managing Director, Connaught Plaza Restaurants, McDonald's joint-venture partner in India. But will Indians like to have an American-style fast-food breakfast? "We certainly believe so. Our menu is set to be a high-protein menu ideal for the start of the day.
Over 90 per cent of Indians eat breakfast, I am sure our breakfast offering will be successful," he says. Well, it might, because like McDonalds' other submissions to Indian tastes, the breakfast menu in India has been adjusted to include vegetarian fare as well, the first time anywhere in the world. "We are on a trial run right now, but we will roll this out in a few months," says Bakshi, who has rustled up another staple from international markets —Chicken McNuggets—for McDonald's India fans.
Reaching for the sky

Skiing is his passion, but aviation, his calling. Come February, Marcel Hungerbüehler, 58, the present COO of Bangalore International Airport (BIAL), is poised to step into the shoes of the outgoing CEO Albert Brunner. An aviation expert, Hungerbüehler headed Swissport Zurich, the largest ground handling company at Zurich Airport, in his last assignment.
In the last two years that he has been with BIAL, the Swiss national has had first-hand experience of the hurdles an infrastructure project has to surmount to reach fruition. Yet, he looks at the future with hope and determination: "I am convinced this airport is well on its way to become one of the leading airports in operational efficiency in the country." Cross-country skiing, it seems, will have to wait.
Contributed by Virendra Verma, Tejeesh. N.S. Behl, Saumya Bhattacharya, Kushan Mitra and K.R. Balasubramanyam