Surviving close calls
The summons from the CBI in connection with the disproportionate assets' case against YSR Congress chief Jagan Mohan Reddy is only the most recent of the controversies N. Srinivasan, 67, has been involved in. The CBI has alleged that India Cements, of which Srinivasan is Managing Director, invested in Reddy's various businesses and in return received undeservedly large water allocations from the Andhra Pradesh government for its plants located in that state.

In fact, Srinivasan's earliest controversy dates from 1979, when he quit India Cements in a huff following differences with the then Managing Director K.S. Narayanan. He rejoined only a decade later. Then, in the late 1990s, he was suspected of being a benami (proxy) for close friend, DMK leader and former union minister Murasoli Maran, in various deals. He has also been accused of forming a cartel of cement players from the South to inflate prices.

It is in his capacity as President of the Board of Control for Cricket in India (BCCI), however, that Srinivasan is internationally known. Given India's current clout in the game due to its huge following in this country, he has been called the most powerful man in world cricket today. But here too there have been controversies: notably over the fact that India Cements owns one of the teams participating in the Indian Premier League (IPL), Chennai Super Kings, which won the tournament in both 2010 and 2011 and was a finalist this year. Questions have been asked about whether there is a conflict of interest between being an IPL franchise holder and president of the BCCI, which conducts the tournament.

Srinivasan's friends say the controversies obscure his many virtues. But his ability to take the controversies in his stride is also the reason for his success. He is ambitious, aggressive, reads the market well, and never gives up. "He hates losing, even if it is a game of golf," says one.

These traits were evident in the 1990s when, realising India Cements needed to be a large player to survive, he went on an acquisition blitzkrieg. He outbid Gujarat Ambuja Cements more than once to acquire capacities, and even acquired the erstwhile Rasi Cements in a hostile takeover. When he took charge as India Cements' MD in 1989, its capacity was 1.4 million tonnes. Today, it is 14 million tonnes.

But there have been tough times too. In 2000/05, soon after his spate of leveraged acquisitions, cement prices crashed. India Cements incurred huge losses; unable to service its debt, it went through a debt recast and had to sell many of its assets. "I learnt a lesson: never grow in a fractured market using debt," he says. He is a hands-on manager: despite his deep involvement in cricket administration, he remains fully up-to-date on his company's production and dispatch volumes. He is highly religious and swears by vastu shastra and numerology. All his cars have registration numbers ending in '9001'.

-N. Madhavan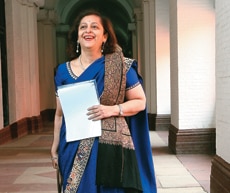 Harvard's New Health Monitor
Swati Piramal
, 56, Director of Piramal Healthcare, has been nominated to the 30-member Harvard Board of Overseers, one of the two boards governing Harvard University. It has been a year of highs so far for Piramal, who was also awarded the Padma Shri in April for her contribution to trade and industry. A long roster of distinguished names have served on the same Harvard board, including former US president John F. Kennedy and former vice president Al Gore.
Piramal is a Harvard alumna herself, with a Master's in Public Health from the university. She also has a medical degree from Mumbai University. She hopes her experience at Piramal Healthcare -which she and her husband Ajay are keen to make India's leading drug discovery company - will help bring an international perspective to the board. "I have fond memories of my classmates and through this election, connected with them again after many years. I also hope to bring back the best of Harvard to India," she told BT.
-Geetanjali Shukla
Bridging nations
Delhi's scorching heat did not appear to bother Enase Okonedo, Dean of Lagos Business School in Nigeria, as she closely examined the murals on the walls of the Red Fort. She was in the capital recently to attend the annual conference of the Global Business Schools Network being hosted by IMT Ghaziabad. Also Chairperson of the Association of African Business Schools, she is forthright about what Indian companies in Africa should be doing.
"They have to focus on the development of the local people who work for them," she says. Mother of an eight-year-old girl, she is both an art aficionado - with an impressive collection of paintings - and a voracious reader. She says the best advice she ever got was from a teacher at her business school in Barcelona, Spain. "Read every day, even if it is for half an hour," she was told, and she has tried hard to follow it. A favourite book is Our Iceberg Is Melting by John Kotter and Holger Rathgeber, a fable about how to manage change.
-Dearton Thomas Hector
Olympian Project
Being the IT partner for the biggest sporting event on earth is no joke. The challenge gets bigger when the event concerned, the 2012 Summer Olympics in London, starting July 27, is slated as the 'smartest' Olympics ever. French IT major Atos SA is the partner and, according to Milind Kamat, CEO of its Indian arm, people will follow the Games on 8.5 billion devices, including 100 million smartphones. "You cannot shift milestones in a project like this," he says. India will account for a tenth of the 600-strong force Atos will send to London for IT support. Mumbai also houses Atos's second biggest team of engineers working on the event - after Barcelona, Spain.
-G. Seetharaman
Goodbye INSEAD, Hello Cornell
After 22 years at INSEAD, the leading business school in France, in various teaching capacities, Soumitra Dutta, 48, is making a cross-Atlantic move to take over as the first Indian-origin Dean of the Samuel Curtis Johnson Graduate School of Management, Cornell University, in eastern US. While at INSEAD he acquired a global reputation as editor of its Global Innovation Index. Dutta, who graduated in Computer Science from IIT Delhi, has lived overseas for the last 26 years, but visits India often. Will the visits continue? "Probably instead of once in three months, now I will be able to visit only once in four months," he says. Discussing the increasing number of Indians at the highest levels of global management, he adds: "Globally, India is becoming mainstream." He believes Indians are better than many others at handling diversity.
-Anand J.