The sight of the flowing Congo calls to mind Joseph Conrad's 1899 novella, Heart of Darkness. Based on his personal experience as the captain of a river boat on the Congo, Conrad uses a fictional narrator to describe a journey up the river in accurate detail, offering simultaneously a strong critique of colonialism, though from a Western point of view. In Conrad's time, the country was a Belgian colony. It is now the Democratic Republic of Congo, or DR Congo. The river itself, 4,700-km long, is among the world's few unspoilt ones. But like much of Africa, it remains something you mostly only read about in books or see on the National Geographic or Discovery channels. Few people come visiting. Though peace has been established after years of civil war, Kinshasa, the country's capital, still remains a no-no on the travel advisories of many countries.


Still, the experience of a boat ride on the Congo is something one can proudly recount afterwards. The sight is spectacular as the boat leaves the dock at Kinshasa, trying to weave through a gaggle of hollowed-out ferries that look as if they hail from Conrad's era. DR Congo is still incredibly poor. The roads leading to the dock are filled with women selling cassava, corn flour and fish. And a surefire way of getting them agitated is by trying to take a picture. Unlike the denizens of Mumbai's Dharavi, Kinshasa citizens do not appreciate poverty tourism. On the other bank of the Congo is Brazzaville, capital of a neighbouring country, the Republic of Congo, which used to be a French colony. The ferries plying between the two capitals - closest capitals in the world, barring Rome and the Vatican - are filled to brim with humans, animals and smuggled produce, making the half-hour journey risky and memorable.
Heading upstream, as one enters Pool Malebo, a lake-like formation where the Congo expands to 23 km, one of the widest in the world, one realises the river is the main artery of the country. Everything, from food and drink - the local brews, Tembo in particular, are excellent - to trucks and boats are transported via the Congo, whose basin covers the entire country. The immense width makes the river, the world's secondlargest in terms of water discharged, seem like an inland sea.
The country and the river offer immense opportunities. There are estimates that the Congo has the potential to generate a good 13 per cent of the world's hydro electric power, enough to power all of sub-Saharan Africa, and work has started on some projects. The people settled on the banks, poor as they are, look hard-working and proud, trying to pull themselves out of a situation that has been foisted upon them. The average life expectancy in DR Congo is only 46.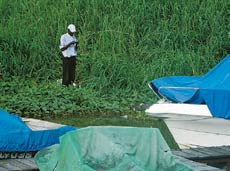 Earlier known as Zaire, when it was ruled by the dictator Mobutu Sese Seko, the country was renamed as DR Congo after Mobutu was forced to flee in 1997. Under the democratically elected current President Joseph Kabila, it is trying to enforce some sort of order after years of bloodshed. The setting sun over Kinshasa paints a beautiful picture, wiping out the abject poverty and despair for the time being, with promises of a better tomorrow. And, in that light of the dusk, suddenly things do not look so hopeless anymore