May 30, 2008
Lucknow and Barabanki,
Uttar Pradesh
On a hot, sunny day at a trial farm of the Central Institute of Medicinal and Aromatic Plants (CIMAP), Lucknow, I bend over to smell the dark green leaves of mentha arvensis, a mint species grown on almost 150,000 hectares in north and east India. The aroma is exhilarating and I take it in. It reminds me of chewing gum, mouthwash, toothpaste, shaving creams, Vicks Vaporub, and several other FMCG products, roughly in that order. I can now better understand why about 300,000 farmers in Uttar Pradesh, Uttaranchal, Punjab, Haryana, Bihar, and a few other states work hard over three-to-four months every year to grow the herb, the demand for which has been growing handsomely.
"Mentha arvensis is not exactly pudina, the variety of mint commonly used in kitchens," S.P.S. Khanuja, Director, CIMAP, tells me. "It's the feedstock for an essential oil that contains menthol, the substance that finds application in FMCG, pharmaceutical, cosmetic, and other products."
Since 1993, when CIMAP started its "Improved Technology for Menthol Mint Essential Oil Project", India has become the largest producer of menthol mint oil in the world, overtaking China. With a production of about 17,000 tonnes, the country now commands a 78 per cent share of the annual global output of menthol mint oil.


Of the total estimated spice exports of Rs 4,435.50 crore in 2007-08, exports of mint products (mint oils and menthol) were worth Rs 1,280.50 crore, a share of almost 29 per cent. Over the last two-to-three years, farmers have generally been able to command a price of Rs 400 per kg or more for their menthol mint oil. This means they are able to earn Rs 30,000-40,000 per hectare as profit, says Khanuja. Incidentally, on June 2, 2008, the spot price of the oil at UP's Chandausi mandi, as quoted on MCX, was Rs 510 per kg.
So, what's doing the trick for India's mint oil economy? The answer lies in the four varieties of mentha arvensis (Himalaya, Kosi, Saksham, and Kushal) developed by CIMAP. These varieties have improved traits and higher content of menthol. It's for this reason that farmers in Barabanki have found in menthol mint a crop that's ideal for plugging the gap between the rabi crop (wheat or potatoes) and kharif crop (rice). Almost 70 per cent of the total arable land in the district is being used to cultivate the "bonus" cash crop in addition to the traditional food crops. Barabanki lies in the Terai region that is ideal for mint cultivation and it accounts for 80 per cent of the crop in India.
At Muzzarfar Mau village, we (BT photographer Shekhar Kumar Ghosh and I) learn how the mint economy has established itself in the farms and marketplaces of the district. Rakesh Kumar, a 31-yearold farmer, shows us his two-hectare farm, half of which he uses to grow the Kosi variety of mint that has a crop cycle of 90-95 days. He transplanted the "suckers" (the mentha roots that he sources once every two years from CIMAP) in March and will harvest the crop by the second week of June. As harvesting progresses, he will start putting his crop into the steam distillation unit that he has sourced from CIMAP and installed in his farm to produce the oil. Depending on a number of factors, including cultivar used, time of planting and harvesting, and climate, 20-40 tonnes of herbage will produce 125-200 kg per hectare of essential oil.
The marketing of mint oil isn't a problem; Kumar can either sell it to traders and commission agents, who visit the farms looking for the commodity, or take it to the nearby mandi at Masauli. The buyers will test his oil and pay him according to the percentage content of menthol.
Last year, Kumar produced about 60 kg of oil and got a price of Rs 490 per kg. His turnover was, thus, Rs 29,400. His costs— including procuring suckers, irrigation, disease control, fertilisers, payments to farm hands, etc.—did not exceed 50 per cent of his turnover, thus ensuring a neat profit.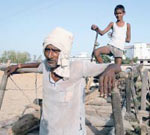 Ram Lakhan (35) and Rajendra Prasad (35), also farmers and Kumar's neighbours, say they both are growing mint for 9-10 years and earning good profits. Khanuja points out that the price discovery for mint oil has improved since his institute began working with commodity exchanges like MCX and NCDEX to develop a system of fixing prices according to the content of menthol.
Elsewhere in Barabanki, we meet more mint farmers. Beni Prasad (70) and his son Ram Chander at Dalyan Pur village and Shri Kishan (48) and his son Rajkumar in Kinwadi say they have been growing mentha along with two food crops for several years.
"Mentha requires good irrigation, which we have in Barabanki. Extracting the oil is also easy. If we don't have our own distillation unit, we rent it from a neighbouring farmer. Selling the oil is also easy," says Ram Chander.
Uttar Pradesh, the leader in mint cultivation (farmers in Bihar are now aggressively bringing larger areas under mint cultivation), is also facing its share of problems, notably a mandi tax of 2.5 per cent imposed by the state government on mint oil.
Farmers and traders have been up in arms against the move. "The mandi tax will put UP out of business. Bihar will gain at the cost of UP," says Kapoor Babu Gupta of Gupta Suppliers, a large buyer of mint oil.
Having met the farmers who've benefitted from mint farming, one hopes the state government will pay heed to their problems.