The mood on Dalal Street has changed incredibly over the past year, from greed to denial to panic and now despair. There's bad news all around, and the slivers of good news are being ignored. So, is this the time to throw in the towel and forget about stock market investing? Hardly. Instead, oversold markets provide a good entry point if you are convinced about the longterm potential of the Indian economy and the cream of Indian corporations.

There are stocks that appear in good shape to survive the slowdown, and be the first to emerge out of the gloom—and the best part is that they're incredibly cheap when you consider their long-term potential. Business Today speaks to 11 of the brightest minds on Dalal Street and gets them to identify their favourite long-term value picks.

2009 may be a good time to buy fundamentally-sound stocks on the cheap; but investors have to be clear that they won't reap the returns in 2009, or not even 2010. These stocks are only for long-term investors, with a minimum horizon of three years. Following is the list of 20 stock picks, in alphabetical order.

Aventis Pharma
Focus on lifestyle segment keeps it in good health

For some time now, smart money has been moving into shares of multinational pharmaceuticals companies. After India entered the product patent regime in 2005, the fortunes of MNC pharma companies have changed for the better.


Sector/Business: MNC Pharma

Investment Argument
Aggressive in introducing new patented drugs of its parent in many countries


Caters to the fast-growing lifestyle diseases segment—diabetes and cardiovascular


Zero-debt and a negligible capex will generate cash piles in coming years
They can now introduce new blockbuster drugs of their foreign parents and enjoy the profits. Aventis Pharma is one such well-placed MNC.
It is focussing on fast-growing lifestyle segments like cardiovascular and diabetes in the domestic market. Aventis has a few strong products in this segment like Amaryl (anti-diabetes) with a 4 per cent market share and Cardace (cardiovascular segment) with a 28 per cent market share. Besides, its parent Sanofi-Aventis, France, has a huge pipeline of molecules under development in the lifestyle category.
But what has impressed analysts is the aggressive introduction of its parents' products in the Indian market. Says Rajiv Thakkar, CEO, Parag Parikh Financial Advisory Services (PPFAS): "Aventis' overseas product introductions in India will expand its domestic business over time."
Another factor, Thakkar says, that will benefit the stock is its debt-free status and a hefty cash balance. Thakkar, however, has not put a target price on the stock and cautions that the uncertain market may play spoilsport in the short-term. But in the long term, he says, "the stock has the makings of a multi-bagger."
—
Clifford Alvares


Axis Bank

Strong business model to offset succession worries
Sector/Business: Banking

Investment Argument
Has a robust business model targeting all segments of the market


Advances continue to grow at a fast pace despite a lacklustre credit offtake


Valuations have dipped in recent times making the stock more attractive
The stock market often reacts sharply to news from the banking sector. Axis Bank's stock dipped sharply—slipping nearly 18 per cent to Rs 394.50 on January 27, 2009, down from Rs 485 on January 9, 2009.
The market, already edgy over slowdown fears, was more worried over the retirement of Axis Bank's long-time chairman P.J. Nayak, and the issue of a successor. Axis Bank's advances continue to grow at a decent clip of over 50 per cent at a time when credit expansion has slumped.
The bank is facing a squeeze on margins as lending rates are falling while borrowing costs have yet to come down. Another hitch is possible stake sale of 21.5 per cent in Axis Bank held by administrator of the special undertaking of UTI. Says Vaibhav Agarwal, analyst, Angel Broking: "Axis Bank has been focussing on retail liabilities business before increasing its loan assets. Its fee income too is doing well."
—
Clifford Alvares


Bharat Electronics
Armed for growth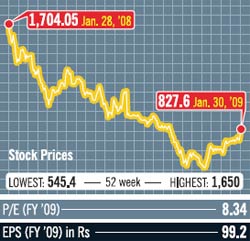 Sector/Business: Defence

Investment Argument
Consistent increase in turnover and net profit for four decades now


'Offset' business opportunities to give it share of orders bagged by global giants


Big beneficiary of increases in defence capital expenditure
Just when large manufacturers are curtailing their activities to save on costs, Bharat Electronics is opening a support centre at Kochi, Kerala, to serve its growing clientele. A Navratna public sector undertaking which gets 80-85 per cent of sales from the armed forces, BEL's turnover and profit after tax have been rising consistently for four decades now. It is talking to global players like Lockheed Martin, Boeing and EADS to make the most of the government's "offset" clause, which requires any foreign company bagging an order worth over Rs 300 crore from India's defence sector to share 30 per cent of it with Indian firms.
It also gains from its links with the Defence Research & Development Organisation. Says V.V.R. Sastry, BEL's Chairman & Managing Director: "We are interacting with DRDO for developing new products." Over the last one year, the BEL scrip has slid some 59 per cent, but broking houses still bet big on it. Says Dolat Capital's Sameer Panke: "In the last five years, while the defence budget has grown at 12 per cent, defence capital expenditure grew at 23 per cent. BEL is a big beneficiary of this increase. The company has strong cash flows and no debts at all.''
—
K.R. Balasubramanyam


Bharti Airtel

More subscribers, more towers, and now more spectrum
Sector/Business: Telecom
Investment Argument
Market leader in mobile telephony with growing subscriber base


Telecom infrastructure business to benefit from rapid network expansion by operators


Scaling up operations in the telemedia business (DTH and IPTV)
Bharti Airtel typifies the success story of Indian mobile telephony. Its outstanding execution skills have made it the market leader. Over FY2006-08, Bharti cornered 26.5 per cent of the all-India incremental mobile subscriber additions. In the third quarter (fiscal 2009), it reported an increase of 41.5 per cent in gross revenues on a year-on-year basis, and 9 per cent on a sequential basis. During the same period, its mobile subscriber base grew by 55.3 per cent y-o-y and 10.5 per cent q-o-q to 85.7 million. Says Sunil Mittal, CMD, Bharti Airtel: "Bharti's strategy of extensive roll-out ahead of competition, especially in new villages, has yielded rich dividends."
The company is also well placed with its telecom infrastructure business, given the need for rapid network expansion by current and new operators. Bharti, with the largest tower portfolio in India through Infratel, is likely to be a key beneficiary. Then there are other reasons why the stock is a good bet. The spectrum allocation imbroglio seems to have been resolved. Says Hitesh Agrawal, Head of Research, Angel Broking: "The spectrum issue was critical for the sustained growth of the telecom sector. Now the medium-term growth requirement of Bharti has been taken care of."
—
Rishi Joshi


BHEL

Everybody wants light in dark times—and BHEL has the spark.
Secor/Business: Power

Plants Investment Argument
The best bet in power sector and key beneficiary of the four-fold investment increase in India's power sector



It has an order book of Rs 1,04,000 crore, of which 85 per cent has come from state utilities



A strong balance sheet and huge cash pile would help navigate the tough times ahead
Bharat heavy electricals, the largest manufacturer of power plant equipment, is one company that is unlikely to be hit by the economic gloom. It knows the government will spend freely to improve the power sector. And the government does not cancel orders. So, BHEL, which has 64 per cent of the power plant market, has been ramping up capacity.
By December 2007, it had increased capacity from 6,000 MW a year to 10,000 MW, and is now taking it to 20,000 MW by 2011-12. Says Pulkit Bakliwal, analyst at Sharekhan: "The 11th Five-Year Plan has envisaged capacity addition of 78,000 MW.
BHEL has been the major beneficiary of the spending." Government projects account for around 85 per cent of BHEL's order book of Rs 1,04,000 crore, giving it high revenue stability. "Even in the present scenario, orders placed by government institutions are unlikely to get cancelled," says Bakliwal, pointing out that the cash-strapped private players may have to do so. "This gives BHEL a huge comfort level," Bakliwal adds.
But there are bumps on the road ahead. BHEL could face project delays and a lag before new orders start coming in. The stock, at slightly above Rs 1,320, is trading at a premium. Says Bakliwal: "A strong balance sheet and huge cash pile of about Rs 8,400 crore would help BHEL sail smoothly through the challenging business environment. We recommend a buy with a price target of Rs 1,546 over the next 12 months."
—
Manu Kaushik


CRISIL

Ratings become vital during downturns
Sector/Business: Credit Rating
Investment Argument
Indian companies are increasingly turning towards debt to raise resources in the domestic market



CRISIL's premier position in the ratings business and its association with Standard & Poor's is a big plus



Norms to rate corporate debt spell more steady business for CRISIL
The global credit crisis has hit the capital-raising plans of Indian companies.The only window open these days is through domestic debt issues or bank borrowings.
Here's where a debt rating from CRISIL, India's largest rating agency, helps. Another growth avenue has been created by the Basel-II norms to rate corporate loans given by banks.

Says Jigar Valia of Parag Parikh Financial Advisory Services (PPFAS): "It's a small component now, but it's going to be a phenomenally fast-growing business. It's a perpetual and stable income." CRISIL's work for its parent Standard & Poor's is a cash cow.

Adds Valia: "Even in years of de-growth, this company was trading at a PE multiple of 20 times; but thanks to the financial crisis, the stock is cheap."
—Clifford Alvares


Engineers India

No fear of input cost hikes


Sector/Business: Engineering
Investment Argument
Leading design and engineering company



Robust order book of Rs 8,000 crore



Debt-free company, no worries about management
One of Asia's leading design and engineering companies, Engineers India builds petroleum refineries, industrial projects, offshore structures, metallurgy and power projects. India's substantial investments in infrastructure have given it an order book of Rs 8,000 crore, to be executed over 3-4 years. It has begun protecting its margins by signing open-book orders—input cost hikes are passed through.
Says Ajay Parmar of Emkay Global Financial Services: "The stock looks quite attractive… there are no worries about the management since the government holds a 91 per cent stake… it has zero debt and high dividend payout. It's a very safe bet in the current market scenario."
—
Rishi Joshi


GMDC

Sitting on a mine of wealth
Sector/Business: Lignite mining
Investment Argument
Lignite volumes to grow 13 per cent during 2008-10 to 9 million tonnes


Average realisations should grow by 5.8 per cent in FY 2008-09 following price hikes during the past 12 months


Possibility of removal of the 30 per cent deduction from profit before tax towards social development
The share price of Gujarat Mineral Development Corporation was one of the worst affected when Gujarat government asked state-run companies to fork out 30 per cent of their profit before tax for social work. Despite this, the stock is still seen as a good value pick—the bad news has been discounted. Profitability is expected to get a boost from the recent lignite price hike. "Full impact will be seen in the next financial year," says Sameer Ranade, analyst at PINC Research.
The government may reverse the 30 per cent rule, since minority shareholders at some other companies have mutinied. GMDC's moves into the power sector will add to valuation.
—
Virendra Verma


HCl Technologies

Seeking a global footprint
Sector/Business: IT

Investment Argument
Wide portfolio of services, including R&D, Enterprise, BPO and Infrastructure Management


Strong presence in high-growth, high-end, low competition businesses


Axon acquisition will catapult it to an elite list of global SAP solution providers
As India's fifth-largest IT services exporter, straddling a diverse portfolio of services that ranges from R&D to enterprise, BPO and infrastructure management, HCL Technologies has a de-risked model as it is essentially in high-growth, high-end, low competition areas. It is looking at inorganic growth.
The acquisition of UK-based Axon last year is expected to help it become a major player in SAP implementation, an area from which it expects to get a quarter of its revenues, against 11 per cent now. Says Vineet Nayar, CEO, HCL Technologies, "We have successfully integrated Axon to dominate the SAP space globally."
Anagram's V.K. Sharma says: "We feel the worsening global macroeconomic situation and slowdown in IT spending is factored in at this price. The stock trades at almost 8 per cent dividend yield, limiting its downside from these levels."
—
Rishi Joshi
HDFC

Pioneer grows biz in slowdown
Sector/Business: Housing Finance

Investment Argument
The housing finance market is still largely untapped


Builders are shifting towards the mid-sized segment—HDFC's turf


Asset quality improved in the Q3 2008-09 as non-performing assets declined
At a time when the home loans business is in the dumps, a lower third-quarter profit at India's largest housingfinance company did not ring any alarm bells. Housing Development Finance Corporation actually boosted net interest income by 18 per cent to Rs 785 crore but was hit by higher running expenses. Analysts did not waver from their "buy" rating.
HDFC's asset quality has improved further, it has valuable subsidiaries in insurance and asset management and it has been consolidating its business. HDFC's asset quality has improved in December 2008. Says Gaurav Dua of Sharekhan: "Throughout its history, HDFC has shown a healthy growth."
—Clifford Alvares