Youth power: Young people access their bank sites at a Mumbai cafe. Banks are scaling up their presence on social media to primarily cater to them. PHOTO: RACHIT GOSWAMI/www.indiatodayimages.com
Nikhil Madhusoodhan, a 29-year-old Mumbai-based content writer, sent several emails to his bank about his malfunctioning credit card but got no response. He finally reached out to the bank through Twitter. Much to his surprise, the bank promptly responded and addressed his concern. "I no longer bother with customer care numbers and emails. I just tweet, sit back and wait," he says.

Madhusoodhan's is not an isolated case. Banks, especially private ones, have now realised the growing power of social networking sites and are engaging customers through them. Indeed, if you visit the banks' pages on Facebook, or follow their Twitter handles, you will find many of their special offers listed there as well.

HDFC Bank, for instance, on its Facebook page, has a list of stores which offer a discount on apparel and optical frames bought using the bank's credit or debit card. ICICI Bank, the country's largest private sector bank, prods visitors to its social media site to use its online tool, 'My Money', for electronic transactions. Its new Facebook application, 'Pockets by ICICI Bank', allows users to log in to their accounts through Facebook and carry out transactions such as booking movie tickets or transferring funds to friends, without even disclosing their account details. Axis Bank too has made similar offers on Facebook and Twitter.

These are some of the ways banks are exploiting social media to reach out to new and existing customers. Most have realised that social media offers an invaluable opportunity to reach sections of the target audience, particularly the youth.

Using social media is a good way to get consumers to talk about your brand, says Kartik Jain, Head, Marketing, HDFC Bank. "People are talking on these platforms about us, and it is interactive and two-way, and because it is not controlled, there's all the more reason for banks to be present there," he says.


Facebook is the most popular social media channel for banks. It reaches out to over 70 million people in urban India, about 90 per cent of the social media user base, according to multi-national business consultancy firm IMRB International's report "I-Cube 2013". ICICI Bank had about 2.5 million likes on its Facebook page at the end of September 2013.
Other banks, such as HDFC Bank and Axis Bank, also
understand the potential
of social media channels. Jain of HDFC Bank dedicates a major chunk of his time to managing social media channels. Both HDFC Bank and Axis Bank have close to 180,000 likes on their Facebook pages.
Rajiv Anand, President, Retail Banking, Axis Bank, says consumers today increasingly make an informed choice of products and services. "Now it becomes very important for you to be within the consideration set and at every point," he says. The bank promotes its education loans and "YOUth" accounts, with a focus on mobile banking and debit card initiatives, both on its Facebook page and on its Twitter handle.
"We must be present on all channels. It is up to
the customer to choose the channel
he or she prefers," says Abonty Banerjee, General Manager and Head of Digital Channels, ICICI Bank, adding that high value transactions would continue through its banking channel, while smaller ones could go through its Facebook application, 'Pockets'.
Bankers expect the importance of social media to grow steadily. "Gone are the days when we were saying that digital is a niche segment therefore we'll have niche offerings for it. Unlike five to six years back, digital and social mediums have become an integral part of banking," says Sujit Ganguli, Senior General Manager, ICICI Bank.
Social media acquires greater relevance for banks for another reason. Banks are encouraging customers to make more online transactions and networking sites are helping them achieve that goal. Sanjeeb Chaudhuri, Regional Head, South Asia & Chief Marketing Officer, Consumer Banking, Standard Chartered Bank says the bank works with large social media properties, such as Facebook, as media partners for its marketing campaigns. "It helps us target and reach out to the right consumers," says Chaudhuri. The bank offers discount schemes on purchases through Flipkart and Ezone, among other online retailers, on its Facebook page. Indeed, several banks have tied up with e-commerce companies and offer discounts and cash back offers on social networking sites. The attempt is to increase the average number of transactions.
Banks also look to keep customers engaged on social media through videos. "We want to be thought leaders in this space. We provide content that educates people about financial services. People can watch videos about how they can be better and smarter with money," says HDFC's Jain. The bank uploads videos on YouTube, called "Money Talk." In one recent video, for instance, Ashish Parthasarthy, Treasurer, HDFC Bank, talks about the change in the RBI's monetary policy and the impact it has on interest rates. In another video, the bank's Chief Economist, Abheek Barua, speaks about GDP growth and how it impacts the common man.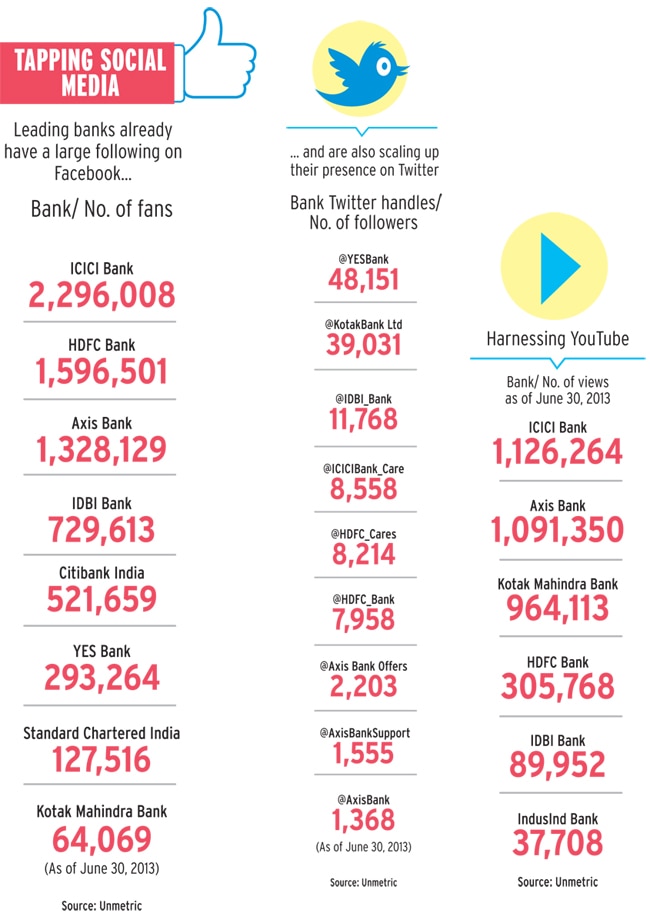 THE CHALLENGES
There are several challenges for banks in connecting with clients via social media. They have to ensure their responses are prompt and also not stock replies. Consumers today take offence at being clubbed together, and demand individual attention. "They need a response at a more personal level," says Anand of Axis Bank.
Pramit Jhaveri, India CEO of Citibank, emphasises that there are concerns regarding information security and fraud. "It's not clear to me that social media can play a role as far as transacting between two institutions is concerned," says Jhaveri. HDFC Bank is the only bank that allows people to post directly on its Facebook page, but it too has stayed away from giving banking services access through social media. "We don't think information related to accounts and financials should be used on social media, even if it has a few security layers," says Nitin Chugh, Head, Digital Banking, HDFC Bank.
(Follow the author on Twitter: @arpitamukherjee)