Biryani to bytes
With its old world charm, Lucknow is a fast-rising aspirant in the IT-ITES industry.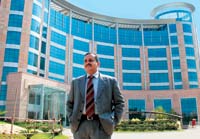 Jayant Krishna, chairman, ITBPO Destination Lucknow initiative, and Principal Consultant for Tata Consultancy Services (TCS), makes a compelling case for IT companies to consider the city as their next investment stop. "Let us compare Lucknow with the NCR. Commercial rentals are half, attrition is less than half, salaries are at least 25 per cent lower and several overheads are 30 per cent less," he gushes. If that is not persuasive enough consider this: TCS's global delivery operations employ 500 people. This is expected to rise to 3,000 by next year with the addition of a new facility. However, barring a few companies such as Essar Group's Aegis, not too many companies find the logic unbeatable. Consider HCL Techno-logies, which has been considering the city for some time but has not decided yet. As Saurav Adhikari, Corporate Vice President, Strategy, HCL Technologies, says: "It is inevitable, a matter of time before we are there."
Lucknow has many issues to address before it competes with the large metros. Reasons: lack of infrastructure and perceptions over law and order. Moreover, even for pioneers such as TCS, expectations have not been met in terms of rampup of business. However, Krishna and company are not backing down. In August, at the NASSCOM-backed ITBPO Destination Lucknow initiative, state government officials, led by Chief Secretary Atul Gupta, did their bit to sway some 200-odd investors to pitch their tents in Lucknow, which now has many big city amenities such as malls and several luxury hotels. "The trend towards Tier-II towns will accelerate in the coming years," agrees NASSCOM Vice President Rajdeep Sahrawat. What will tip the scales decisively in Lucknow's favour will be a few runaway successes.
Lucknow fact file

Population: 3 million
Area: 250 sq. km
Engineering colleges in the hub: 75
Engineers per annum in UP: 100,000
Flagship academic institutions: IIM Lucknow, IIT Kanpur, UPTU Lucknow
Category in Nasscom-at Kearney study: Challenger
Power requirement & availability: 800 MW
Commercial rentals: Rs 15-Rs 28 per sq. ft
IT parks: STPI, IT SEZ (under construction), LIDA (land acquisition stage)
Existing IT-BPO companies: TCS, CMC, Aegis
Golf courses: 2 (3rd under development)
Multiplexes & mall: 5 (another 6 under construction)
Airport: 30 flights a day (Domestic/International) Expansion underway
Five & three-star hotels: 10 (another five in the pipeline)
Hospitals: Sanjay Gandhi PGI, King George's, Vivekanand, Apollo-Sahara, etc.
USP: Educational Focus, Quality of Life and Cultural Equity

Weaving a new story
Coimbatore has got off to a blazing start, but it needs to maintain its pace over the long-term
Three years after IT came to Coimbatore, Cognizant Technology Solutions already has 2,200 people in the city in southern Tamil Nadu and is now expanding its presence with a 23-acre techno-complex near Saravanam-patti, the town's IT corridor. "We had the fastest ramp-up in a Tier-II city compared to any other company. In just two years, we grew from zero to 2,200,'' boasts Vishnu Potty, Vice President & Head of Operations in Coimbatore.
Cognizant was the first large IT company to enter Coimbatore back in August 2005, but now, a raft of others are following suit. Anurag Jain, Regional Managing Director, Asia-Pacific & President, Applications and Business Process Solutions, Perot Systems, says:
"We thought we would start off small and grow to 300 people over some years, but ended up with that figure in under a year." Perot Systems already has 500 and is expanding again into its own campus, like Cognizant.
While top software exporter TCS already has a team of 150 here, several other companies, including Wipro, HCL Spheris and Robert Bosch Engineering & Business Solutions, are all queuing up to start or expand their Coimbatore facilities. TCS has signed an MOU with the Coimbatore District Small Industries Association (CODISSIA)— to provide end-to-end engineering solutions for TCS's global customers.
Interest in the city was also generated by the state-promoted ELCOT developing an SEZ where TCS, Wipro and HCL have taken space. ELCOT is also setting up the Tidel Park in Coimbatore. It is as big in size as the one in Chennai—1.7 million sq. ft—to attract smaller players. B. Evanesan, Business Development Manager, ELCOT, expects this will result in direct employment for 25,000 people by 2010. Meanwhile, there are five other private IT parks in the city spread across 2.6 million sq. ft, and three other private SEZs are being constructed—by Coimbatore Hitech Infrastructure, Bannari Technologies and Span Venture—over a combined area of 68.5 hectares.
Coimbatore is a magnet for talent-starved companies, since it is a catchment area for people from the towns of Udumalpet, Pollachi and Palakkad. Coimbatore is also home to 27 engineering colleges, which churn out 19,222 engineers every year. Social infrastructure, too, is on the upswing, with 6-7 luxury hotels readily available. "The critical parameters that companies look at before they set up a facility in a new city are HR availability and costs, real estate availability and costs, physical infrastructure, business environment and social environment," says Ramesh Nair Managing Director, Chennai, Jones Lang Lasalle Meghraj. With all this frenetic progress, Coimbatore could soon become more than just a challenger to Chennai and Bangalore.
Coimbatore fact file

Population: 1.96 million
Area: 105 sq. km
Engineering colleges in the hub: 27
Engineers per annum: 19,222
Flagship academic institutions: Bharathiar University; PSG College of Technology; Avinashilingam University
Category in NASSCOM-at Kearney study: Challenger
Major IT/BPO companies since 2006 and upcoming ones: 10
Investment SOPS: As per Tamil Nadu IT policy, with additional capital subsidies in case of IT SEZs
Airport: 22 flights a day (Domestic/International)
Road: Well-knit with state and National Highways
Private it parks and SEZs: 7 and 3
Hospitals: Is a centre for medical tourism; has large hospitals and several speciality hospitals
Hotels above 4-star: 6
Disadvantages: International airport must be improved; lack of recreational facilities