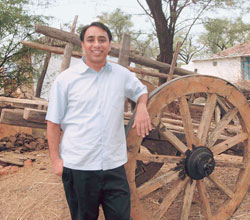 He is taking Mcdonald's to rural homes in India. NO, Vikram Akula isn't dishing out a happy meal in every Indian rural household. Rather, he is in the business of serving credit on a platter to the poor in the villages through microfinance— lending small amounts to help the poor pull themselves out of poverty. And to do that successfully, he has borrowed from the efficient operational practices of global retail, food and beverages majors like McDonald's and Starbucks. In the process, he is building his company, SKS Microfinance, as a business that is modelled on the technology and standardised systems perfected by these giants.
"You can get Coke in every village in India, but you get a microfinance loan in maybe 10 to 15 per cent of the villages," says Akula, 39, in his typical Yankee accent acquired from long years spent in the US. Born in India, this one-time McKinsey consultant grew up in upstate New York (Schenectady, NY). Quite understandably, he wants to replicate the highly standardised distribution process of Coke and McDonald's factory-style training through the franchise model for its low-skilled work-force in his own business to achieve scale.
Today, with 50 new branches and 130,000 new customers every month, Akula is getting ready to lead and set new benchmarks for microfinance. "He is hardly the one to follow," says Prashant Mitta, his cousin, who grew up with Akula in the US.
Future plans
To scale SKS to 5 million clients by March 2010

To introduce a full range of financial services—from micro-insurance to mutual funds for SKS clients

To take to scale its NGO programme that serves the ultra poor

To expand into areas like education loans

Raise more equity as well as tap the capital/financial markets for funds
Mitta recalls how even in a Yankee school with an ethnic Indian minority, Akula stood out as the "class president". Says Vijay Mahajan, a veteran whose BASIX (1996) was the first non-banking financial company– microfinance institution (NBFC MFI) in the country and who has mentored Akula in his early days: "He is passionate about what he does and is committed to the poor. He has achieved a breakthrough in terms of scaling up, entered difficult geographies like Bihar and eastern UP, and in many ways, shown the sector it's unrealised potential."
Akula, who first set up SKS as an NGO, saw the entity grow into an NBFC and achieve an orbital shift by attracting private equity from serious foreign investors. In March this year, Sequoia Capital, which boasts of providing venture capital to Google, Yahoo! and YouTube, came on board as lead investor with an investment of $11.5 million (Rs 46 crore). Other investors included Unitus Equity Fund, Vinod Khosla, Ravi Reddy, Odyssey Capital, and—from a previous round—SIDBI. This took SKS's total equity to Rs 80 crore and funds raised were meant to help realise its ambitious goal of making financial services available to over 5 million poor families by 2010. The funding also made SKS the largest VC-backed MFI in the world.
But it hasn't exactly been a cakewalk for Akula who had to persevere a lot in setting up SKS. Way back in 1996 when he started scouting for funds to set up SKS, he was turned down by majors in the microfinance field and global biggies like the Ford Foundation and other donor agencies, who thought he still lacked the experience, was too young and too American. "That's when I started doing fund raisers in people's homes. My mother would call her friends and serve tea and samosas and I would show slides. I started doing this among wider and wider groups and eventually raised $52,000 from 357 people." The first foundation to support SKS was a small, volunteer Indian American organisation called The India Development Services, which gave $10,000 (part of the $52,000-kitty).
Peers to watch
Name: M. Udaia Kumar Chairman & MD, SHARE Microfin
Reason: One of the first movers into the sector. Has attracted major equity investments. Its total networth is around Rs 120 crore. The investments are meant to enable SHARE reach its 2011 target of 7.15 million clients, total outstandings of Rs 5,260 crore and presence in 13 states.
Name: G. Padmaja Reddy Founder Director, Spandana
Reason: Spandana was begun as an NGO in 1997, got converted into an NBFC in 2004 and is also growing rapidly. It is busy implementing its 3-3-6 vision plan of reaching 3 million clients, Rs 3,000 crore outstandings and major presence in 6 states by 2011. At present, it has 1.5 million clients, mainly in 2 states.
There was a lot that Akula needed to learn and he has displayed that ability in ample measure. "There is no substitute to learning by doing,'' says he. Akula, for example, studied the Grameen Bank model for one entire year, during which he also visited the Grameen Bank and two Grameen replicators. But he says he learned more about banking with the poor when he actually set up SKS and applied himself in the job. "
I would go to a village meeting in the morning and come back to the office and talk with my staff about what went well and what went wrong. The initial three years in the field gave me a deep understanding of how to do microfinance and lessons from that experience continue to stay with me even today."
But how does he overcome doubts that crop up every now and then? "I use both analytics and instincts. I will first analyse in as data-oriented a way as possible (e.g.: financial projection for an investment decision, pros and cons for a market entry decision). If the analysis clearly indicates a decision, I will weigh that strongly but then it has to be consistent with my instincts as well. Sometimes even if the analysis indicates a decision one way, I may go with my instincts if they are saying strongly to move in another direction."
Evidently, his method has served him well. "The impressive thing about him is the fact that he came with little exposure into this space and made such an impact," says Sarath Naru, Managing Partner at venture capital firm Ventureast, which has pioneered early-stage technology investing in India. Ace venture capitalist Vinod Khosla, who has invested in SKS, is also full of praise for Akula. He says: "Vikram first came to meet me about investing in SKS in 2002.
Though I wasn't ready to make an investment in microfinance at that time, I was impressed with Vikram's passion and the business-like approach he was taking to address the problem of poverty.
I continued to follow the progress of SKS and how SKS was able to scale very rapidly— in a way that had never been done in the sector before. So when I was ready to make an investment in the sector, it was natural to look at SKS."
mosimageSo, how has Akula's approach been different? Says he: "The conventional view of microfinance is that it is a social business and there should be no profit and no loss. We have a very different view at SKS.
Our view is that if you have to tap into $55 billion (the annual credit requirement in India considering there are 150 million poor households that need credit), you are not going to get from social investors but from commercial capital markets and by being profitable and we're now a for-profit finance company and our goal is to be profitable.
"So far, Akula has been able to provide $400 million or about Rs 1,600 crore (cumulative unsecured loans and micro-insurance products) to over 1.4 million poor women and their families spread across 20,000 villages and slums of India. He has also been able to maintain a 99 per cent repayment rate and a staff of 6,100. And as of December 2007, SKS boasts of 1.4 million clients, 595 branches and an outstanding of Rs 700 crore, spread across 15 states. There is still a long way to go. For just under the MFI model (not the other SHG model), there are close to 3,000 microlending institutions in India reaching out to close to 7 million small borrowers in a country where some 300 million people live on less than $1 a day.
The snapshots

SKS microfinance was launched in 1997 as an NGO and has grown to become an NBFC today. The business was designed to deal with what Vikram Akula calls a fundamental flaw with microfinance—its inability to scale to large numbers. He identified a lack of capital, capacity constraints and the high cost of delivering micro-loans as roadblocks to scaling and overcame these by using a profit-oriented model, leveraging best practices for scaling from the business world, and using technology to automate processes and lower costs. Today, SKS boasts of having provided over $400 million cumulative unsecured loans to over 1.4 million poor women and their families in 20,000 villages and slums of India while maintaining a 99 per cent repayment rate. SKS is adding over 50 new branches and 130,000 new customers every month and growing at an annual rate of 200 per cent, one of the fastest in the industry. It has attracted equity investments from premier venture capitalists, including Vinod Khosla, Sequoia, and Ravi Reddy.
Akula realised early on that scalability was critical. Experts today are suggesting just that. "Microfinance," says Khosla, "is one of the few market-based, scalable anti-poverty solutions that is in place in India today and the argument to scale it up to meet the overwhelming need is compelling. By unleashing the entrepreneurial talent of the poor, we will slowly but surely transform India in ways we can only begin to imagine today." Naru says that equity-like funding at this level is a huge need and in turn a huge opportunity. "This will give small entrepreneurs the ability to take more risks with their business .
This kind of funding is just being tested globally, and I believe it offers another big paradigm shift in providing equal opportunity in building businesses and a 'huge' market to boot," he adds. Naru also feels that foreign investors have been completely taken in by microfinance and are investing in the space across the board. For instance, JM Financial India Fund, a $225-million corporate private equity fund, has invested Rs 40 crore in Spandana, which has also attracted Rs 10 crore from Lok Capital, a Mauritius-based microfinance venture capital fund. In May this year, Legatum, a private firm, announced its decision to invest Rs 100 crore to acquire a majority stake in SHARE Microfin, another major MFI.
Those who know Akula say he can be very stubborn and steadfast in his beliefs. Sitaram Rao, Director, SKS, recalls how the company once opted to take a hit rather than compromise his principles. Three years ago, SKS's refusal to pay off local goons in Nizamabad, Andhra Pradesh, led to a huge conflict in the region for the company. Local gangsters spread rumours that SKS was a Christian organisation trying to convert people in the largely Muslim area. Eventually, SKS opted to pull out losing $300,000 (Rs 1.2 crore), rather than pay up and buy peace.
Little wonder then that in the emerging world of microfinance that sometimes gets damned for stories about microsharks indulging in usury and dishing out pricey, short-term loans, Akula stands tall as he goes about empowering poor women by helping them become economically self-reliant. Though his surname in Russian means a shark, he is moving upstream and turning out to be the charismatic big fish to behold and one that can never prey on the vulnerable.